A Celebratory Sailing Cruise
One of the first bareboat sailing cruises planned by the members of Singles on Sailboats club was to the British Virgin Islands 20 years ago. Though we have returned to the BVI several times in the interim, our bareboat cruising planning team felt a celebration was in order for the spring of 2022.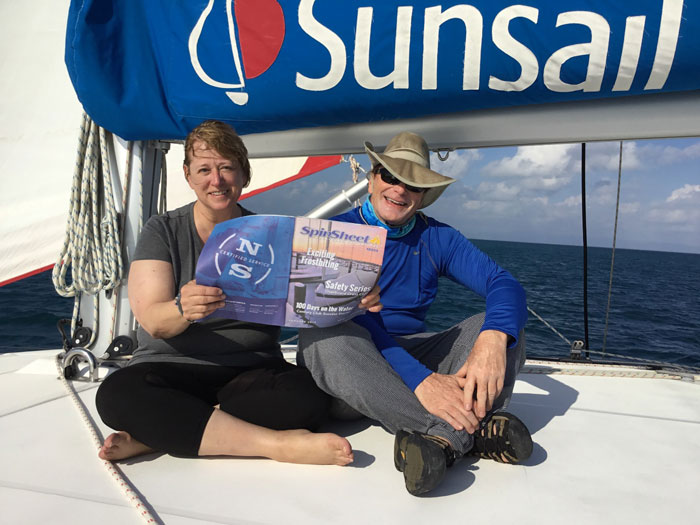 Bareboat Sailing in Exotic Locales
For our trips, we provide our own skippers and crew, plus we organize, provision, and navigate our trips, which usually occur twice yearly. For cruises in February and early March, we choose warmer climes, such as Belize, Antigua, Bahamas, and over the years both Leeward and Windward Islands. In the fall we have traveled as far as Australia and had trips to Sweden, Greece, and Croatia. We have a trip to Sicily planned for the fall of 2022 and a long-range possibility of New Zealand in 2025.
We have also enjoyed wonderful sailing more locally on Lake Huron and Lake Champlain. Occasionally we step off the sailboats for a different experience. In 2014 we had our first canal barge trip on the Nivernais Canal. This fall club members returned to Europe for a different canal experience out of Strasbourg.
Sailing on the Chesapeake Bay
Though we have a strong and interesting bareboat program, we also have an equally strong and fun cruising calendar here on the Chesapeake Bay. We have one or two weekend cruises each month from April to early November, both marina cruises and raftups in some of the beautiful rivers and coves. We also have many day sails on the cruising calendar both during weekdays and on weekends.
We seek to offer something that any member can participate in. We just initiated a pop-up daysail program which will allow skippers to find crew for those spontaneous, "It is a great day for sailing—who wants to join me?" kind of opportunities. One new member recently took advantage of one of the first Pop-Up sails. Learn more about all our off-season activities here.