Our sailing adventure begins
There are few places I have visited that are as magical as French Polynesia. In addition to being one of the most beautiful natural wonders in the world (with 118 pristine islands and atolls stretching over 1200 miles of the South Pacific Ocean), this region, with its traditions of tattoo, dance, and mystical dark pearls, has a rich cultural heritage that is very much alive and well.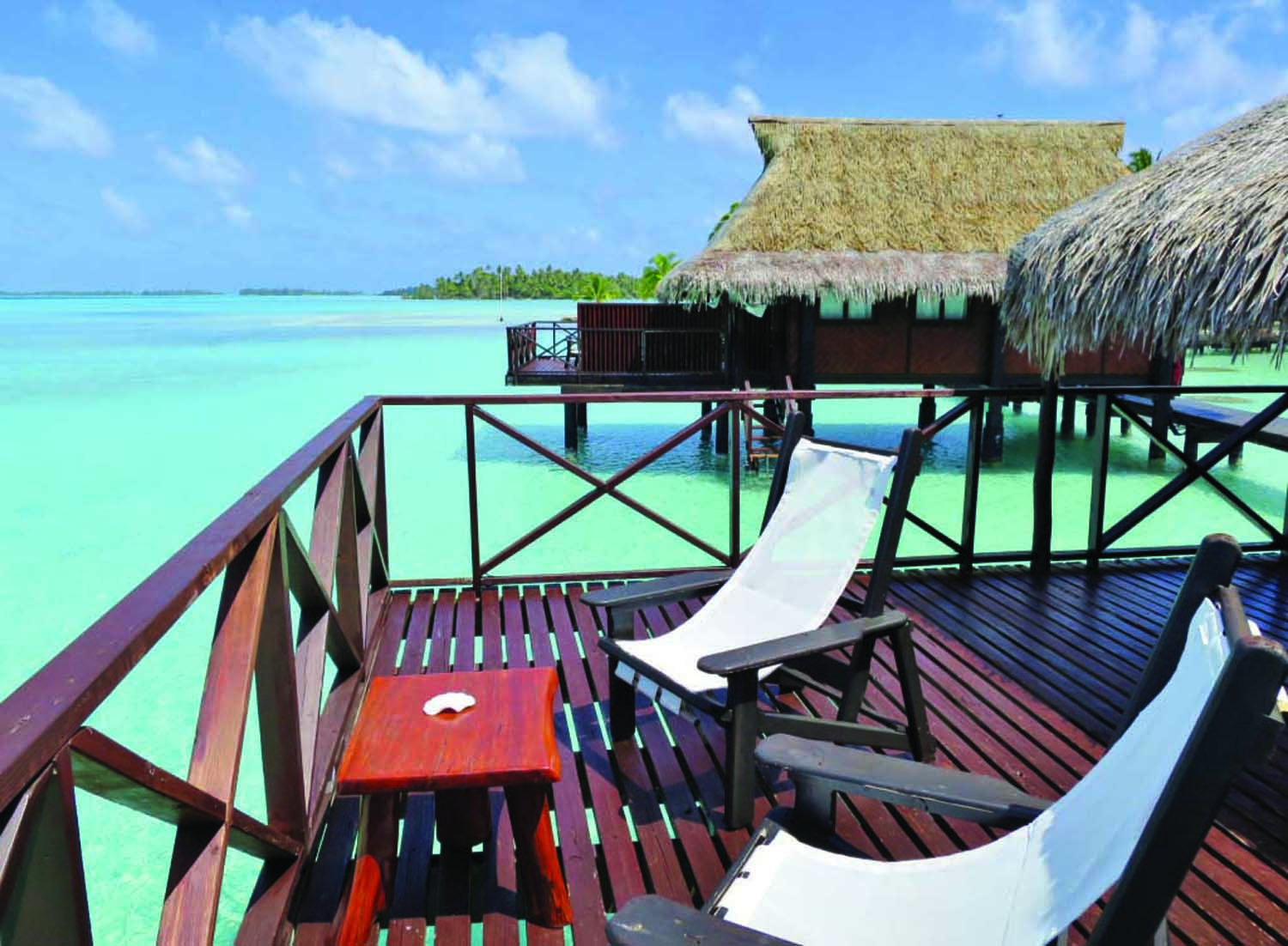 The region is too vast to explore in its entirety, so my photographer and I focused on a 14-island group called the Society Islands, which include Bora Bora and Tahiti. Our sailing adventure started at the Sunsail base on the island of Raiatea, where we rented a 38-foot Leopard catamaran.
Most of the islands here are surrounded by a ring of reefs, some of which form small islets called motus. On our first day we stayed inside Raiatea's reef and explored a couple of nice anchorages just to get comfortable with our catamaran.

One of the nicest features on Raiatea is the Faaroa River, a veritable "botanical garden" of amazing tropical wildflowers, colorful birds, and blue-eyed eels. This is a dinghy-only adventure, and probably best served without the motor.
Happy with how everything was working with the boat, we prepared for our first long bluewater passage to Bora Bora. Part of the preparation involved stopping at a bakery and picking up some warm, fresh-baked baguettes (you have to love former French colonies for their wonderful fresh-baked goods).
One of the most striking things about sailing in this region is the color of the water. This is most evident in the shallow, turquoise bays that lie inside of the reefs, but also the waters of the open ocean have a deep purple-blue I've never seen anywhere else, likely because the water depths are measured in miles, not feet.
The sail to Bora Bora was especially long because the only pass through the reef was on the other side of the island. These passes are a bit hairy, especially with opposing wind and currents, and the reef walls are razor-sharp coral that will cut through fiberglass like butter.
Shades of blue
With 36 idyllic motus, impossibly jagged volcanic mountains, and a lagoon that has more shades of blue than are words in the dictionary, Bora Bora is simply breathtaking.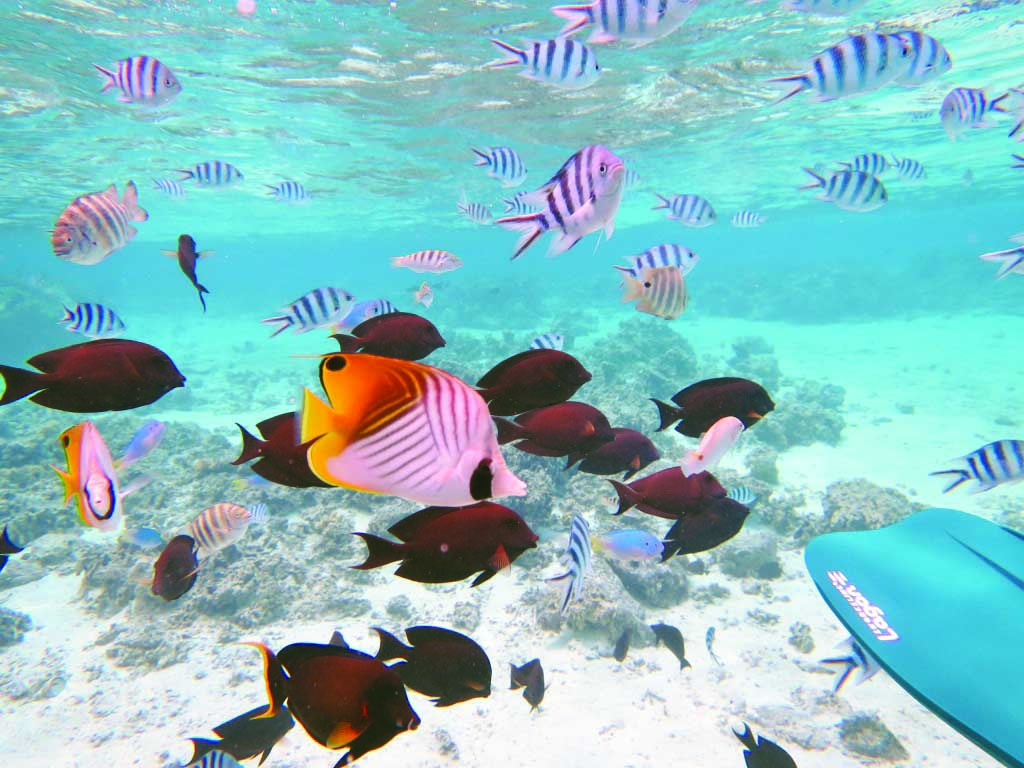 Our main objective was to visit a few great snorkeling spots: "The Aquarium" at Point Paoaoa, which has amazing coral and a huge density of colorful reef fish; "Breaker Reef" near Point Paoaoa, which is known to attract a variety of sharks; and the manta ray "cleaning station" at Anau, which is kind of like a manta ray dental office where these huge, majestic creatures go to have little fish clean their mouths.
We also visited the Bora Bora Pearl Company, where they let you dive for your own pearls. It's harder than one might expect, as the oysters are kept in special bags about 10 feet below the surface. You have to carefully untie them underwater while holding your breath. It's 90 feet deep to the ocean floor there, so if you drop them, they're gone! But if you're careful, you can go home with an amazing memory and a pearl with a story.
After enjoying Bora Bora, we wanted to visit Huahine to see some ancient cultural sites called maraes. Huahine is on the other side of Raiatea, so we broke up the trip with a stop at Tahaa, which shares a lagoon with neighboring Raiatea. There we visited Champon Pearl farm. Owned by a delightful French woman named Monique, the farm's main building is a classic old French colonial house that sits on a point of land looking out to the sea. Monique taught us a lot about pearl farming, such as how Tahitian pearls are dark because of the color of the shell. The term "black pearl" is actually a misnomer, as the range of colors you find here have silver, purple, green, and blue hues.
While on Tahaa we also visited one of the region's last remaining traditional tattoo artists, Tavita, who lives in the village of Patio. He is a man who truly embraces his work, in that he is literally covered with tattoos head to foot. Even his tongue is tattooed. These traditional tattooists don't use any mechanized equipment. They use hand-made "tattoo tools" carved from pig bones. The ink comes from a local nut that when roasted turns a dark blue color.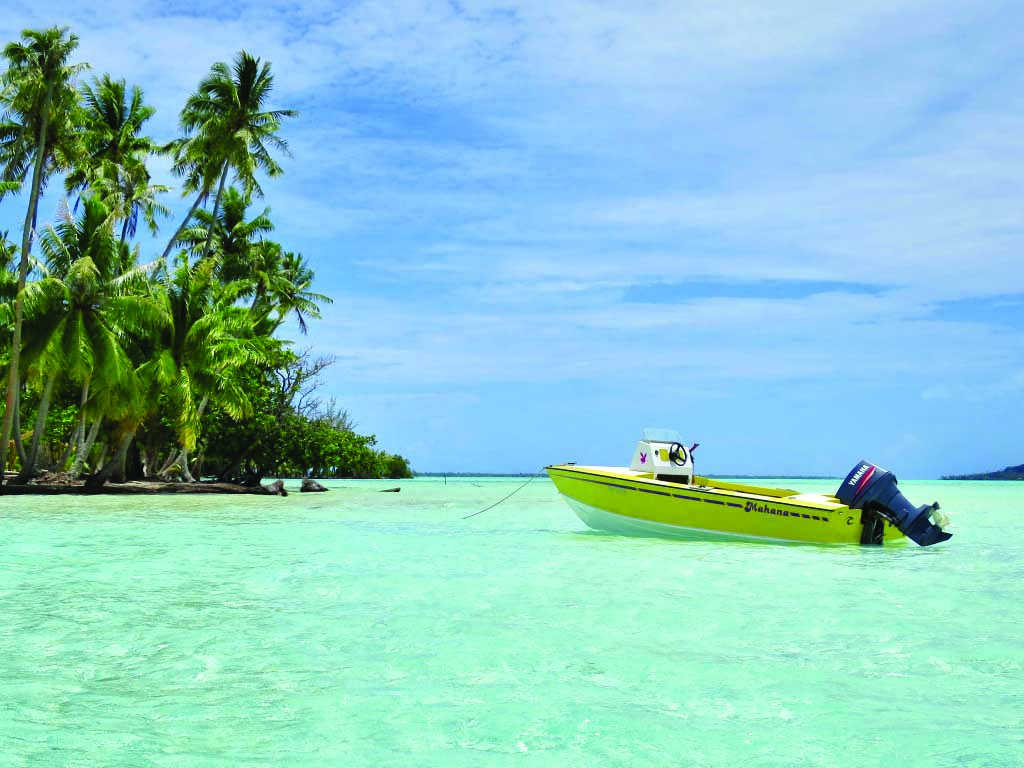 We sailed as far as we could, then headed off in the dinghy
After leaving Tahaa, we headed to Huahine, where we visited Anini, a large marae on the southwestern most tip of Huahine Iti. To get there, we sailed as far as we could in the lagoon until the water got too shallow, anchored, and headed off in the dinghy. Marae Anini has a large collection of huge, heavy reef rock that have been impossibly set end up in rows in an Easter Island fashion.
This excursion is not for the faint at heart, as there are lots of shallow reefs here that are only loosely marked by little sticks local fishermen put in the water. However, we managed to make it through and back without busting our dinghy prop.
A funny side note: on many of our sails inside the reef, we would attract "hitchhikers" in the form of locals traveling around in their small outrigger canoes. They liked to paddle in behind us and "surf" our stern wave.
On our way back to the base, we made one last stop at Tahaa and checked out a traditional Polynesian family-based dance group that hosts dinner-dances at a little outdoor restaurant called "Ficus." The main area of the restaurant is decorated with hand-made artisan mobiles hanging from its grass roof ceiling, and there's a bar that is built into a living tree. Dinner was traditional Polynesian food cooked in the ground with hot lava rocks and banana leaves.
What makes this destination so special
What I loved about this "end" to our trip (and most of the other adventures we experience on this sail), was I never felt like I was witnessing some kind of made-for-tourist presentation. Sure, French Polynesia has its share of over-the-water-bungalows hotels and other commercialized attractions, but those are easy to avoid, and this island nation's authentic core is thriving.
Perhaps it's because it is so far away from everything, or maybe it has to do with the nature of the people here, but you really feel like French Polynesia belongs to French Polynesians. That's what makes this destination so special.
by Eric Vohr
Helpful Links: Sunsail; Air Tahiti; Pearl Farm