Another Day in Paradise Sailing on the Tipitina
How many milliseconds do you think it took me to answer this question: "Would you like to go to the Virgin Islands at the end of February?" My reaction a was a sort of Pavlovian response to hearing the words "islands" and "February." I said "yes' before learning we'd stay at an oceanfront villa with a sunset view nestled into the hills on St. John. I responded before knowing about the infinity pool, how you could hear waves crashing on the rocks from the veranda, the nighttime serenade of tree frogs, and how charming the company of friends would be.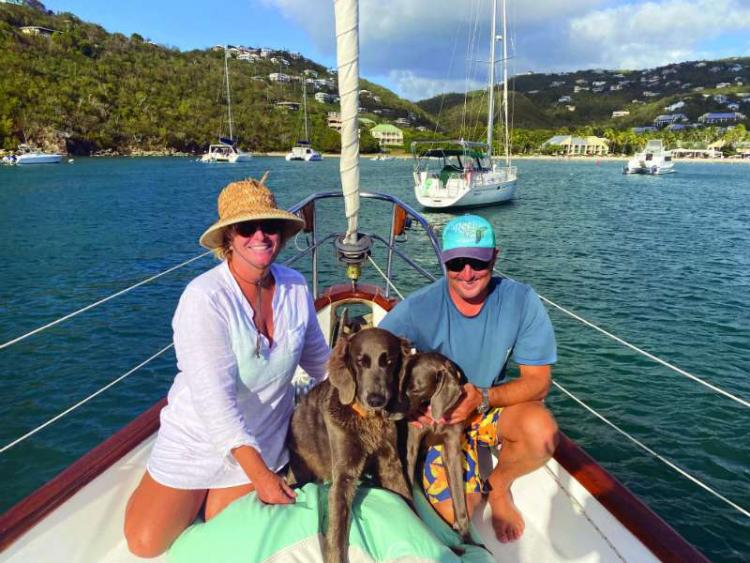 I said "yes" to the trip months before I heard about the spectacular sailing charter that we'd do aboard the Hans Christian 43 Tipitina. On a sunny Sunday morning, Captain Bonnie picked up the six of us in an inflatable at a dinghy dock near the Westin Resort on Great Cruz Bay. Her husband Captain Matt met us as we boarded the pretty, turquoise-hulled vessel he had refitted himself. Also eager to greet us were the two resident Weimaraners, Pearl and Oyster, who were the most relaxed boat dogs I've ever met.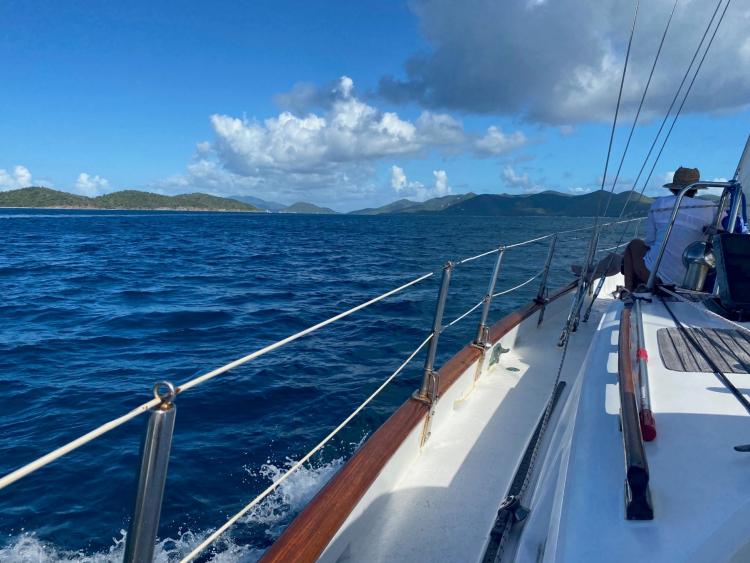 It's one thing to find a spouse who likes to sail. To find one who'd like to live aboard a sailboat is another. But to find one who wants to do so with two big dogs really narrows the field. To create a life together in which you invite strangers into your floating home six or seven days a week to entertain them for six hours, sometimes with another two-hour sunset charter afterward, for nine months out of the year—just wow. Few are brave or crazy enough to attempt this unique lifestyle. Captains Bonnie and Matt spend their days bringing joyful outdoor experiences to tourists in a tropical paradise. They excel at it.
The easterlies blew harder than expected on that glorious Sunday, gusting into the mid-20s, but we passengers—only two of us sailors—barely noticed as we relaxed on bean bag chairs on deck on the sturdy Tipitina.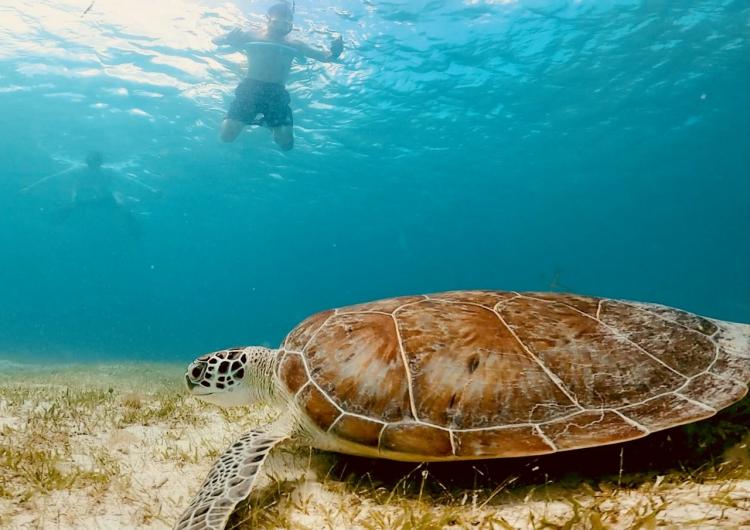 We tied up to a mooring near the Caneel Bay Resort (which sits vacant and not-yet-refurbished since the 2017 hurricanes) and dinghied to a postcard-worthy white-sand beach off which we snorkeled. As well as feeling excited to see sea turtles and tropical fish, swimming in that salty blue water buoyed me in more ways than one.
Back onboard Bonnie served us warm sandwiches and cold beverages (with bitters in her Dark 'n' Stormies) and baked us warm chocolate chip cookies.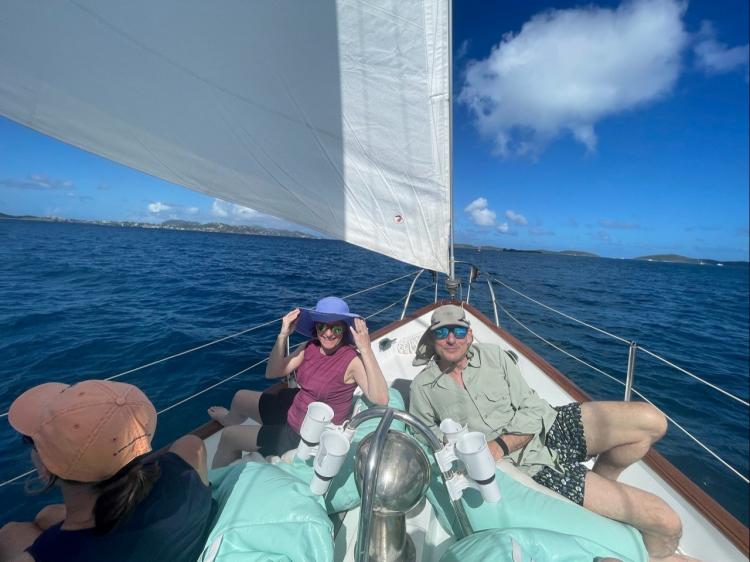 We sailed near and around several small islands. Bonnie named all of them, peppered in history of the area, and pointed out interesting houses (such as an eco-resort with "tree houses") and landmarks. Matt stayed at or near the helm as a couple of us took turns steering. I love talking to sailors about their boats and their past and future adventures—Matt has his hopes set on a 50-footer and aims to sail well beyond the Caribbean. I think it was fun for him, too, to talk to a fellow sailor.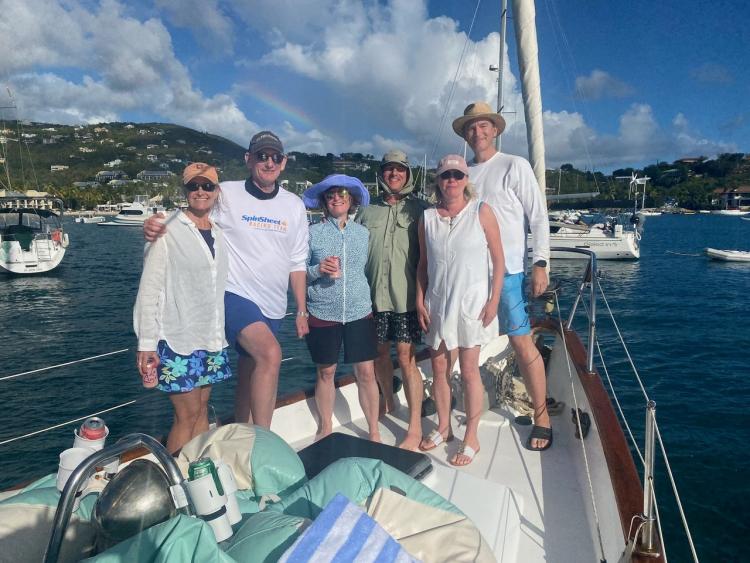 Later that evening while dining on steaks on the veranda, one of our friends asked, "What do you think Bonnie and Matt are having for dinner on their boat?" Remembering an Annapolis liveaboard once telling me that non-sailors thought she ate Dinty Moore stew from a can over a camp stove, I noted that the couple may have prepared a gourmet meal onboard in their fully equipped galley. Whatever they had for dinner, I hoped our hosts enjoyed some quiet time together planning future journeys.
It was a true pleasure to sail in such a beautiful place with new friends and mellow boat dogs. If you find yourself in St. John, USVI, and have the opportunity to sail with Captains Matt and Bonnie on the Tipitina, say "yes!" ~M.W.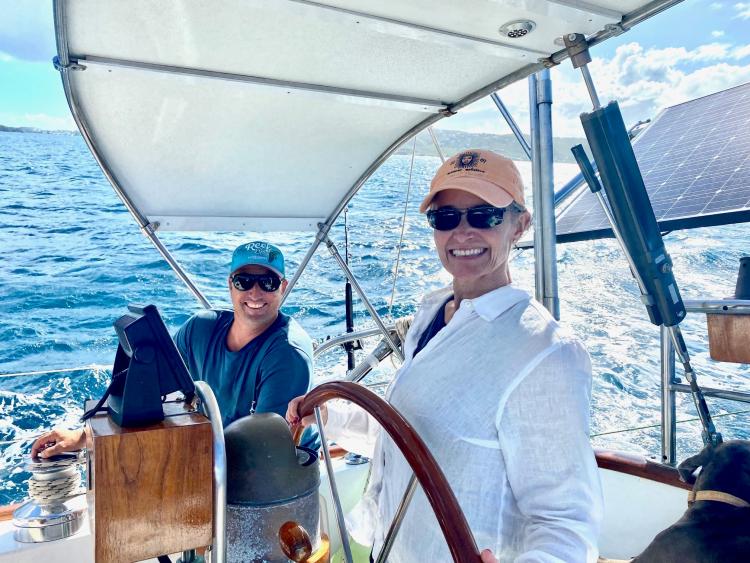 This article first appeared in the April 2022 issue of SpinSheet.