During the pandemic, a casual family finds paradise in US Virgin Islands
Over the last two years we tried to book that once-in-a-lifetime family getaway before adult-life engulfed our two kids. We booked New Zealand once and Patagonia twice, all to be canceled. Where to go for a signature vacation in pandemic times? Since Karen and I had enjoyed our pre-kids British Virgin Islands bareboat charters, we had often considered the BVI. Unfortunately, Megan's and Evan's school and sports kept getting in the way. Pivot yet again.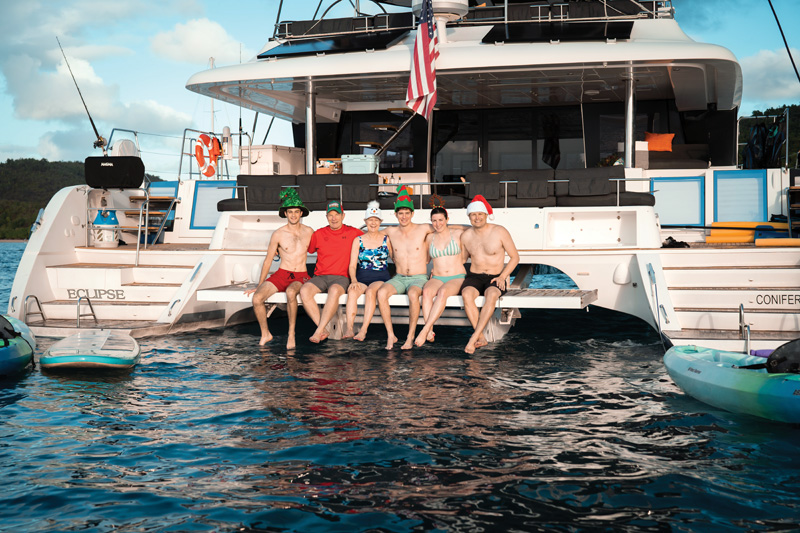 Too much "muchness"?
We decided to stay in the United States, sail the US Virgin Island (USVI), and go big, really big. We booked our first ever crewed charter on the Lagoon 62 catamaran Eclipse over the 2021 Christmas holidays. When committing serious money months in advance, we didn't want to risk any pandemic issues related to foreign travel, the boat's limitations, or self-provisioning. Our kids' initial reaction was that the huge boat and crewed service was just 'too much muchness' for our casual family. They were wrong.
The boat provided four cushy queen staterooms for our family, including fiancé Will and college roommate Jake. Captain Jim and chef-extraordinaire Lisa had their own stateroom. The boat's size enabled total self-sufficiency for the week. The boat has a huge kitchen, separate freezer, mega-fridge, water-maker, AC, Wifi, Bluetooth speakers, two generators, electronics galore, oodles of lights, and much more that are all touch-screen controlled.
The boat was also a fully stocked toy chest. We had snorkel gear, standup paddleboards (SUPs), kayaks, tubing and wakeboarding from the tender, and a huge assortment of float toys. We explored with the snorkel gear, SUPs, and kayaks every day. Board games, cards, balls, frisbees, and beach accessories were also available. The 'muchness' factor diminished with every toy Cap'n Jim pulled from his never-emptying lockers.
While the boat's systems provide amazing comfort, you don't charter cruising cats for their round-the-buoys racing attributes. They're basically party barges with a mast. The normally reliable 15- to 20-knot tradewinds only blew for three of seven days, so that's when we sailed. Reaches were best even if the heading was toward Iceland. The boat went upwind at seven-plus knots with both iron genoas set at 1800 rpms.
Sailing, exploring, anchoring, wildlife sightings... and Santa
While circumnavigating both St. John and St. Thomas (about 55 miles), we anchored in six different bays. The snorkeling was best in Francis Bay, St. John which was an early stop. Here we saw rays, two octopi, several hawksbill turtles—one with two remora (or suckerfish) attached—a moray eel, and the usual array of reef fish.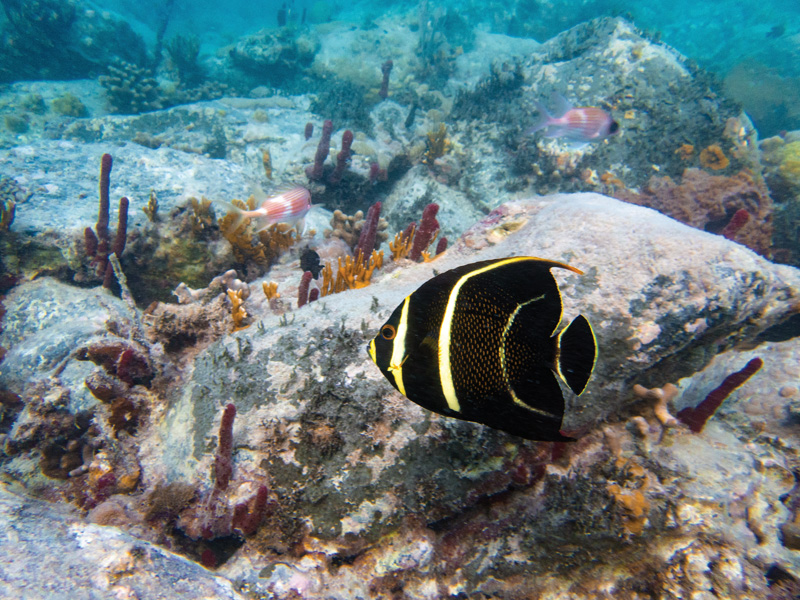 We backtracked to Christmas Bay, St. Thomas to connect with a prescheduled dive trip to Cow and Calf Rocks. We swam alongside turtles, through caves, and among vibrant corals and abundant fish. The dives maxed at only 50 feet and stretched to an hour each. Of course, successful diving mandates rum-based rehydration.
Our next stop was Great Lameshur Bay which is located within the Virgin Islands National Park. Sixty percent of St. John's and much of its surrounding waters are a National Park where moorings are mandated to protect the reefs. Lameshur Bay provided access to the 1300-foot vertical, one-mile trek to Bordeaux Mountain. The fantastic views were well worth the sweaty climb.
We did enjoy outdoor beverage excursions at Lime Out, a floating taco bar in Coral Bay, St. John and Dinghy's Beach Bar in Druif Bay, St. Thomas. We had no need for restaurants as the boat's libations were free and the food was five-star.
Chef Lisa fed us like royalty with scallops, local lobster, tuna, filets, shrimp, and mahi-mahi. Meals included fresh fruit or salads with homemade desserts each night. While Lisa far exceeded catering expectations, she advised that pandemic provisioning has become quite a challenge. Her provisioning required four stops and a whole day.
Christmas found us in Magen's Bay, St. Thomas. It was turtle and tarpon heaven as they constantly circled our boat and toys. Since 10 mega-yachts were anchored here, our Eclipse lacked much 'muchness' in this harbor.
Somehow Santa had delivered gifts under Eclipse's tree including for elves Jim and Lisa—perhaps Santa shimmied down the mast or through a hawsepipe? Christmas night everyone gorged on turkey, stuffing, potatoes, and apple pie. If anything was 'too much muchness,' it was Lisa's exceptional meals.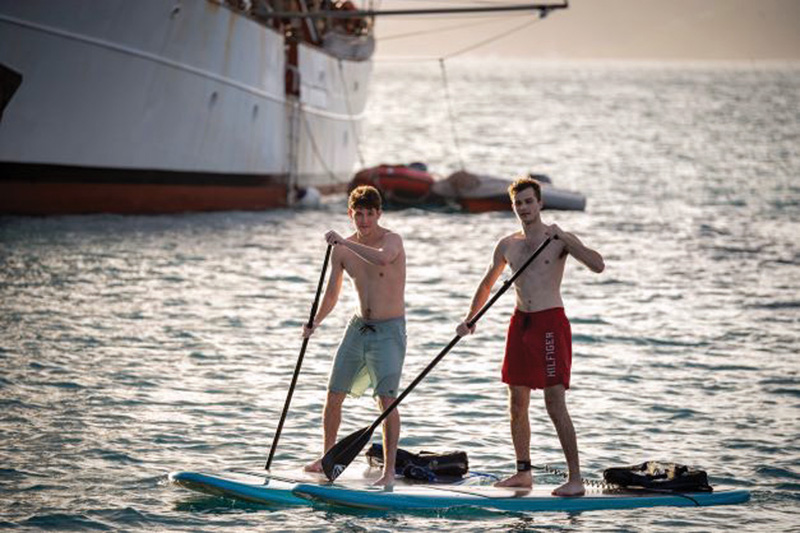 Never too much
Just when we thought we were finished with new adventures, Cap'n Jim anchored us off the secluded West Cay peninsula at the tip of St. Thomas. He had never stopped here as the anchorage was always too rough and unsheltered. The untouched reef was absolutely teeming with life. We beachcombed and shelled with several shells having live inhabitants. The complete solitude made this anchorage a voyage highlight.
Our takeaways are that the USVI reefs have long been protected and are far more vibrant than most we've seen in our tropical travels. While the BVI have historical cache, don't forget our USVI as they are as nice and more pandemic accessible. Finally, an exquisitely run crewed charter on a well-equipped catamaran is just never 'too much.'
by John Yeigh
About the author: Longtime Chesapeake sailor and racer, John Yeigh is author of the recently-published book, "Win the Youth Sports Game."