Posted September 10, 2020
Starting Up! The Launch of SpinSheet Magazine and How It Evolved
Founding editor Dave Gendell tells the tale of how SpinSheet began...
By mid-summer of 1995 it seemed that anything was possible. Mary Iliff and I had grown up just a couple of miles apart near Annapolis and knew each other through sailing circles. We were just a few years out of college, and she taught math and coached at the Key School, while I worked at The Capital newspaper and as a boat captain. We were both working on the staff at Rags Magazine in spring 1995 when the magazine's owners gently but abruptly closed the doors.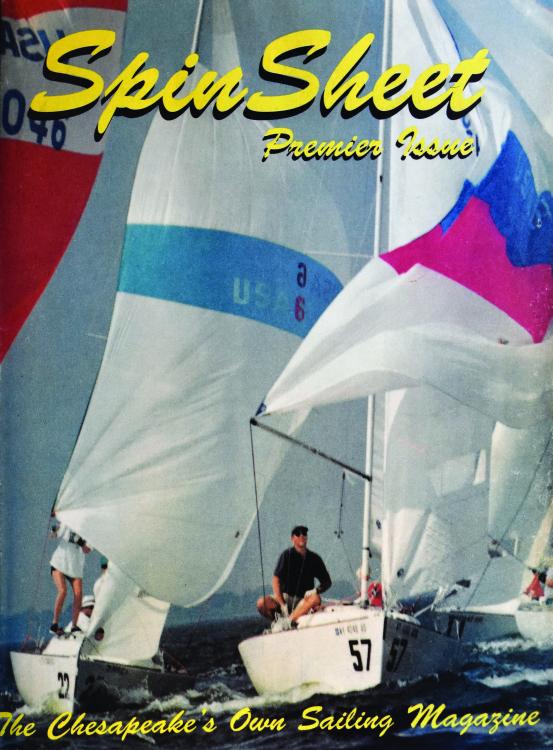 All around us, the old world was yielding to the new. In May, off San Diego, Team New Zealand's Black Magic trounced Stars & Stripes. I watched Black Magic cross the final finish line from about 100 yards away and later that day composed and sent my first email. In July, amazon.com, a startup website none of us had heard of, sold its first book. In early August, netscape.com stock debuted as a tremendously successful Initial Public Offering. That same day, Grateful Dead founder Jerry Garcia unexpectedly died. All around us, the old seemed to be stepping aside to allow the new to push through.
I have always loved technology, storytelling, the Chesapeake Bay, and sailing. Mary brought a talent for connecting with potential advertisers, a similar drive and love for sailing and technology, and an overarching ability to organize and optimize everything. We knew there needed to be a central place to bring content and relevant advertisers together. Inspired by the world around us and egged on by family and friends, we put our heads down and started the work.
In the business parlance of 2020, SpinSheet was a classic bootstrapped start-up; although back in 1995 we didn't use the terms "bootstrapped" or "start-up." We didn't have smartphones, broadband internet, cloud storage, or social media either. Looking back at it—from inside an odd, ongoing epoch, which for many of us, prominently features technological advances that allow us to work remotely in response to a global pandemic—we were missing many of the productivity tools and techniques that make life today feel so much more productive.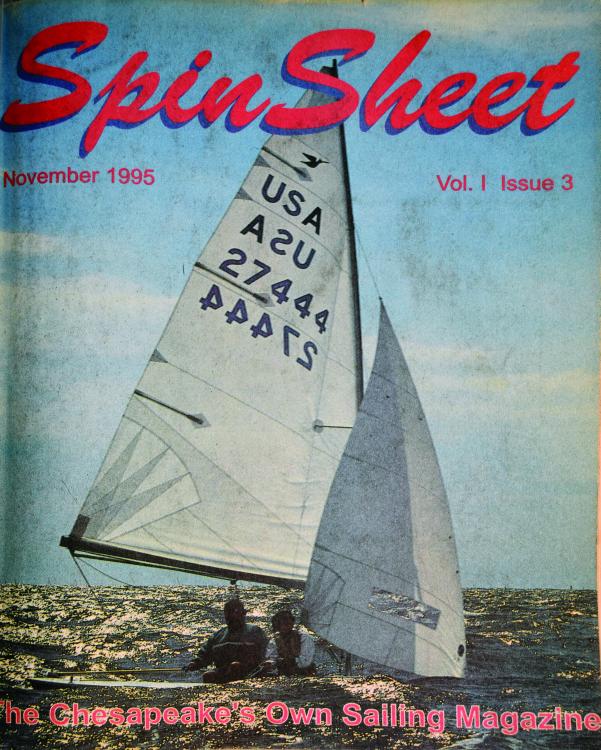 Tech advances that now seem quaint
Starting a blank-slate publishing business in mid-1995 allowed us to leverage some big advances in technology, which today seem positively quaint, but at the time were game-changers (another phrase we didn't use in 1995). We launched into something of a seam between old and new publishing technology. By mid-1995, the rapid advent of email, portable data storage, photo scanners, and powerful desktop publishing programs meant that the mechanics of putting together and publishing a magazine were suddenly a lot less complicated than they had previously been.
Barriers to entry were falling. The day-to-day focus could be on stories, the photos, and taking care of advertisers rather than things such as printing presses, layout teams, and darkrooms. Just a year or two earlier, absent the developing technology, it would have been a lot more complicated to start a publishing business. Even so, we launched with technology that now seems somewhat ancient. The fax machine buzzed. The phone line was sometimes blocked because someone was using it to access the internet. And it seemed that we were constantly processing and sorting out stacks and stacks of print photos.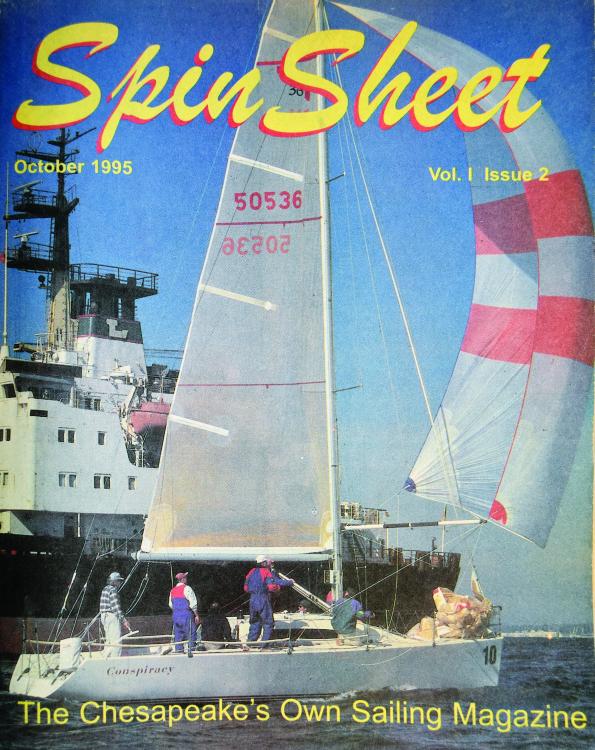 We shot a ton of print film in those early days; hundreds of rolls were processed in a somewhat shaky photo lab at the Eastport Rite Aid. We were very early adopters of digital cameras, thanks in large part to our sailing photographer friend Walter Cooper, who served as unofficial consultant and constant advocate for the technology. Even so, we relied on printed photos and our office photo scanner for the vast majority of the photos from 1995 to about 2003.
The early issues of SpinSheet promoted a single CompusServe email address that Mary and I shared (102562,3646). We registered the domain name spinsheet.com in mid-summer 1995 and had a bare bones website at the 1995 U.S. Sailboat Show. At that show, we paid an additional fee to have a phone line run to the booth, and we set up a computer to show off the site.
Race results were a big part of SpinSheet's initial reason for existence. It is difficult to imagine these days, but finding and publishing race results was a much different process before digital media; there was no single place to find the results. Our ability to compile a month's worth of results from all over the Bay and publish them between two covers was a very big deal, but it was labor intensive. I remember stopping at sailing clubs up and down the Bay and taking print photos of posted race results or writing them down in my notebook for later transcription. Lin McCarthy mailed us 3.5-inch computer discs of Southern Bay results, and we added those into the mix. She also mailed us stacks of photos which we scanned and mailed back to her.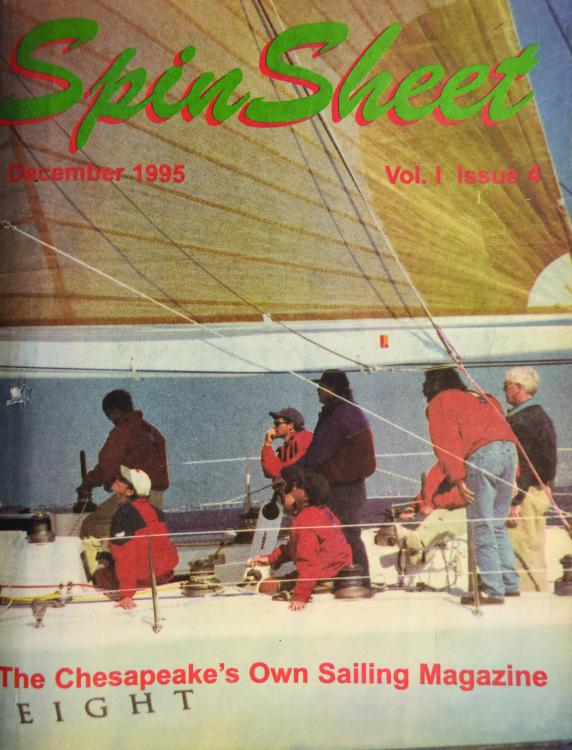 Lucky breaks
There were some lucky breaks along the way, no doubt. Some incredible people walked through our door. Our parents stayed behind us and, in Mary's case, even came to work with us when her mother signed on the staff. My younger brother became part of the Chessie crew in the 1997-98 Whitbread. As that remarkable lap around the planet unfolded, the identity of the region's sailing community coalesced, and SpinSheet had the inside track to tell the story.
Outside of the office, we each married partners who understood and supported what we were working to build. Massive shout-out to Chris Scanlon Gendell and Geoff Ewenson.
Talented and smart people kept coming into our lives. The sailing community expanded. Technology improved and super smart interns joined our team and pushed our technology and processes forward, Alex Iliff and Andrew Davis at the forefront. Suddenly we had cell phones, direct-to-plate printing, a work flow for digital photographs, and race results were published on the internet. We expanded and evolved the business but never strayed from our initial core values.
Congratulations to the past and present SpinSheet staff on 25 great years. And a massive thank you to everyone who has ever read, advertised in, or contributed to the magazine over the years.
About the Author: SpinSheet co-founder Dave Gendell lives in Annapolis with his family. His book Thomas Point Shoal Lighthouse is due out in October.
Click to this book page to pre-order.