High impact for both veterans and volunteers
Sailing programs for veterans on the Chesapeake Bay and beyond offer highly impactful on-water and land-based experiences for those who have served our country and their families and friends.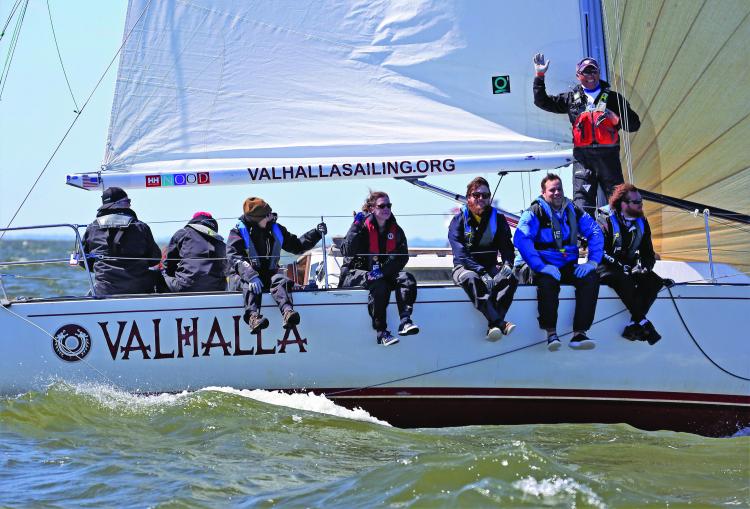 One of the many excellent programs is The Valhalla Sailing Project. Lisa Rawlinson, a Marine Corps military police officer who was medically retired in 2016, participates with The Valhalla Project. She says, "Valhalla is not just a sailing program—it's saving lives. I see it each time I'm there. Those struggling with combat PTSD are never the same person, and sometimes they spend a lifetime trying to get back. Valhalla offers the missing pieces veterans seek when making the transition back into civilian life. It provides a judgement-free platform and an outlet to learn a new skill, be competitive, and experience camaraderie again. Participants find a new sense of purpose and self-worth as they're given tasks and responsibilities to help the crew achieve their goal. For those facing demons, it's a place to feel safe and encouraged to push forward. We're all in the fight together."
In recognition of Veterans Day, Thursday, November 11, we pause to thank all those who have served, as well as active-duty military persons. Here we highlight the incredible sailing programs designed to bring helath, healing, and a sense of community. Veterans report that they are grateful for the opportunity, and many have experienced life-changing moments out on the water. We also recognize the many volunteers who make such initiatives possible. They tell us, over and over again, that they sometimes wonder if they get more out of the experience than their military guests.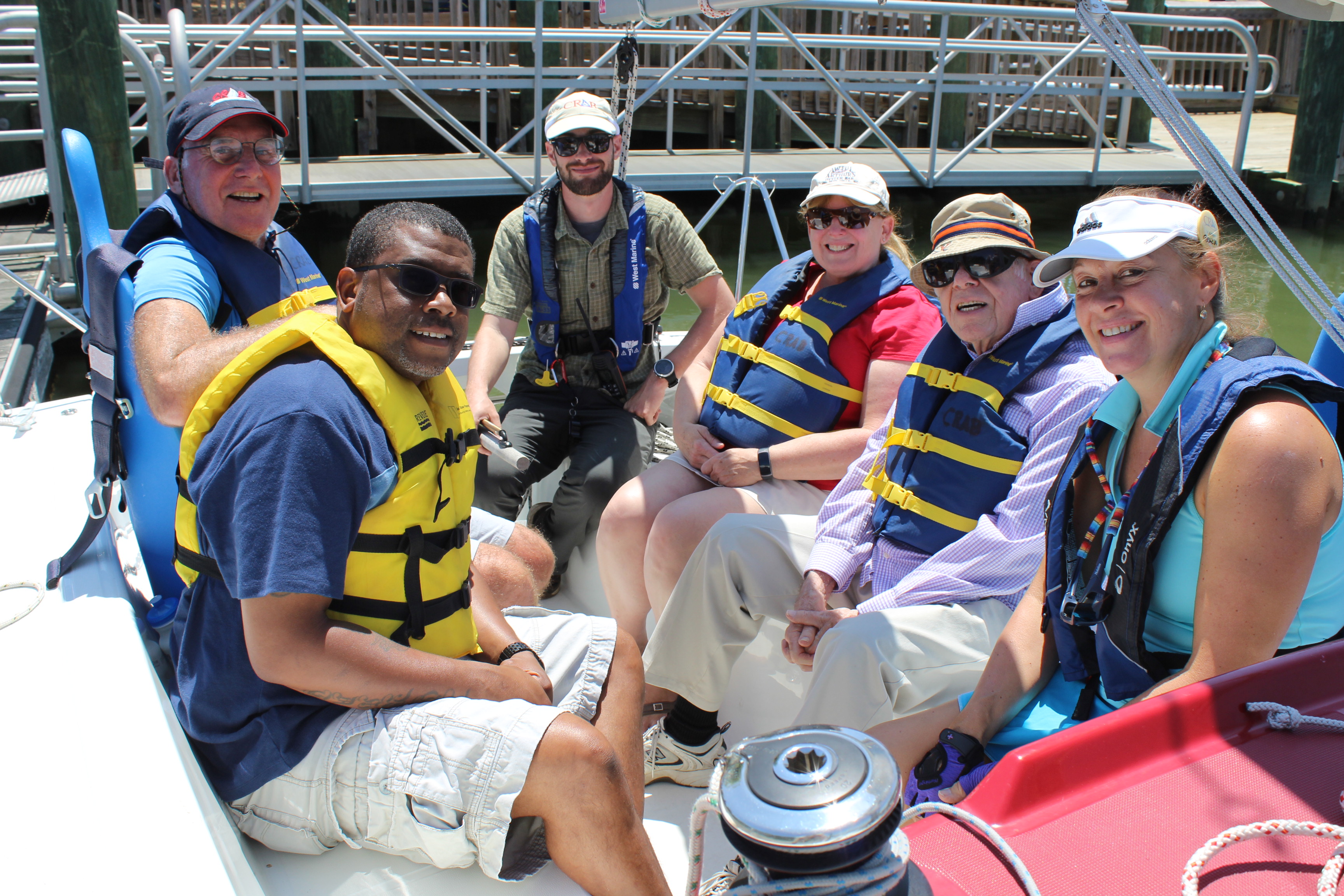 How to get involved in veteran sailing and other on-water programs
If you're looking for a highly impactful way to share your passion for sailing, the following programs need captains, crewmembers, and boats. They also need people to provide shore support on the docks as well as setting up and serving meals. And of course, nonprofits are always looking for sponsors to donate funds, food, and more. Here's a sampling of regional programs for veterans and their families:
Chesapeake Region Accessible Boating (CRAB) welcomes veterans from across the region to experience sailing aboard CRAB's specially modified sailboats, which can accommodate with ease warriors with any disability. Programs include sailing clinics, family sails, regattas, sailing camps, and group sails. The annual CRAB Cup regatta benefits accessible boating for all.
Heroes on the Water helps warriors, first responders, and their families relax, rehabilitate, and reintegrate through kayak fishing and being outdoors.
U.S. Patriot Sailing is a competitive racing team program for wounded and combat veterans. Chesapeake Bay's Annapolis program's mission is to support the beteran community by welcoming fellow veterans back onto a winning team, offering camaraderie, mission accomplishment, and new dynamic experiences. They foster supportive and understanding veteran communities and stand ready to help teammates navigate the hardships of transition, rehabilitation after injury, and the complex life challenges associated with combat deployments.
Valhalla Sailing Project teaches recovering, transitioning, or wounded veterans to sail and race on the Chesapeake, helping them to regain and recapture their sense of teamwork, family, community, and self.
Warrior Events organizes social events, which sometimes include sailing events and fishing tournaments, to provide Maryland veterans, first responders, and their families the opportunity to engage with and become pillars in their community through activation events, leadership forums, and partnered civic support programs.
Warrior Sailing Program introduces sailing skills to wounded, ill, and injured service members. In a fun but intense three-day basic camp, teammates are taught how to manage a boat on the water. Graduates of the basic camp may hone their skills, earn advanced certifications, and learn inshore and offshore racing.
The Wounded Warriors Day on the Bay provides a stress-free day on the Bay for veterans and their families.
Did we miss your favorite organization that takes veterans out on the water? Email [email protected], and we'll share it with our readers.