Posted September 21, 2022
Youth sailor connects past, present, and future of Chesapeake sailing
If while walking along the water's edge in St. Michaels, MD, you spy a freshly restored crab skiff sailing in the harbor, you'll likely catch a glimpse of 16-year-old Cayden Lewis at the helm. The local teen and St. Michaels Middle High School student recently completed work on the Chesapeake Bay Maritime Museum's (CBMM) 17-foot, "two-sail bateau" crabbing skiff called Cinnamon Girl.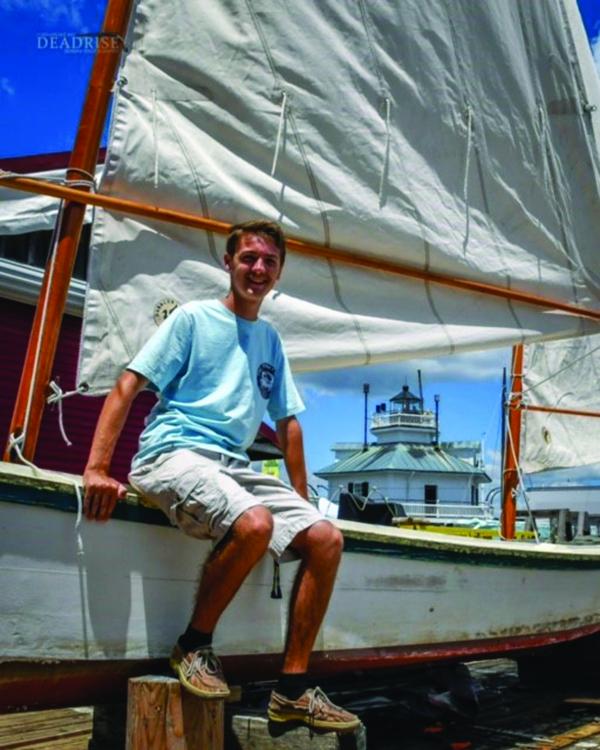 A past participant in the youth programs at CBMM, Cayden has not only benefited from the museum's mentorship, education, and skill-building opportunities, but he has also gained access to sailing opportunities. Earlier this year, when the young sailor asked to work on Cinnamon Girl, he was granted permission based on his keen interest and past work at CBMM.
A young man who will likely go far
Jenn Kuhn, shipyard program manager at CBMM says, "Cayden was enrolled in our Rising Tide after school boat building program from six to ninth grades. Through the program he helped build a 16-foot railbird skiff, a vessel traditionally used for duck hunting by polling, and two 16-foot Chesapeake Bay flat bottomed crabbing skiffs powered by outboard motors. He often came by on the weekends to see what we were building through our Apprentice for a Day program, and he continually showed and expressed interest in the things the shipyard was doing."
Kuhn continues, "I approached Cayden last year to ask if he would be interested in being a youth volunteer for the summer. He said 'yes' and began working with us five days a week helping with the maintenance of our historic floating fleet during the summer months.
"During his spring break this year Cayden asked if he could fix up Cinnamon Girl, and I said, 'Yes, absolutely! This would be a tremendous help.' Once school was out for the summer, he came back and continued under our guidance with the repair of the upper most part of the stem, the gunwales and transom, along with painting everything top to bottom. He recently completed the project, and Cayden has been sailing almost every day since!"
Kuhn emphasizes, "It is a great pleasure having Cayden work with us. He is an engaging young man who will no doubt go far."
Mentors fostered his interest in sailing
Cayden explains, "When I was in the fifth grade, my dad got me a kayak, and I would bring it to the harbor and go kayaking for a few hours, often passing by the museum (CBMM). Sometimes I would see Captain Ed Farley aboard the skipjack H.M. Krentz. He suggested to my stepmom that she ask me if I'd like to sail with him, and soon I was aboard the skipjack with Capt. Ed and his son, Nick. Five years later, I'm working for him on his boat."
Cayden continues, "I got more sailing experience the summer that I was 12 years old, when Captain Iris, who does charter sails out of St. Michaels on her grandfather's vintage catboat, invited me to go sailing with her aboard Selina II. Now Capt. Iris calls me her 'Grandson of Choice.'"
Asked about his work on Cinnamon Girl, Cayden says, "I am proud and surprised that I accomplished this project all by myself. I had a little help from Jenn and Jeff (Jeff Reid, master shipwright and shipyard construction foreman), but mainly it was me doing all the work. Now that I'm done, my plan is to enjoy sailing the boat and take friends out on it. And when the Mid Atlantic Small Craft Festival at the museum comes around this fall, I'll be there to show off Cinnamon Girl."
Cayden adds, "I also want to give a big 'thank you' to photographer Mark Hergan of Deadrise Marine Photography for getting me into the pages of SpinSheet." Hergan met and photographed Cayden and Cinnamon Girl at the Antique and Classic Boat Show at CBMM in June, and sent the image to SpinSheet.
About crabbing skiffs: In the late 1800s, dozens of types of crabbing skiffs were sailed on the Chesapeake Bay and its tribuaries. A smaller predecessor of the skipjack, the crabbing skiff was designed with narrow washboards and decks that provided a work surface and plenty of space int he cockpit. Cinnamon Girl is one such vessel.