Skipjacks of the Chesapeake: for those who love history and sailing
If you love the Chesapeake, sailing, and history, then this one is for you.
Each year in September, the only two remaining skipjack races unfold, testing the sailing crews and bringing together fans of these historic local vessels. Both take place in the middle Bay and are excellent ways to celebrate the role of working watermen on sailboats and sailboat boatbuilders around the Bay. One race was held the first week of September, but the other is still upcoming. Read on for details.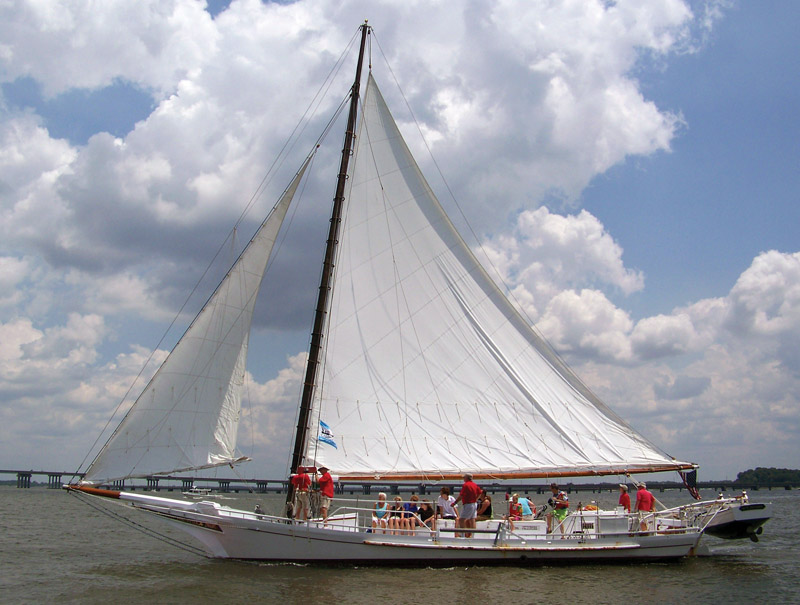 Saturday, September 24 skippers of these historic vessels will compete in the Choptank Heritage Skipjack Race, which is sponsored by the Dorchester Skipjack Committee. The host boat is the Nathan of Dorchester. A parade of boats will head out of Cambridge Creek at 9 a.m. and racing begins at 10 a.m. The best viewing is from Long Wharf Park, at High and Water Streets in Cambridge, MD. Each participating skipjack receives approximately $700 in show-up money, to be used for maintenance and preservation. Over the past 20-plus years the Dorchester Skipjack committee has raised and donated more than $100,000 to help preserve the fleet. Nathan of Dorchester traditionally donates back its show-up money to give the other boats larger shares.
Earlier this month the Deal Island Skipjack Festival, sponsored by the Deal Island-Chance Lions Club, brought together arts and crafts, music, food, and of course, skipjack sailing, September 3-5. The money raised will stay in the local community for families in need, scholarships, youth activities, vision research, and Deal Island school needs such as art supplies. Highlights of the multi-day festival included a parade, a fishing tournament, a boat docking contest, and the skipjack race itself. Winning boats were: Ida May, first place; Skipjack Somerset, second place; and Nathan of Dorhester, third place. Congratulations to all.
In 1985 the State of Maryland made the traditional sailing workboat, known as the skipjack, the official state boat. There were once thousands of skipjacks on the Bay. Today fewer than 20 still sail. They are the only remaining oystering sailboat fleet in the U.S. Learn online about the history of skipjacks here and in person at the Skipjack Heritage Museum in Chance, MD.