Posted September 27, 2023
This is how great things happen on the Bay!
The sailing season has been a bit tricky this year. The Chesapeake Bay Tartan Sailing Club (CBTSC) event schedule has fought with Mother Nature numerous times. From extreme heat to no wind to severe weather forecasts—weather tended to keep our boats in our slips and land yachts became the common mode of travel.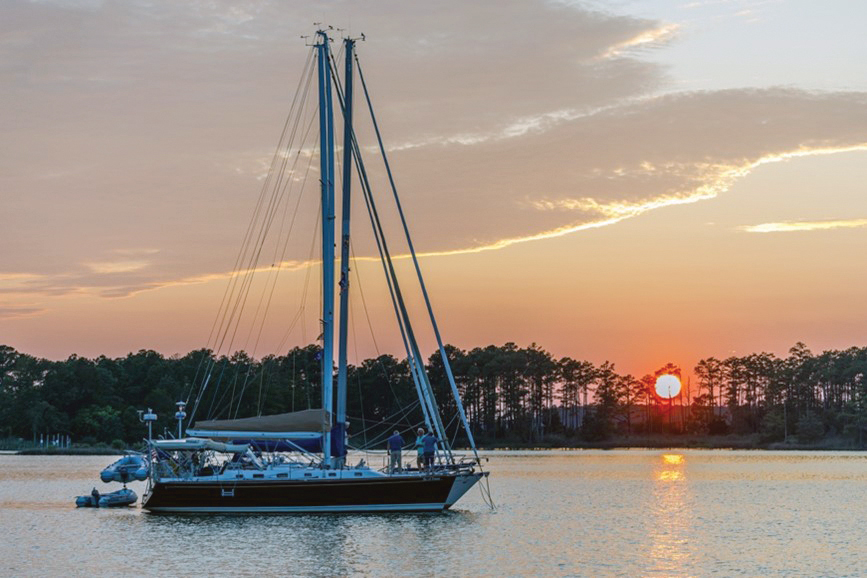 Then came the weekend of July 22. The hazy, hot, and humid heat dome was forecasted to disappear for a few days. But wait, there was no CBTSC event for that weekend! One of our members (we'll call him Quick Draw Mininsohn) shot a quick email to members to see if we could put together an impromptu weekend cruise to the Little Choptank.
A weekend sailing cruise to the Little Choptank
Five Tartan sailboats (three 3700s, one 41, and one 4600) gave the idea a thumbs up, and we all went to work organizing provisions, arrival times, and rafting schemes. The forecast was for a beautiful weekend with low humidity… and wind! Yeah!
Three boats arrived Friday and two arrived Saturday. Something Special was anchor boat for AltaBird and ScotFree, and Phoenix was anchor boat for Quetzal. Sailing down the Little Choptank was perfect, rounding markers and then turning up into Hudson Creek behind Casson Point to see fellow Tartans waiting to greet you. As bumpers were dropped and lines tossed, we all knew we had Mother Nature on our side for a change. The rest of the weekend was what sailing is all about: exploring by dinghy, boat discussions, joint happy hours and meals, and lots of stories.
As the rafts broke up on Sunday, we all thanked the Mininsohns for the best weekend on the Chesapeake Bay so far this season. Let's hope there are more to come.
by Greg Shields