Cruising families need vacations too
Cruising mainland Puerto Rico was a mad dash of to-do lists, from stocking up at big box stores to getting our mail forwarded and refilling prescriptions. Worn out from the grind, we got a weather window and pointed our bows towards the Spanish Virgin Islands. Vieques, Culebra, and Culebrita are still technically part of Puerto Rico, but they are smaller island communities with their own personality and a different pace. Mainland Puerto Rico is cars and strip malls and big box stores, and while it's surrounded by beautiful nature, it still has a more modern pulse. Heading to the Spanish Virgin Islands is like stepping back in time.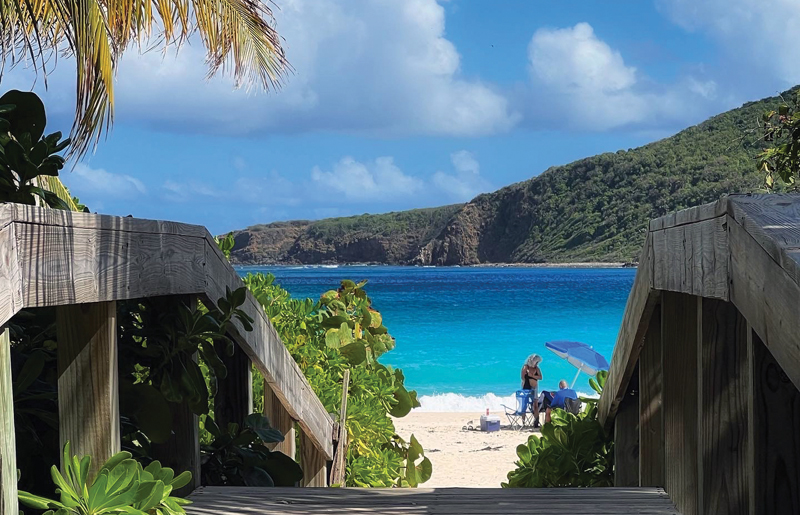 A couple of decades ago, my husband and I spent time on Vieques on a vacation. We loved every minute and looked forward to taking the kids there by boat. We got several firsthand warnings from liveaboards in the area saying that we should be wary about anchoring there, lock up your dinghy, lock up your boat, lock up everything. After some thought and a look at the weather, we sadly decided to skip Vieques on this part of our voyage. We heard later from another boat who had spent some time on Vieques a few weeks later that the locals and liveaboards spread that rumor on purpose to steer people away. Sigh. Mission accomplished.
Culebra is closer to St. Thomas than the Puerto Rican mainland, yet it feels a world away. Entering the Ensenada Honda harbor, we noticed how protected the anchorage was with plenty of space and good holding. There are free mooring balls along the outer edge at the reef where you can tie up to snorkel. In settled weather, you could even spend the night there.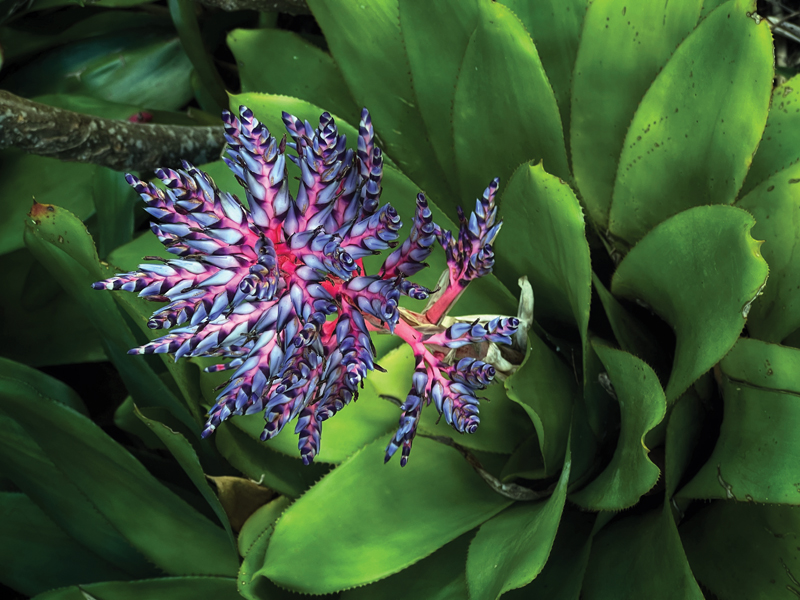 Because we cruise with dogs and kids, getting ashore is always a top priority once our anchor is set. There are three places to easily get ashore. The town dock is a solid concrete pier, but it's a little high and it can be tricky climbing up and down from the dinghy. There is a small canal spanned by a bridge that divides the island, and you can dinghy under the bridge and tie up inside the canal to easily get ashore. You can also tie up at the Dinghy Dock Restaurant, even if you're not eating there, but really you don't want to miss eating there.
Exploring the island community
We enjoyed a few days exploring as far as we could on foot. We chatted with an abuelita on her porch, watched some young men ride beautiful horses bareback through town, and noticed the island cats scurrying into corners as we walked our dogs. We found the local ice cream place that offers ice cream tacos, which we may have had more than once. We even found a little place called Culebra Coffee owned by two guys from Maryland. It was nice to talk about the Chesapeake while sipping strong Puerto Rican coffee and staring at the sparkling blue Caribbean Sea.
Wanting to see more of Culebra, we rented a golf cart and hit the road. First stop was the famous Flamenco Beach. The beach lives up to the hype, with pristine powder white sand and sparkling blue waters. While it's a popular tourist destination, it's also quite large. If you're willing to walk a little in one direction or another, you can have a slice of sand all to yourself. For history buffs, rusting, graffiti-covered tanks sit awkwardly against this tropical scenery. They were once used by the U.S. military for target practice and now sit waiting for the next Instagram moment.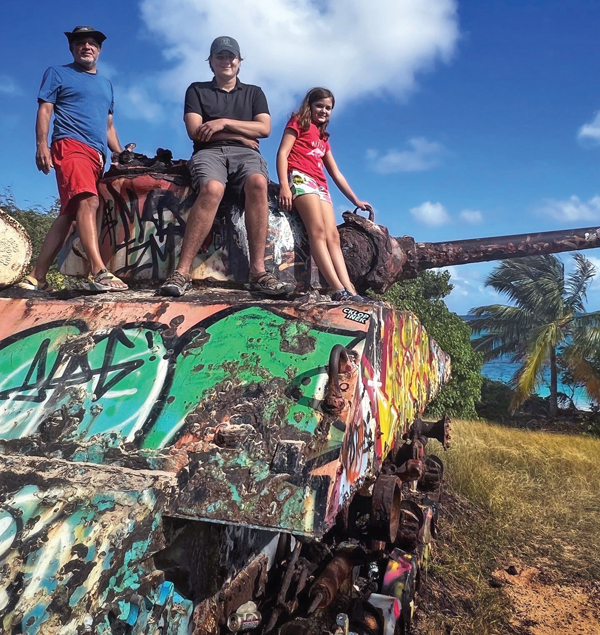 From the beach we meandered to a quirky, local museum on the other side of the island. The docent was excited to show us around the one-room collection and brought us out back to learn about their beekeeping operation.
After that we just drove and drove on whatever random roads struck our fancy. At one point we ended up high enough that we could see Culebrita and St. Thomas. The swells didn't favor a stop in Culebrita this time, but peering from the hill tops we could see why this nature sanctuary is a popular destination with beautiful green hills, crystal clear water, and a clean crescent beach.
Sometimes in cruising, you are so focused on passagemaking that you forget to just exhale and enjoy where you are. You're always looking for the next weather window, the closest grocery store, or the easiest place to fuel up. With full tanks and a stocked pantry from mainland Puerto Rico, Culebra was like a little vacation stop where we could just wander and relax.
by Cindy Wallach