Sailing and powerboating on boats large and small: Meet Tim Etherington
Growing up landlocked in North Dakota, Tim Etherington wasn't thinking about sailing. Boating was only once or twice a year in his uncle's ski boat on a lake. Who could have guessed that he would one day captain large recreational sail and powerboats on the the Chesapeake Bay? Tim is a member of Hampton Yacht Club (HYC) and Old Point Comfort Yacht Club (OPCYC), and as his term as commodore of OPCYC ends this month, he shares a bit about the role boats have played in his journey from the Upper Midwest to the Chesapeake Bay.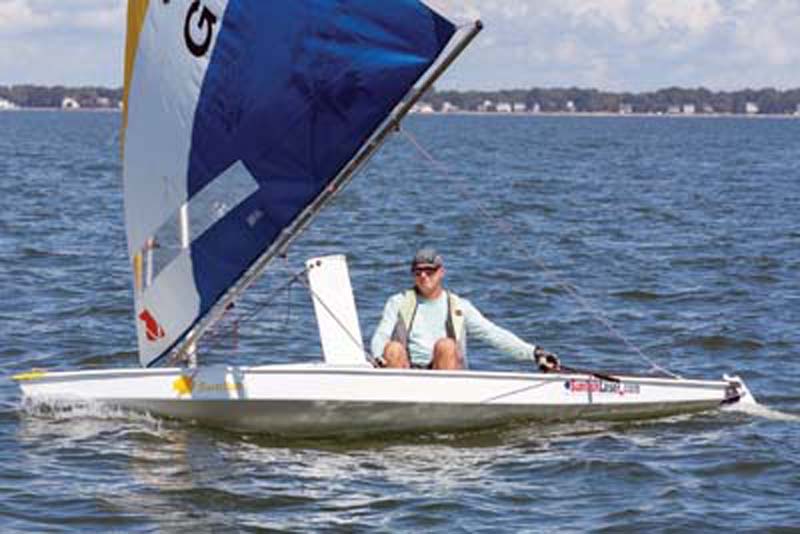 A career in the Navy took Tim to California and Hawaii where he sailed on boats large and small. "The military offered lots of opportunities to sail," he says. "In Oakland, CA, there was sail training and the opportunity to get checked out on Ludder 44s on San Francisco Bay. At a nearby Air Force base, we could sail a 27-foot boat up the Bay for an overnight. In Hawaii I had the unforgettable opportunity to race on an officer's Morgan 27 in the storied Hawaii Race-Cruise Week."
After the Navy Tim lived in Michigan and got into competition waterskiing. Imagine pyramids of skiers four people high, and you've got it right. Tim recalls, "While I was in Michigan, we skied every weekend. During that time, I owned three ski boats while working on a college degree, both there and back in North Dakota. Then I was off for a long stint in Iowa."
During their almost two decades in Iowa, Tim and his wife, Karen, embarked on adventures of a different kind. They visited all of Iowa's state parks, camping and kayaking wherever possible. When a job opportunity opened up for Tim in the Hampton, VA, area, he jumped at it.
In Iowa, Tim's work was with airplane flight deck research at Rockwell Collins (now Collins Aerospace), occasionally doing flight tests with NASA LaRC (Langley Research Center). This work that eventually landed him in Virginia. "It's been a fun and rewarding career," says Tim, who is now semi-retired but still working for a small private company that contracts with NASA. He's involved with working on the future of airplanes—hybrids that will have one diesel and 16 gas turbines.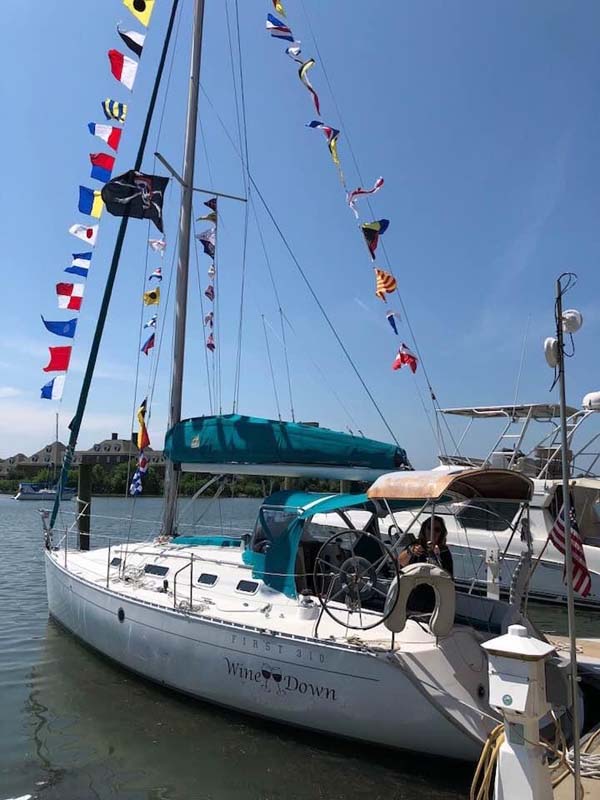 Tim says, "After moving to the Hampton Roads area, Karen and I purchased a 31-foot Beneteau sailboat. We joined Old Point Comfort Yacht Club (OPCYC) about a year later. We love the location at the convergence of the lower Chesapeake, Hampton Roads, and the James River, but OPCYC is a good fit for reasons that go far beyond its location: the clubhouse is located on historic Fort Monroe, and it still has a military "feel" about it; Karen and I have long-term friendships with other members; and the club has active racing and cruising fleets. After serving about five years as the club's rear commodore for racing, I became commodore. My term ends this month."
Tim is also a member of Hampton Yacht Club (HYC) and leads the organizing efforts for the Sunfish Challenge and Dinghy Distance Race. "This terrific little regatta wasn't held for a couple of years, and I wanted to make sure it didn't miss a third year," he says. "We moved the course from its original location to more protected waters near HYC, which also has a more convenient launch site."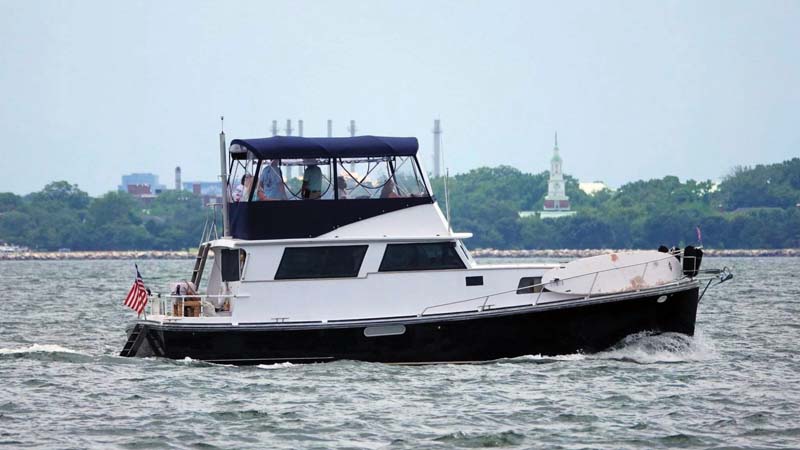 In 2022 Tim and Karen sold their Beneteau and bought a custom 40-foot trawler. "It has a walk-around stateroom and is quite comfortable," says Tim, who has learned the boat from top to bottom as he does upgrades and repairs. "This summer we cruised around the Bay for two and a half weeks, and we just loved it!"
Tim also captains a 50-foot vessel for The James River Association (JRA). He explains, "I had just obtained my Coast Guard 50-Ton Masters license when I fell into a part time contract job with the JRA driving its Carman designed deadrise-style boat for student field trips. Many of the students have never been on a boat. It's a wonderful program, and I am happy to be a part of it and see the students' excitement.
Read more about Chesapeake Bay cruising.