Taking "singlehanded sailing circumnavigation" to a new level
After seven and a half years sailing at sea, Dustin Reynolds has truly taken the term "singlehanded sailing circumnavigation" to the next level.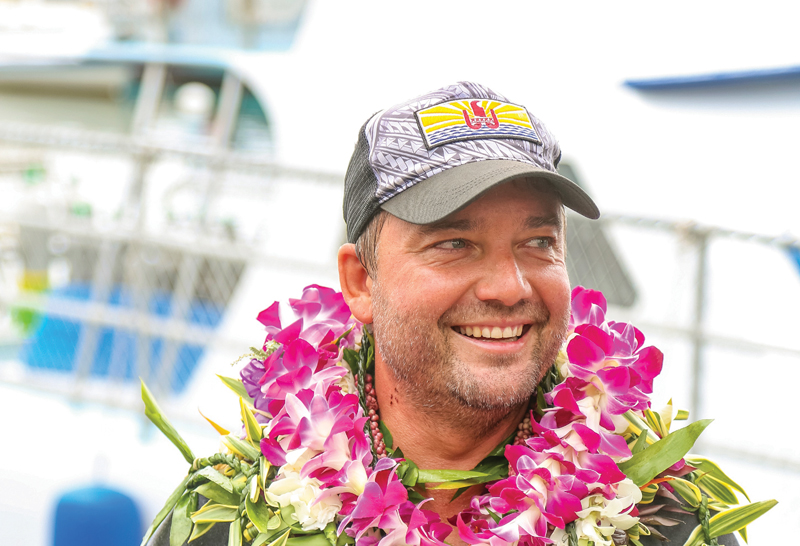 A life-changing event
In October 2008, Reynolds was involved in a motorcycle accident that resulted in the amputation of one arm and one leg. To say that this was a life-changing event merely scratches the surface. Four years after the accident, Reynolds had healed from reconstructive surgery on his leg, strengthened his skills with the prosthetic leg, and had successfully worked through burdensome financial difficulties.
He found himself in a position where he was debt-free and feeling ready to take on a new challenge. That's when he discovered a website that included a list of all the people who had solo sailed around the world and noticed that there weren't any double amputees on the list. Reynolds considered that this would be a worthy challenge and started to devise a strategy to make it a reality.
"After having an accident like mine, you go through an identity crisis. You look different. People treat you differently. I was always really active, so I was looking for something hard to do to define my identity," he says.
Most would think that anyone who would consider taking on such a feat as sailing around the world would have just a smidge of sailing experience under their belt, but not Reynolds. While he did have some experience on the water from the fishing boat he owned, he had never been sailing before. In order to bring this goal closer to reality, he watched YouTube videos and dove into books that taught him sail theory and how to sail conceptually.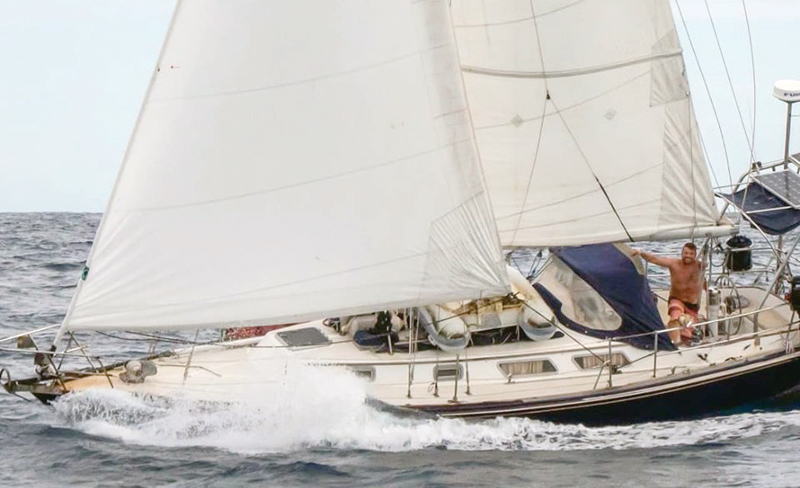 Starting sailing from scratch
While scouring Craigslist for sailboats, Reynolds came across a 1968 Aalberg that was in considerably rough shape after just returning from seven years of sailing around the world. He was now faced with a decision: as the owner of a profitable carpet cleaning business and a commercial fishing boat, he could either sell both operations and set sail or try to rebuild capital and credit to reinvest in the companies.
He decided to sell both businesses for $12,000 and purchased the Alberg for $12,000. Reynolds spent the following year refitting the boat with knowledge he continued to garner from online resources and literature.
His first voyage as a captain on Rudis was not smooth sailing. Departing from Big Island, and sailing around the Hawaiian Islands, his crew's journey was filled with waves coming over the deck and into hatches, drenching everything down below. His crew mates were consumed with nausea and unsettled about how much the boat was listing as they bashed into 35-knot winds.
Engines, rocks, and other challenges
After ripping off the Band-Aid and gaining more experience in the month leading up to his departure, Dustin began his voyage from Kona, Hawai'i, on June 18, 2014. Unfortunately, from the beginning of the journey, Reynolds was burdened with engine and transmission issues, which consumed his mind and funds and left many other projects unaddressed. He was able to visit five countries without the engine working, merely sailing on and off the anchor wherever he went.
In Bali, his departure was delayed when he faced "an engine seizure, the transmission going out," and rigging issues, all on separate attempts that each ended up as catastrophic failures.
On his fourth try, his boat received a Balinese blessing before departure. While the engine still wasn't performing well, he set off toward Sumatra to wait for wind. After 10 months of struggling to get back on his path, he found himself stuck in the doldrums and faced 20 days of consecutive rainstorms. One morning, he was moving along so slowly that fish had started to aggregate beneath the hull, causing larger marine animals to keep him company as well.
Dolphins soon joined the parade which enticed Reynolds into the water, but to his surprise, he was graced by an animal he had been wanting to see his entire life, just when he needed inspiration the most: a whale shark, which remained swimming around him for about 45 minutes. He considers this one of his most memorable moments from the voyage.
In Krabi, Thailand, he collided with an uncharted rock and was taking on water through the rudder shaft. Reynolds had more problems than he could count or afford, he believed his trip was over. He needed to haul the boat out or it would sink.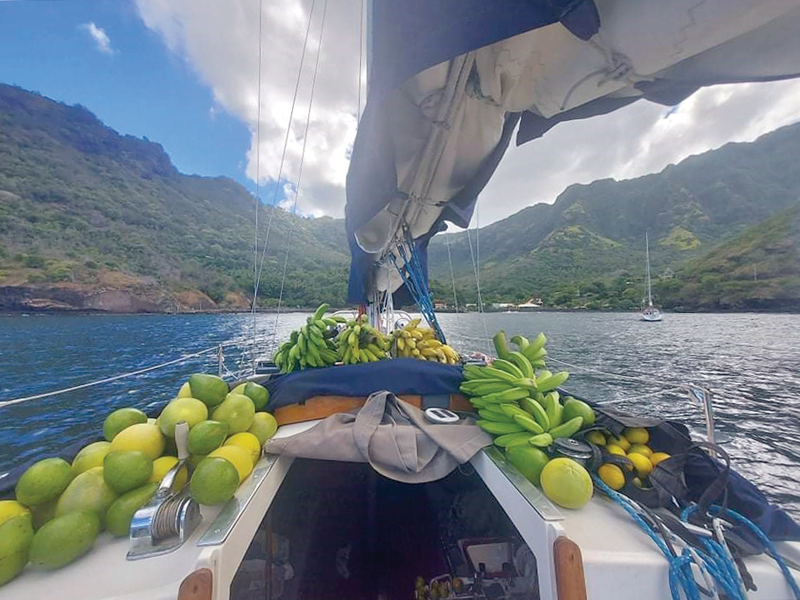 Along came another boat
After sending up a flare for funding from crowdsourcing to repair Rudis, he found another sailboat next to him in the yard that was in great shape and ready to sail. After weighing out the amount of repairs his boat required, Reynolds was soon the new owner of the 1983 Bristol 35.5 Tiama.
With the boat on the hard in Thailand, Reynolds returned to Hawai'i to save more money for the additions of dinghy davits and solar power. Once Tiama was ready, his circumnavigation continued into the Atlantic.
Like many sailors, his plans were affected by Covid, adding another year to his trip but also left him with a unique tourist-free experience in the U.S. Virgin Islands and Bahamas. He lost a prosthetic leg off the boat when he was in Guadeloupe and was able to keep his freedom as he avoided sailing into Panama which had a strict lockdown.
No special boat refit needed
Many people are curious about the modifications Reynolds made to his vessels, but he didn't refit either boat with any special alterations. The addition of a self-tailing winch on the mast and on the boom allowed Reynolds to save his teeth and save his lines from chafing from his teeth, but he didn't add anything specific to his circumstances as a double amputee.
That's not to say it was easy, as Reynolds recalls how challenging it was to reef a mainsail in tough conditions or the time he had to respool a snapped furling line in bad weather.
He says, "Everything you do in your daily life takes longer with one hand; sometimes it takes me twice as long or significantly longer to do things with just one hand."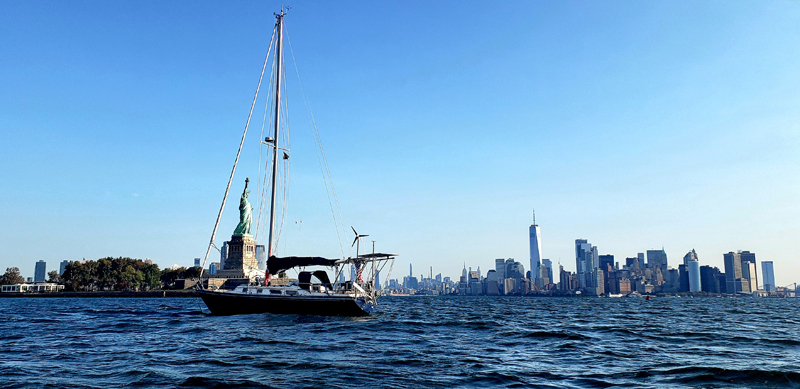 The social part of sailing
While the sailing was difficult in the beginning, after four years of making ocean crossings, Reynolds says it was the social aspect that got harder as time went on. Leaving the security of the tight-knit Hawaiian community that he had known as his solid support group for a world of yacht owners and people who don't speak his language was scarier to Reynolds than any of the physical intimidations.
Reynolds grew up believing that someone like him would never be a part of the yacht club world, but they have since become his home away from home. He found new communities all around the world.
His return to Kona, Hawai'i, on December 5, 2021, marked the completion of about 35,000 nautical miles traveled and earned him a place in the "Guinness Book of World Records" as the first double amputee to complete a solo circumnavigation.
It took 10 years from beginning to end for Dustin to complete his dream of sailing around the world, but he persisted and succeeded. Now that he's back on land, he has set his sights on developing his skills as a motivational speaker, is working on his captain's license, and plans to work on a book. His next sailing adventure is already in the works: taking on the Northwest Passage.
Learn more at thesinglehandedsailor.com.
by Chelsea Co
About the Author: Sailing journalist Chelsea Co has been a marine technician, sailboat owner, delivery crew, and SCUBA diver. She was connected to Dustin through a mutual friend, Jenny Decker, who is the new owner of Tiama, @just-a-lap.