If you choose to go cruising, the path where the journey takes place is a dynamic one.
Every day of the Annapolis Sailboat Show I stand outside the Boat Galley and Lin Pardey's booth and talk to people about boats and cruising. Do you have a boat? Are you boat shopping? Boat dreaming? What's the plan? Where do you want to go? Take me to a party and I'll stand in the corner with my hands in my pockets speaking to no one, but put me in front of a crowd of excited boat dreamers and odds are I'll never shut up.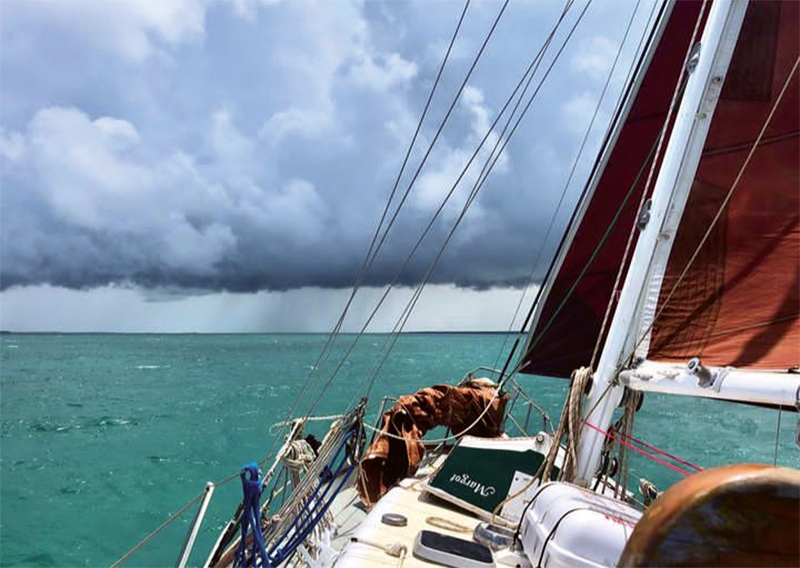 The funny thing is how quickly the goals change once you start. It's part of the path. If life is about the journey, we who choose to cruise live on the path where the journey takes place. It's dynamic, not static. Some goals rise and fall away because they get met. Some fall away because they were never the right goal to begin with. And four days of listening to people tell me their goals reminded me of how sweet that reality is.
In the late 1970s my father and I would pile into his Datsun pickup and make the drive from Washington, DC, to Annapolis to climb aboard boats and dream. I would visualize myself belowdecks, tending to important boat business while bent over a chart of the Chesapeake Bay. I saw myself polishing brass and stowing sails, and I could see my breath in the cool morning air as coffee brewed while the ship and I came to life. When I finally made the leap and bought my beloved Ave del Mar a little over 10 years ago, that dream came somewhat true.
After one dream comes true (somewhat), more will come and go.
When the boat eased into her slip in Liberty Marina in Edgewater, MD, there was a new goal: getting her ready to sail. On went new standing rigging and in went new wiring. I built a radio cabinet and installed an SSB. I accrued charts and advice and sat belowdecks in my own boat where in my mind I could see the Chesapeake dropping out of view behind me as I sailed south. The day that I first sailed her up and down the South River was a fine one indeed.
With the boat ready to sail, I set my eyes on quitting my job and heading toward warmer climes, the same goal that so many aspiring cruisers shared with me over the course of the sailboat show. Soon enough I took the plunge, pointed the bowsprit south, and headed away.
Untested and untrained I stuck to the Intracoastal Waterway, where there was a new goal every day: achieving an anchorage, avoiding a grounding, executing a pass. Each of these was big. Each of these mattered desperately to me as I learned and my skillset grew.
Eventually I found myself in West Palm Beach, FL, where the new goal was to develop some real sailing skills. I sailed between the bridges. I sailed with friends. I sailed alone. And I sailed in the waters of the Atlantic outside of Lake Worth Inlet. I can't say it made me a good sailor, but it made me a functional one. That was what I needed to reach my next aspiration, which was to cross to the Bahamas.
I had followed the same path as so many of the folks who answered my questions at the boat show: What's the plan? Where do you want to go? What's your dream? And after I crossed to the Bahamas, the goals rose up and fell away so quickly it was nearly dizzying. A successful overnight solo sail. Making it through a challenging cut. Navigating the red tape of a foreign country. Making long-range cruising plans. And not getting stuck. That one is never far from me. I don't like being stuck.
I still have sailing and cruising goals, but they're getting a little harder to meet and they still change with the times. Crossing an ocean was supposed to be next, but with aging parents and a young grandkid on land, ocean crossings may get supplanted by goals such as trying to get a few weeks on the boat in south Florida or exploring the Chesapeake Bay on weekends.
So dream, boat dreamers, dream. Tell me about your goals. Tell me about the ICW and cruising in the Bahamas and your desire to sail the Caribbean. It wasn't that long ago that my own goal was as simple as to wake up on a boat.
by John Herlig
About the Author: John Herling lives aboard his 1967 Rawson cutter Ave del Mar and teaches at Cruisers University. Find him on Instagram @sailing.ave.