What's it like to spend your first summer living on a boat? Aidan Palmer shares his thoughts on life afloat as summer arrives on the Chesapeake....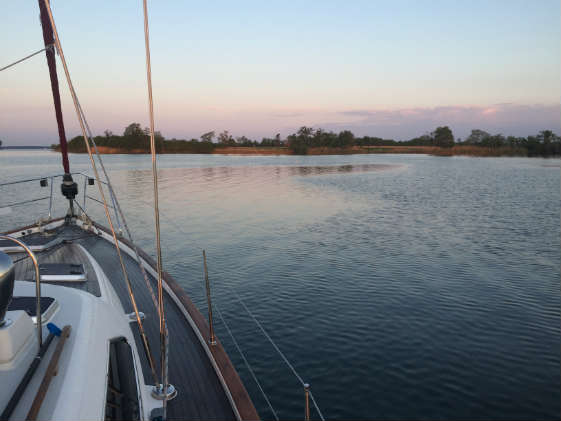 The beauty of the liveaboard life is that setting sail for a weekend of cruising is incredibly simple. All you have to do is cast off the dock lines and sail away…well, there's more to it than that, but going sailing when you live on a boat is far easier than going sailing when you live on land.
I hadn't fully realized that until this weekend, my first true sailing trip on Osprey—my dad's Moody 46 that he bought last September. We took the boat out a couple times in November, but I didn't get the full taste of sailing the vessel until this past weekend when we had some real, proper sailing conditions.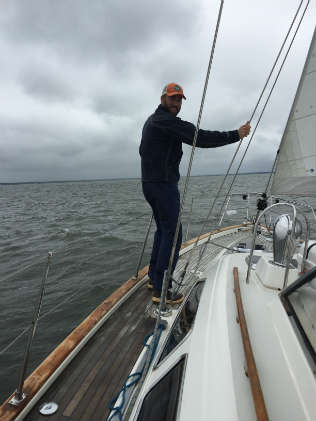 Saturday was grey and rainy and windy. The tide and wind were with us, and soon we were being pushed along nicely down the Chesapeake at a steady 8 knots. We turned up Eastern Bay and kept a good pace until we came to a river where we stumbled upon a perfect little anchorage that was out of the wind, and settled in for the evening. It's hard to compromise your sleep on a sailing trip when you sleep on a boat every night. It's like camping, but instead of sleeping on the hard ground, you get to bring your mattress and other amenities with you.
The wind died down and the weather cleared away overnight, giving way to a warm and sunny morning. We were in no rush to get moving on such a glorious day, so I went up the river in our rubber dinghy to go do some fishing. I didn't catch anything, and I didn't really want to. Instead of fish, I found solitude up that river, and in Maryland solitude is oftentimes harder to find than fish.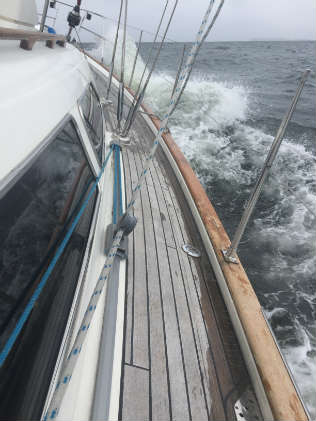 We set off, and it looked like we'd have light winds and easy sailing for the rest of the day. We were wrong. Once we rounded the lighthouse and turned out of Eastern Bay and up the Chesapeake, the winds went from 10 knots to 20, and then from 20 to 30 soon after. We furiously reefed in the sails, and the wind did not abate. It made for good sailing, and later my dad said that it was the hardest he'd pushed Osprey since he bought her last Fall. All in all it was an excellent weekend away, and I can't wait for the next one.
~by Aidan Palmer