These dinghy tips will help you explore the Chesapeake Bay
A well-equipped dinghy allows you to see more and explore more of the Chesapeake Bay than you can in a sailboat with a keel. You can go to a commercial crab house and pick up a few dozen steamed crabs. Run to town for ice cream after dinner. Find your own deserted beach. Explore the marshes. Run for 10 miles up a pristine cypress swamp and see an eagle's nest, swimming deer, eagles, hawks, otters, and dolphins. If you are considering a dinghy to increase your exploration potential, here are some key factors to consider.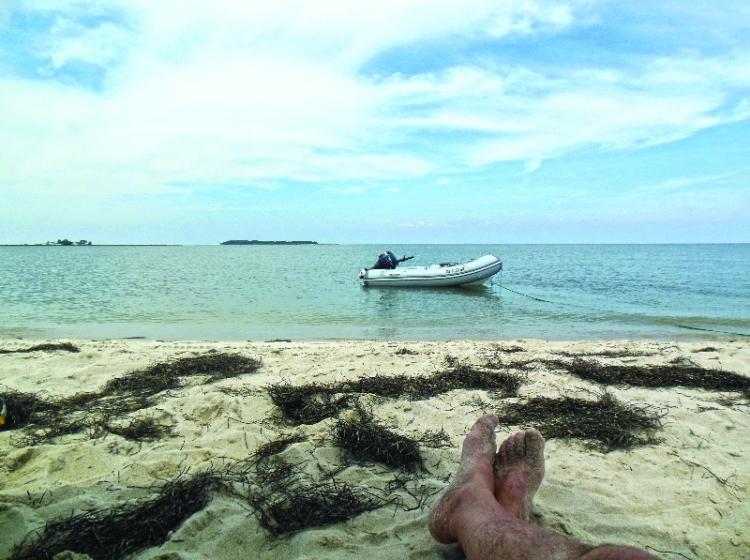 Dinghy hardware
Regardless of whether your dinghy is a hard dinghy or an inflatable, there are a few pieces of hardware you will want to add. Rowing a hard dinghy is fun; rowing an inflatable, not so much. For either boat, an outboard will allow you to go farther, explore more, and to get home against the wind, which can come up unexpectedly. The size and type of power will be a function of how far you want to go. Some people find that an electric trolling motor or a Torqueedo is all the power they need. A single charge will carry you through the weekend, and these silent power sources are great if you want to view and photograph wildlife.
Once you decide to go with an outboard engine, your options increase greatly. Here are a few thoughts: the air-cooled two-hp engines out there are frightfully noisy; a two-stroke outboard is much quieter. A four stroke, if you can handle the weight, is even quieter yet. In my experience, running any distance with an air-cooled outboard is painful to the ears after 15 minutes. After years of cruising with all of the above engines, we have concluded that you want to get the biggest engine that you can manage within the rating of the dinghy and the system you use to deploy it. If you can get your dinghy up on a plane, then your exploration horizon triples and your exploration area grows 10 times larger.
Dinghy gear
Stowing the lifejackets is always a problem; they get under foot. A small bag that holds two lifejackets can be tied under the seat so they are always with the boat, but not under foot. Go with a small three-gallon fuel tank. You won't burn even three gallons in a weekend. Keep the tank small, and you will always have fresher fuel. It also takes up a lot less space in your dinghy. Install a transparent inline fuel filter. You can see any fuel problems such as water before they cause trouble.
You might also keep a dry bag prepared for the dinghy at all times. If all your safety gear is in the bag, then you just grab the bag and go. The dinghy bag should contain:
A waterproofed copy of your registration, a Leatherman tool, a waterproof box for a cell phone, a handheld depth finder, sun block, and bug spray.
An anchor: a small claw (Bruce anchor) can hang on the transom next to the engine. With an anchor aboard, you do not have to carry your dinghy up to the beach. You can just put the bow on the sand and throw the anchor out; the boat is secure.
Depth finder: Many people may have seen the so called soda-can depth finder. It is a handheld depth finder that you can dip in the water, press a button, and read the depth. There is a better cheaper tool: a handheld with a transom-mounted transducer. These hand tools allow you to run along taking continuous readings. Using this tool, we have found several spectacular anchorages that the charts and guides tell you are too shallow to enter. If you want to get away from the crowds, this is the tool to have.
by Tom Hale
This article originally appeared in SpinSheet in July 2014.