Sailing begins at a young age at FBYC
The Junior Sailing Program at Fishing Bay Yacht Club (FBYC) has been around for years, training both casual sailors and Junior Olympians. FBYC hires world-class sailing coaches, many of whom are from South America. Their talent for coaching and encouraging comradery provides the necessary mix of hard work and fun.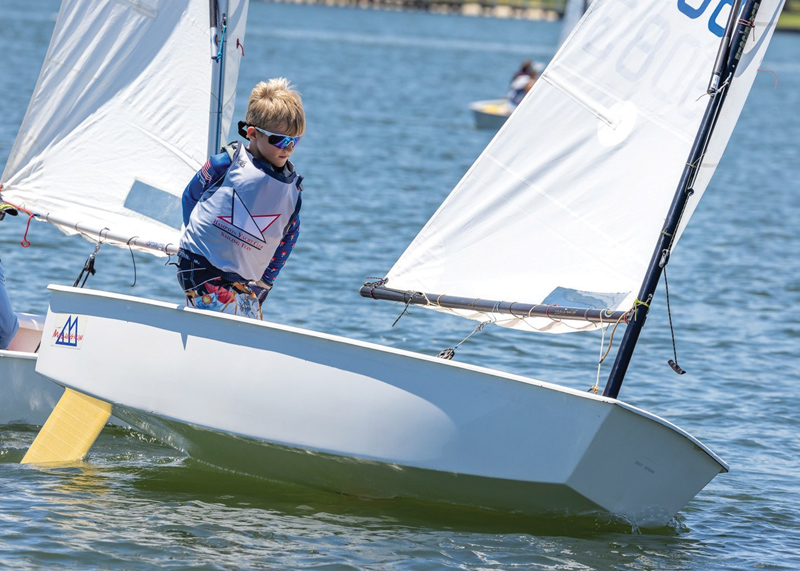 The training begins at a young age for FBYC members and nonmembers. Opti Kids, two weekends in June set aside for beginners' training, is for ages five to seven. Many FBYC racers got their starts at Opti Kids, as it allows for personal, hands-on learning.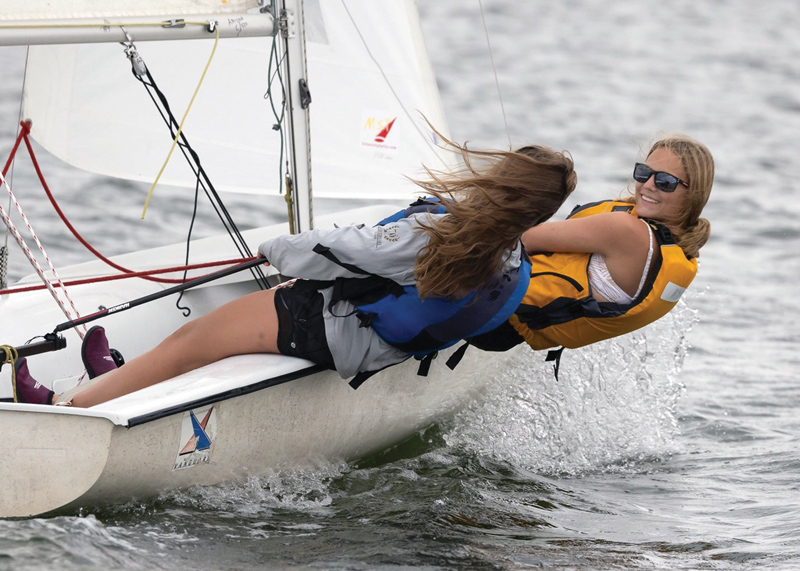 Junior Week
Following Opti Kids, Junior Week begins. Those who have just learned the basics can improve their fresh skills, and kids who have spent many summers on the water reunite with their friends for a week of sailing and excitement. There is no week, including holidays, where Fishing Bay is more crowded. Five to 18-year-olds fill Fishing Bay on Optis, Lasers, 420s, and Flying Scots.
The week-long program is safe and yields results, but most importantly, the children have fun. Nightly activities include ice cream socials, taco nights, and slippery watermelon races. Parents spend their days watching their children excel and perhaps reminiscing about their own experiences learning to sail at FBYC. By the end of the week, even the most tentative of kids is a more competent sailor and enjoying themselves. This aligns nicely with the FBYC Junior Program's motto: "If kids have fun sailing with their friends, they will come back for more!"
That has been the case for Mae and Walker Angus, a former junior—now coach—and a current junior, with whom I sat down to discuss the impact of the FBYC Junior Racing Team. They show love for the program just by the enthusiasm and willingness to speak with me about it in the middle of their busy racing and training schedules. The teams travel all around the Chesapeake Bay, even competing in National Championships in New England, Canada, Michigan, and Minnesota.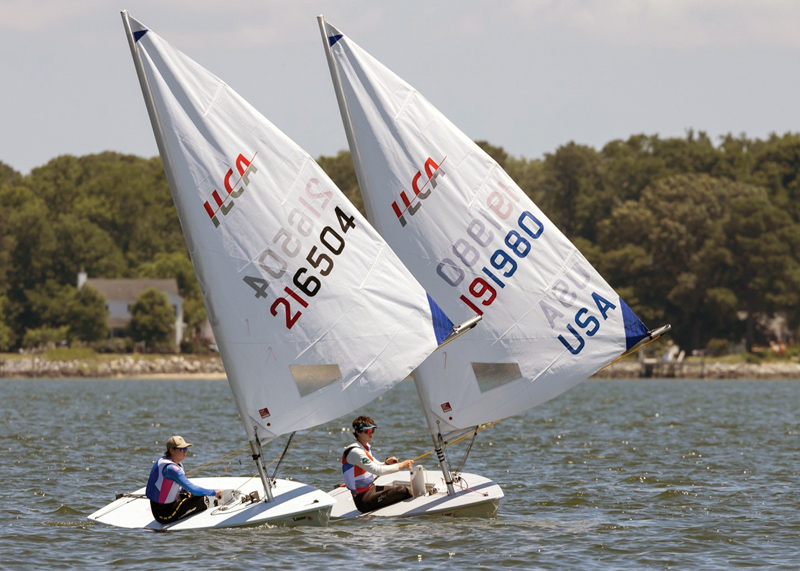 Sailing and social enviornments combine for real impact
Fishing Bay, a relatively calm and quiet body of water, provides the optimal setting for fostering a love for the sport of sailing. Unlike Hyannis, MA, or Newport, RI, places the Angus siblings have hailed as their favorite locations for racing, Fishing Bay has ideal conditions for building skills without being too dangerous.
However, the physical environment pales in comparison to the social environment. While Mae and Walker had wonderful things to say about the sport of sailing itself, their true love was for the team and the coaches. From year to year these pupils from all over the Eastern U.S. have returned to dedicate their summers to sailing. Tentative friendships that began years ago at Opti Kids have blossomed into real relationships. They truly are a family. A very talented family, full of sailors and coaches that welcome anyone willing to put in the work.
by Clara Skeppstrom