See You at the Annapolis Spring Sailboat Show Friday through Sunday April 29-May 1
Following a two-year hiatus, we're excited to welcome sailors back to City Dock in downtown Annapolis. The 2022 Annapolis Spring Sailboat Show will feature new and brokerage boats including catamarans, monohulls, family cruisers, daysailers, and inflatables. Guests will be able to meet with boating clubs and charter companies, shop gear and equipment, and expand their knowledge with educational courses and free seminars. Now that spring has finally arrived, we can't wait to see you all at the show!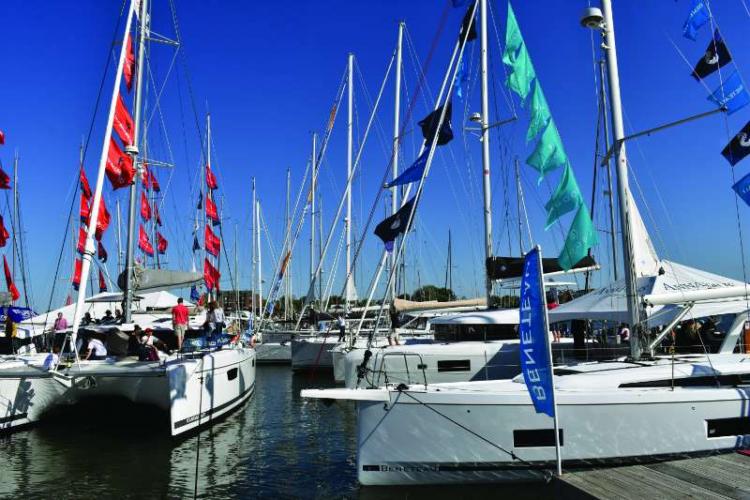 Educational Opportunities
Cruisers University: More than 70 classes are available for sailors and powerboaters alike who have an interest in learning the fundamentals of bluewater cruising. The curriculum addresses a complete range of cruising topics for all levels and experience to help you prepare to live aboard a boat and begin your boating adventures with confidence. The program will be held April 28-May 1 at The Historic Inns of Annapolis. All tuition includes educational materials for classes attending, instruction by renowned cruising experts, evening social activities, admission to all days of the Annapolis Spring Sailboat Show, complimentary one-year basic Boat U.S. membership ($30 value). Learn more at annapolisboatshows.com/cruisers-university.
Offshore Emergency Medicine Class: This highly sought-after class offers relevant and practical training for the largest and most remote wilderness on earth. The course will emphasize the understanding of body systems and principles of care to best prepare the medical officer to improvise and adapt to the infinite variety of challenges that the open sea can present. It is designed for voyaging sailors as well as professional mariners. Cost: $1295 per student. Multi-day admission to the Annapolis Spring Sailboat Show is included with your Emergency Offshore Medicine registration, as well as breakfast and lunch during the three days of class.
Free Daily Seminars: No pre-registration necessary but limited seating is available. First come, first served. Seminar schedule and speakers are subject to change. Show admission required. Topics include getting your captain's license, diesel basics, docking de-stressed, and more.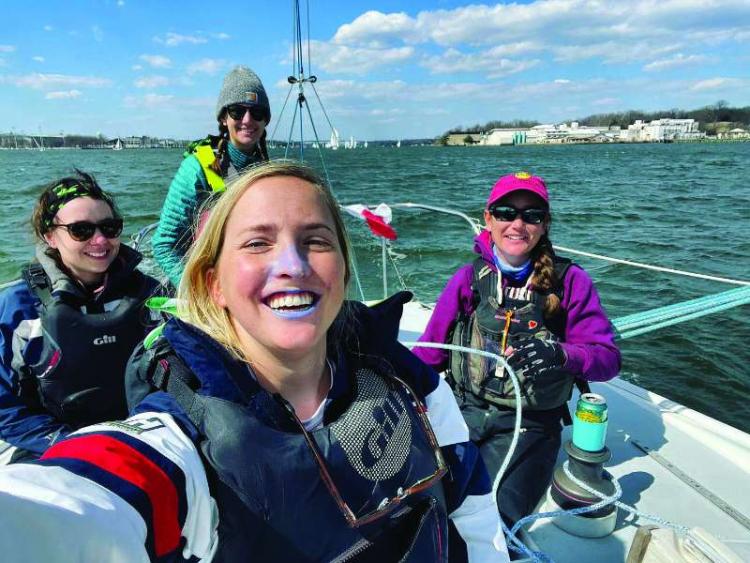 On Friday, April 29 at 1 p.m. and Saturday, April 30 at 1 p.m. don't miss "What I Learned From Sailors Who Logged 100 Days on the Water"—Our editor Molly Winans shares photos and stories from eight years of the SpinSheet Century Club. From racing in the rain to spring cruising, from honing new skills on all sorts of boats to wildlife watching, Century Club members know how to "live the dream" on the Chesapeake and beyond.
Find a seminar schedule, registration for classes, and show map at annapolisboatshows.com.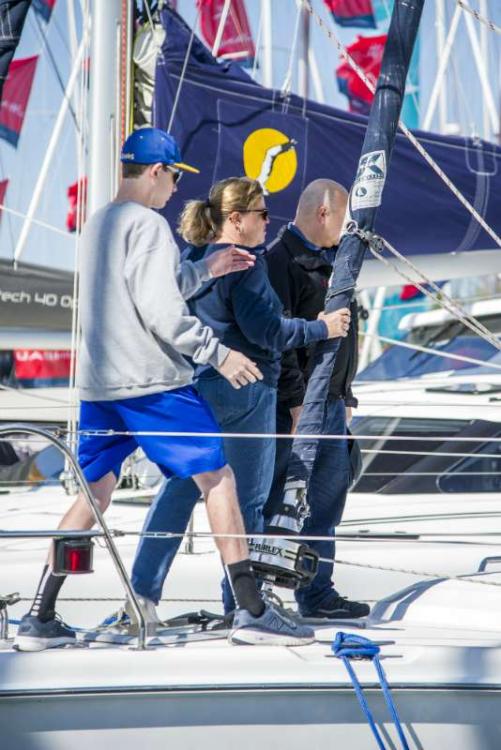 Show Highlights:
Meet Team SpinSheet! Our team will be located at Tent C16—come by and say hello and grab the latest issues of SpinSheet, PropTalk, FishTalk, and Portbook. We love meeting our readers!
BMW Test Drives: Stop by the BMW exhibit to check out the all-new, fully electric iX on display and take advantage of the opportunity to register for a test drive in one of four models (iX, i4, M8, and X7 M50i) at the show. Test drives are only available Saturday (April 23) and Sunday (April 24) during show hours.
Breakthru Tasting Tent: This year, Breakthru Beverage Maryland, the largest wine and spirits distributor in the state, will deck out a large tent with seating and bars set up to present their beverage offerings. Guests (21+ only) are invited to visit the tent to learn more about the beverages and enjoy complimentary sample tastings. Selections include Tito's Handmade Vodka, Brugal 1888, Fishers Island Lemonade, Fleurs De Prairie Rose Languedoc, The Crossings Sauvignon Blanc, and The Callings Wines.
Explore Annapolis: While in town for the show, don't forget to get out and explore Historic Annapolis! Explore the beautiful brick-lined streets of this charming seaport town that are filled with a variety of dining options, art galleries, apparel, antique shops, and specialty boutiques. See a live show at one of the many music venues, do some retail therapy, book a historic walking tour, stroll through the U.S. Naval Academy, and enjoy a glorious sunset at the end of each day. For more ideas to plan your visit, check out visitannapolis.org.
Show Details
Dates: April 29 to May 1
Times: Friday and Saturday 10 a.m. to 6:30 p.m., Sunday 10 a.m. to 5 p.m.
Location: City Dock, Annapolis
Parking: Boat show visitors are encouraged to park at the Navy-Marine Corps Memorial Stadium and take the free bus to and from the show. Hours: one hour prior to show opening through one hour after show closing. Please enter through Gate 5 located at 511 Taylor Ave. Buses run continuously from 9 a.m. until one hour after the show closes. Stadium Parking: $20 per car.
Parking is also available at the Eastport Elementary School—a short walk to downtown historic Annapolis. Cost: $30
Tickets: General admission $20, children under 12 are free. There will not be a ticketing box office onsite at the show. Please purchase your digital tickets in advance at annapolisboatshows.com
VIP Tickets: $85, includes Boat Show admission and exclusive access with unlimited entry into the VIP Lounge—an elegant lounge with comfortable seating, delicious complimentary cuisine, wine, beer and spirit tastings. Valid for one day only. VIP parking pass, just seconds from show entrance, costs $15.
For safety reasons, strollers are strongly discouraged. No pets.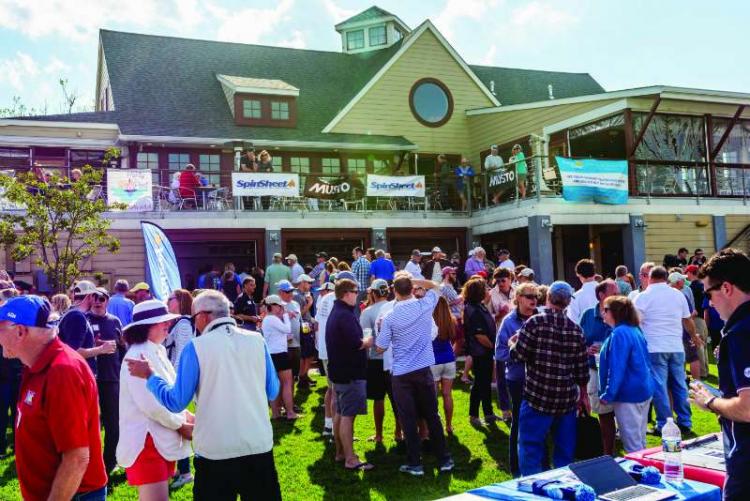 After the Show:
Don't miss the SpinSheet Annapolis Crew Party Sunday, May 1 from 4 to 6 p.m. at Eastport Yacht Club! Whether you are looking for crew for your boat or are looking for a boat to sail on, this is the place for you to connect with other SpinSheet friends who are looking to get out on the water. Register today by signing up for the SpinSheet Crew Finder or updating your existing profile at spinsheet.com/crew-finder. You can also find more details at spinsheet.com/crew-parties. All are welcome. Free to enter; cash bar.