Setting sail toward thanks and gratitude
Around this time of year, we often ask our staff to share a couple things for which they are giving thanks. Below you'll find some of our responses.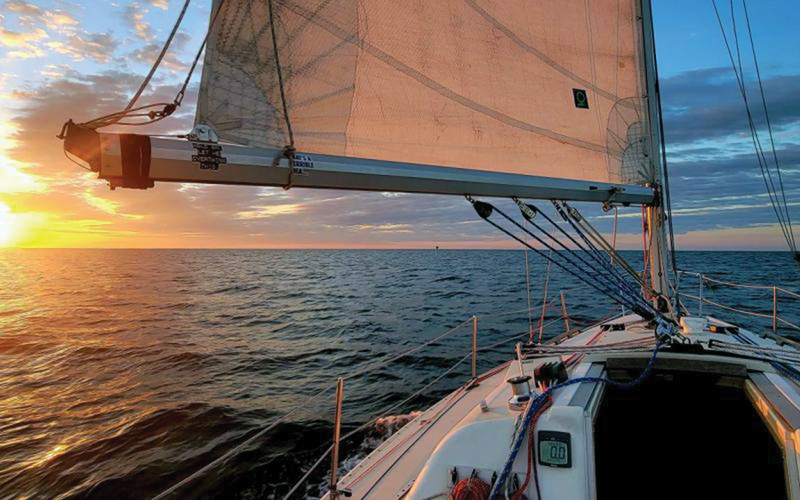 With the Thanksgiving holiday this week, If you're celebrating aboard, drop us a line at to share your best galley prep tips for special meals. On Thanksgiving Day and Blue Friday, snap a few photos of your onboard celebration or outdoor adventures and share them with us too.
In addition to our boating, fishing, and sailing adventures, plus our readers, contributors, and advertisers, here are a few more things for which we're giving thanks:
Kaylie: I'm thankful for a wonderful first year of marriage, a goofy dog that I can bring to the office, spontaneous fishing trips with coworkers, and the fact that I finally completed a bucket list hike this year.
Mary: I am thankful for all the people who have kept me going these past two years. I am thankful that my dad got me into sailing and that Geoff talked me into learning to drive our boat in races.
Beatrice: I am grateful for my family and our tradition of camping on Assateague Island National Seashore during the Thanksgiving holiday. Our tradition continues this year, and we hope to recreate a variety of traditional (and delicious) family recipes, as well as sharing laugher and creating more memories together.
Molly: I'm thankful for SpinSheet readers, their contributions and story ideas, enthusiastic notes, pretty and funny photos, and even their keen eyes for typos. More than anything, I'm grateful for their passion for sailing—without it we'd be out of business. Thanks, awesome SpinSheet readers, for making our "sailing rag" something special 12 months a year!
Lenny: I am thankful for my new boat!
Beth: I am thankful for the culture of enthusiasm, professionalism, kindness, and teamwork that makes SpinSheet a wonderful place to work.
Chris: As always, I am thankful for family, close friends, good health, and a job I enjoy.
Eric: I am thankful to be able to work at SpinSheet Publishing, such an awesome group of professionals.
Lucy: I'm thankful for a relatively peaceful year with Covid diminishing, more success in Ukraine, and happiness to be with my family on my 80th birthday.
Royal: I am thankful for my family, roommates, libraries, office dogs, InDesign, and avocados.
Kelsey: I'm grateful for sailing, peak farmer's market season, and a new phase of life after graduating from college.
Zach: Thankful to have a cool job working in the marine industry that enables me to share my love for the Chesapeake Bay.