Gearing up...
I didn't realize how much stuff I carry on my own boat until I hauled it all home for the winter. What accumulates almost without my consciousness is what makes life onboard more comfortable and convenient. I don't find a lot of that gear on charter boats. Over the years, I've discovered that despite the urge to pack very lightly, there are a few items that are worth bringing along with me on a sailing charter vacation beyond the obvious swimsuit, sunscreen, and camera. If you divide the items up among your crew, you'll hardly notice you're carrying extra gear.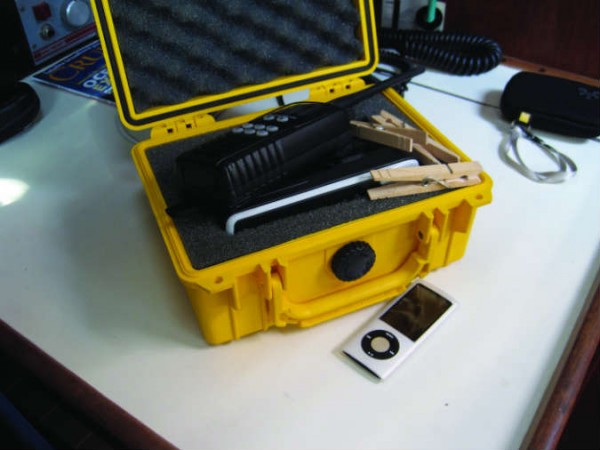 First and foremost, because this is a vacation, I bring a few essential bits of entertainment gear. To me, music onboard is essential. I love to sing when I'm working in the galley, and I like to set the mood at anchor and underway. Most charter boats now have stereos with a USB port, so bring your electronic player of choice, and have your playlists ready to go.
When I'm not torturing my crew with my vocalizations, I love to read. Before I had my Kindle, I'd bring along a half-dozen paperback books that can be left behind at the charter base for other sailors; hardcovers are just too heavy. Even if I don't read much on the boat, a long day of air travel to and from our destination can easily consume an entire book. Finally, both Rick and I bring journals to record memories of our trip.
Whether or not you bring (or use) your smart phone is a matter of personal preference or need; however, I find a handheld VHF radio essential for local communication. All charter boats have a VHF radio installed below decks, but when you need to communicate to people in the dinghy or onshore, having a handheld radio is very convenient.
Whether or not bringing a portable GPS is a matter of debate. Most charter areas have simple line-of-sight navigation, and some charter boats are equipped with GPS (and in Maine, with radar and a chart plotter), so it's not strictly necessary. However, if you want to load your waypoints in advance, bring your own GPS. Keeping all of these electronic goodies going requires a means of re-charging, so be sure to bring along the chargers for each of them. I also carry a small inverter that can be plugged into the boat's 12-volt cigarette lighter; some have multiple outlets, which makes charging all of these power-hungry devices easier.
At the low-tech end of the spectrum, we always bring along a rigging knife or a Leatherman multi-tool. While this necessitates checking luggage, it has always come in handy for those small but inevitable repairs or for tangled lines.
We also bring along some line; you never know when you might need to secure a grill or breeze booster. I usually carry a handful of clothespins; charter boats never have enough, and they are useful for hanging wet towels on the lifelines, closing opened bags of chips, or holding papers together.
With water sports comes moisture. In addition to gallon-sized zipper bags for protecting cash and cameras, we bring along at least one dry bag for ferrying clothing, towels, and books from dinghy to beach. Having made many undignified attempts to climb into a dinghy at a snorkel spot, I now bring along dinghy steps that take up little space, but save a great deal of embarrassment.
While most charter companies offer guests use of snorkel gear, the thought of using a shared snorkel or an ill-fitting mask doesn't appeal to me, so I bring my own. But I'm happy to leave the space-consuming fins at home. I also find swim noodles very versatile, for uses ranging from flogging crew to staying afloat while bathing off the stern; inflatable ones take up minimal luggage space.
Because so much time onboard is spent in the cockpit, and few charter boats have decent cockpit lighting, bringing a string of LED lights or even a few glow sticks can help brighten matters. They are also useful in distinguishing your boat from others in a dark and crowded anchorage, increasing your chances of making it back to the right home base after a night of onshore indulgence.
One of the mantras of packing for an island vacation is "bring half the clothes and twice the money." While that is a good starting point, bringing a little extra gear to make boat life more comfortable can be worth the extra luggage weight.
Editor's addition... bring some good binoculars, as the ones on the boat might be salty!
~ By Eva Hill