How to make a sailing charter dream a reality and stay within budget
As we face down our New Year's resolutions, finances may not look so rosy...
Yet January inspires us to sail somewhere warm, and we may find ourselves in a conundrum. But
while a sailing charter vacation may seem like an unaffordable luxury, a few things can be done to save money when planning that sailing vacation. I, for one, have not paid "retail" for a sailing vacation in a long time.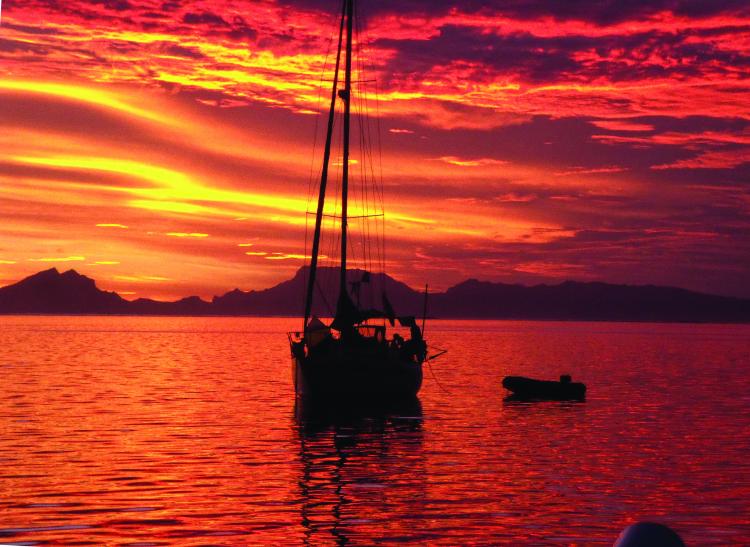 Book Late:
If you can bear the uncertainty of not having your trip planned out well in advance, and the flexibility to plan on short notice, a lot of deals can be had if you book at the last minute. Charter companies frequently offer substantial discounts on charters that haven't been sold. Also, in my experience as a hoarder of frequent flier miles, I've had some of my best success redeeming miles within the week before I wanted to travel—sometimes right up to the day before travel—as airlines seek to fill empty seats. (Since airfare is usually the second most significant expense of a charter vacation, saving on airfare is helpful.) One year, I went on a charter that was nearly free by using miles to reach the British Virgin Islands, booking a low-season boat just weeks before sailing, and offsetting most of the remaining costs by earning a large cash voucher from my airline for their screw-ups.
Book Early:
If, on the other hand, the thought of last-minute travel gives you the willies, book your trip really early, as soon as the airlines release their schedules (usually 330 days in advance for legacy carriers). Visit charter company websites, or visit their booths at boat shows, and look for early-bird discounts. Aside from enjoying last-minute, frequent-flier-mile redemptions, I've had success booking air travel as soon as the flights become available.
Go Off-Season:
One not-so-little secret about most tropical sailing destinations is that, aside from the risk of hurricanes that peaks from mid-August to mid-October, off-season conditions can be awfully pleasant. Fewer businesses are closing for the season, while those that do, only close for a few weeks. Weather-wise, one of the best trips I ever took was in June. Combined with a generally more laid-back feeling and fewer visitors, paradise can be more appealing in early summer than any other time of year. But because fewer travelers seek the contrast of leaving winter behind, rates for low-season charters go way down, with charter companies offering substantial discounts and/or freebies like extra nights or sleep-aboards to entice visitors.
One expense not to skimp on this time of year, however, is trip delay/interruption insurance to cover the risk of disruptions caused by tropical storms. (Or, if you forego the insurance, make sure the costs of lost deposits and additional expenses caused by being stuck in an unintended destination are ones you are willing to shoulder.)
Be Loyal:
Judging by the volume of ads in sailing magazines, charter companies spend a lot of money trying to attract customers. The conventional wisdom is that the vast portion of their budgets is expended to entice first-time customers; only a small portion is dedicated to bringing back return visitors. Accordingly, most companies offer discounts and perqs to loyal customers.
Go Low:
Experienced charterers typically assign charter companies to one of three tiers. The first tier is the "majors," offering the largest number of boats, the newest boats, and the most shoreside amenities and support. Second-tier companies are smaller and/or offer older boats for charter. The third tier tends to include the smallest companies with the fewest amenities and the oldest boats.
Not surprisingly, first-tier companies are likely to be the most expensive; although some of them have "value" fleets of older boats, offered at lower prices, but with access to the same amenities and support. The second tier—where I've been most comfortable in past years—typically charges less, though the rates for their newest boats can be similar to first-tier rates. If you don't mind a less-than-pristine older boat, the third tier is where the real savings can be found.
Of course, sailing with any but the most-established of third-tier companies takes some vigilance. I've heard nightmarish accounts of charterers arriving at bases to find padlocked gates; seized vessels, because the company has gone under (in each of those cases, however, other companies stepped in to save vacations); and boats in terrible condition (beyond that which a normally-experienced sailor is capable of coping with or repairing on the fly). In this era of the internet, there are many resources to vet charter companies—from Trip Advisor reviews to online communities. Before committing, verify. And think about that trip insurance.
Owners' Time:
Charter boats are owned by individuals, not by the companies that manage them. One of the benefits of putting a boat in charter is the right to use your boat—at no additional cost—for several weeks a year. Many owners simply don't have the time to use all of their available time, so they sell their weeks at a discount, with the support of the charter company. If you know someone who owns a boat in charter, he may be willing to work with you. As well, many websites such as sailonline.com contain listings of available "owners' weeks."
Save a Little:
It's not just the big things that can help you keep the cost of your charter down. Little things add up, too. For example, you can seek out coupons and discounts for meals and drinks. In recent years, a book called The Drinking Man's Guide to the BVI by Julian Putley not only provided a connoisseur's review of beach bars, but lots of two-for-one coupons for drinks. While considering local libations, drink them as well—local rums are cheap down island, often cheaper than the mixers.
So, if you're choosing between wine and rum, go with rum. The food in grocery stores and restaurants is more expensive than it is in the United States, so some charterers prepare meals in advance, freeze them, and bring them along with them in a cooler. Those not willing to go to those lengths, but still wanting to save a few bucks and/or ensure that their favorites are available for their trip, bring frozen meats with them. (Just be sure to bring receipts; some food items are subject to duty. Even though the duty is often waived by the customs agent, it helps to avoid extra duties by being able to show exactly how much you paid.) Also, mooring fees can add up, so anchor out (but not in the middle of a mooring field!) to save money.
Just Do It:
These tips are all great ways to reduce the costs of long-distance charters, so you, too, can sail in exotic places more often.
~ By Eva Hill
This originally appeared in SpinSheet in January 2013.