Dinghy racing when there's chop.
A few weeks ago, I enjoyed racing my ILCA 6 out in the Chesapeake Bay one day and at the mouth of the Severn River off Bay Ridge the other day. Saturday was super hot, but after a front went through, Sunday was much more enjoyable (at least from a temperature standpoint). Both days included some pleasant breeze: Saturday started off light but built to almost 15 knots, while Sunday was more seven to 10-ish.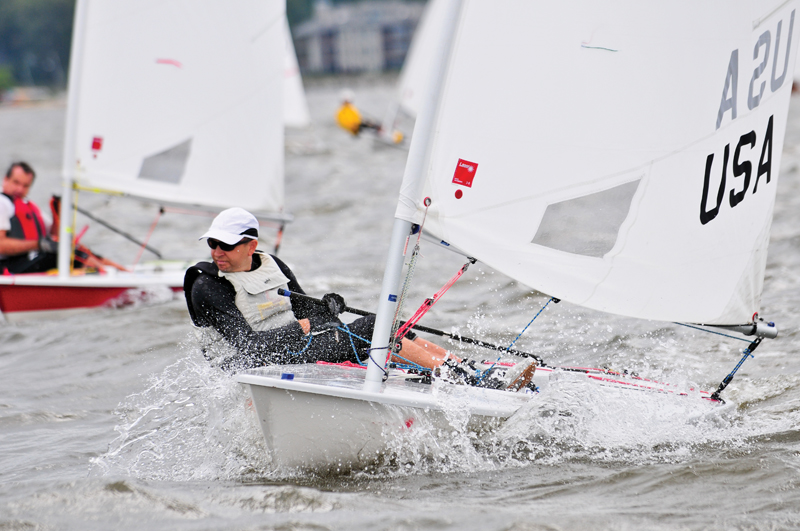 Work on your "slop and chop" technique… and patience.
With spectacular summer conditions like that, you'd better believe that the ILCA 6 and ILCA 7s weren't the only boats out on the Bay. Bigger boats had fun racing the Annapolis Yacht Club Two Bridge Fiasco on Sunday, and there were also many cruising sailboats and a ton of powerboats out all weekend long.
And that means… a lot of chop. With so many people enjoying time on the Bay, there are lots of boat wakes interacting and causing all sorts of liquid chaos. Instead of a somewhat-regular wave/swell height and directions, the lumps come at you from every direction. It's impossible to get a rhythm steering over/around/through waves. So, you've got to adapt—your mindset as well as your boat setup and boathandling.
We're all in it together. It may not seem like it—especially when your competitors just a hundred yards away seem to be in a magical flat spot in the water—but on days like these, everyone is struggling with the chop. Yes, it's hard, and it's frustrating. But somehow, knowing that it's not just you dealing with the chop makes it a little more palatable. Those folks in that magical flat spot—don't worry, they'll get their moments in the washing machine, too. Everyone "gets" to enjoy that at some point. Or rather, at many points.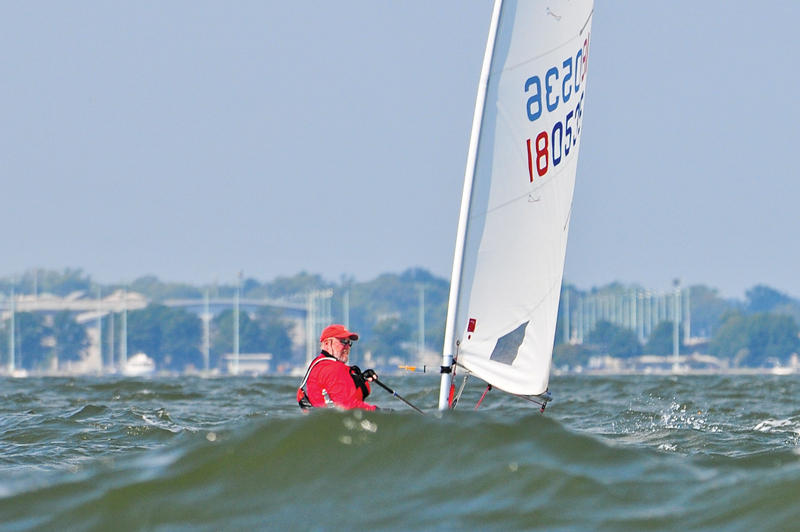 Adapt your mindset as well as your boat setup and boathandling.
Accept reality. You can't just wish the slop away, so accept it and adjust the way you're sailing. To find success that weekend, I repeatedly had to remind myself—usually out loud (yes, on a singlehanded boat!)—to sail differently than I would have in the absence of all those annoying waves. Tacking in on what might have been the port-tack layline on a non-choppy day? Nope, not gonna happen. I had to say, "You can't point right at the mark. Just go for that tanker for a while."
Change what you can. Your angles will get bigger upwind, and you need to create a more powerful sail plan (are you easing outhaul, cunningham, etc.?). How you sail downwind may need to change, too. Dead downwind is likely not going to work. Heating it up to power through the chop—even if it takes your angle farther from your downwind mark(s)—is important. Remember, on most boats, it's way easier to keep the boat moving than to get it moving once again once you have stopped. Heat it up downwind. Keep it footing upwind, and keep it rolling!
Patience is key. This is related to accepting reality. Find yourself in a hole, with no wind and lots of chop? Your gut instinct may be to tack or gybe to get out of a bad situation. But don't make a bad situation worse! Take a deep breath and evaluate whether changing course will indeed make your situation better. Make sure that when you tack, you're heading into better breeze. It is super hard to keep your head out of the boat on days like this, because you're so busy tweaking your control lines and getting all bounced around. It's important to keep an eye out for where the windier spots are so that you can take advantage of them. Optimally, you connect those dots and avoid the holes…but that's rarely 100 percent feasible, so just doing as best you can will have to get you through.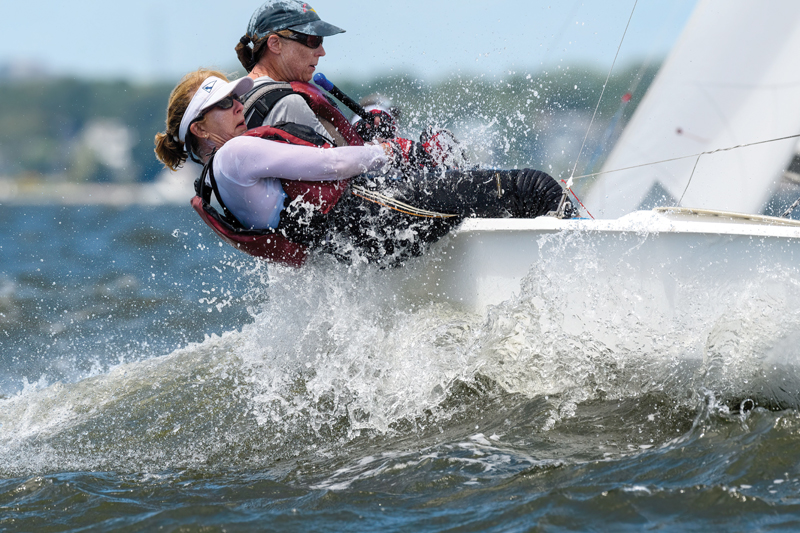 Don't hesitate to take opportunities! Just because it's hard and frustrating doesn't mean that you can't take charge of your situation. In fact, it's all the more important to capitalize on the good times. See a good puff out on the right side? Hit it hard. See it, believe it, act on it. Wind drop off and your sail controls are too tight—but it looks like the breeze will fill in again in another minute? Don't just accept that your sail will be set up right for when the breeze comes back. Ease off your controls to deal with the light spot as best you can, then pull 'em back on again when the breeze returns. Changing gears more accurately than your competitors can absolutely gain you needed boatlengths over the course of a leg.
Slop and chop isn't the most fun, but it is one of the more challenging conditions racing sailors can experience. We can't wish it away, so develop your technique and focus and you'll thrive in it!
By Kim Couranz
About the Author: SpinSheet Small Boat columnist for more than a dozen years, Kim Couranz has earned several national and world titles in Laser Radials (ILCA 6) and Snipes. She has also raced J/22s, J/24s, and Ynglings on an international level.