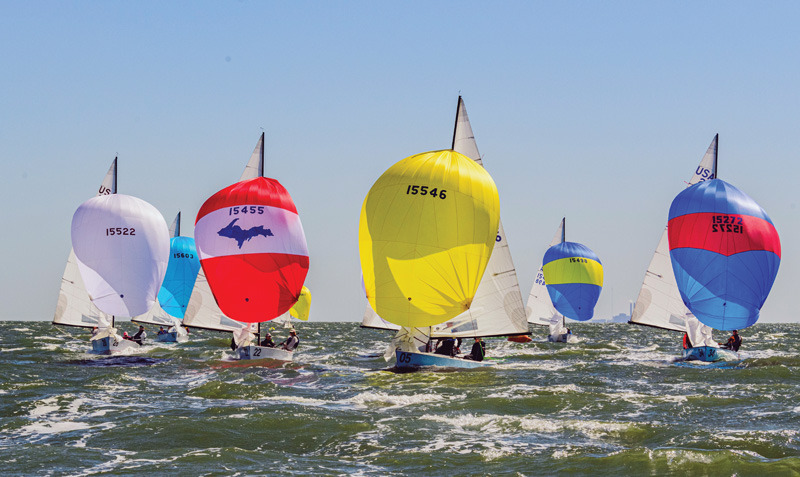 Now for some completely different sailing
I wouldn't necessarily say I was stuck in a rut; I have enjoyed sailing primarily in just a few one-design classes for the past decade or so. It has allowed me to really get to know those boats and how to sail them.
But come on, one life to live and all, how about expanding horizons and trying something different? When a friend (whom I hadn't sailed with before—so, a new-to-me skipper) asked me to sail a regatta in a new-to-me class, heck yes, I was in!
And so it was that I found myself as forward crew on a Lightning on a windy (15- to 20-knot-plus), wavy day on Biscayne Bay, fingers crossed that—among other things—I wasn't going to drop the spinnaker pole overboard. It was hard. I got bruises in new places, and it was interesting figuring out communications among three team members rather than between just two people, but good golly, it was fun!
Pick the right boat
Considering sailing in a different one-design boat? Make sure it's a good fit for you. What kind of sailing do you enjoy? Do you like to hike hard, or would you prefer a boat that isn't as strenuous? Spinnaker or none? While of course any new boat will be, by definition, a new experience, make sure it's an experience at least related to what you want to enjoy.
For me, the Lightning was a good fit: You've got to work physically and mentally hard, and the fleet is very competitive. (That "sneeze at a mark rounding and lose five boats" kind of competitive.) I have enjoyed sailing on boats with three people before, but it had been a while—that seemed to me to be an interesting teamwork twist. Layering the bow-related work that I have enjoyed before (though thankfully I'm tall enough I didn't actually have to stand up on that deck to get the pole clipped on!) on to my familiar home of trimming the jib was a great combo.
Find the right people
While most of your decision-making about what new boat to try will focus on the boat itself, it's important to remember that you do spend time on shore, too! Is the fleet—the one-design class—full of the vibe you want in your life? Is it focused, keep-to-yourself, hard-core racers? Full-on family events with many multigenerational boats?
Great boats generally are supported by great one-design class organizations, and that's certainly true with the Lightning. Lightning sailors are welcoming and encouraging, and are free-flowing with information about their boats and how to sail them. The class website is flush with great resources to welcome new Lightning sailors, including videos and recorded webinars. And at the regatta, the vibe of "if one of us gets faster, all of us get faster" floated around conversations at the regatta socials.
Trust what you know, but feel free to ask questions
Hopping into a totally different boat can be a daunting experience. While in familiar boats, you can just tweak away on control lines. In a new boat, you have to think before you tweak a control line (is that one the jib cunningham or the halyard fine-tune?). You have to look before you step. You have to consider where your teammates are (elbow to the nose on an assertive spinnaker hoist wouldn't be fast in the long run). You have to figure out your sight lines: what you can and can't see from where you are in the boat.
But remember, most of the basics convey. Upwind and downwind still work the same. Mains and jibs still have luffs, foots, and leeches and control lines that affect them. If you know how to make a sail look good on one boat, you know the concepts needed to get your sail setup at least in range on a new boat.
And the same principles apply to all one-design fleets. Get out to the race course, throw in some practice tacks, sets, gybes, and douses. Run the line and get your line sight. Do some practice accelerations so that you're ready to get off the starting line. Make sure you're set for nutrition and hydration. In a new boat, you're doing the same things, just in a different setting. It's a fun challenge to work those elements out in a new boat and with new people.
Based on the fun I had sailing in a great new boat with great new people, I say go for it! Go boat-hopping!
About the Author: SpinSheet Small Boat columnist for more than a dozen years, Kim Couranz has earned several national and world titles in Laser Radials (ILCA 6) and Snipes. She has also raced J/22s, J/24s, and Ynglings on an international level.
Find more sailboat racing articles here.