Sailing With Pride
One-design dinghy racing is a heck of a lot of fun. It's even more fun when you share it with friends.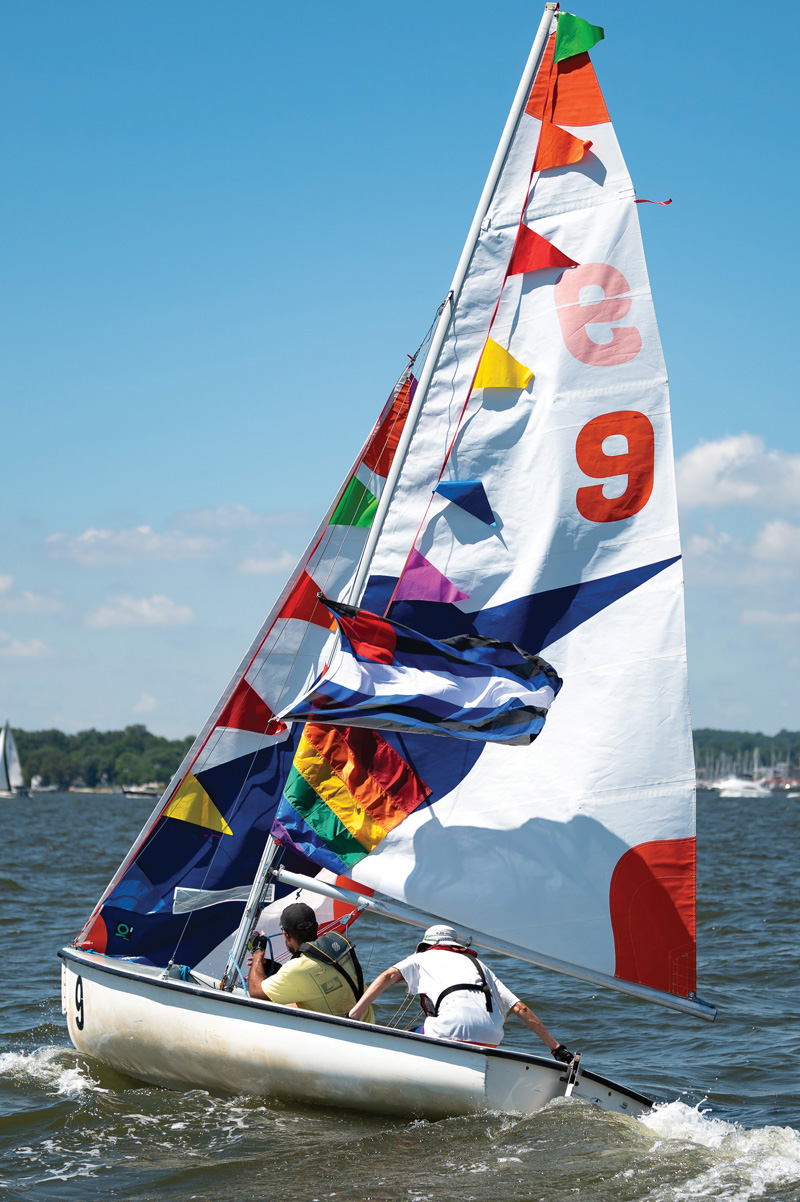 With that in mind, Severn Sailing Association (SSA) hosted the Pride on the Bay Sailing Regatta in collaboration with the Rainbow Spinnakers Sailing Club on June 25. Rainbow Spinnakers SC is a group of mostly gay and lesbian sailing enthusiasts who often sail Flying Scots on the Potomac River near Washington, DC, and J/80s out of Annapolis.
"Rainbow Spinnakers SC provides opportunities for LGBT+ people in the Washington, DC, and Chesapeake Bay area to sail together and socialize," said Eric Bolda, commodore of Rainbow Spinnakers SC. "Although most members are casual sailors, we also have enthusiastic newcomers who want to learn everything, cruisers, racers, and even a few who have sailed across the Atlantic!"
A few years ago, Rainbow Spinnakers SC had approached SSA to see if the club would be interested in hosting the sailing competition as part of Team DC's bid to host the 2022 Gay Games—a worldwide sport and cultural event. Even though there was lots of great energy around the concept of hosting this international regatta, while Washington, DC, was shortlisted, ultimately the bid was awarded to Hong Kong. (And things got more complex following Covid; the Gay Games have been postponed to 2023 and will be split between Hong Kong and Guadalajara, Mexico.)
Thinking that there might be a few teams eager for some practice or looking for a regatta for 2022, SSA reached back out to see if Rainbow Spinnakers SC sailors might want to give dinghy racing in Annapolis a try. They were eager, so the next item on the to-do list was to find a date to make it happen! That's no easy task given the already-packed racing schedule at SSA.
Day Sailor Fleet One invited the Pride Regatta to share the sailing racecourse during its annual Chesapeake Open
SSA's Day Sailer fleet stepped to the fore. They invited the Pride regatta to share the racecourse during their annual Chesapeake Open Regatta, which happily was scheduled for the last weekend of June—Pride Month!
This was no surprise. "The Day Sailer has always been a welcoming class of competitive racers who enjoy the sport and camaraderie of one-design racing," said Matt White, fleet captain of Annapolis's Day Sailer fleet. "Fleet One at SSA is the original Day Sailer fleet, and we were thrilled to have our Chesapeake Open be part of the Pride Celebration. Special thanks to Dorthy Banzon of Annapolis who designed our event logo."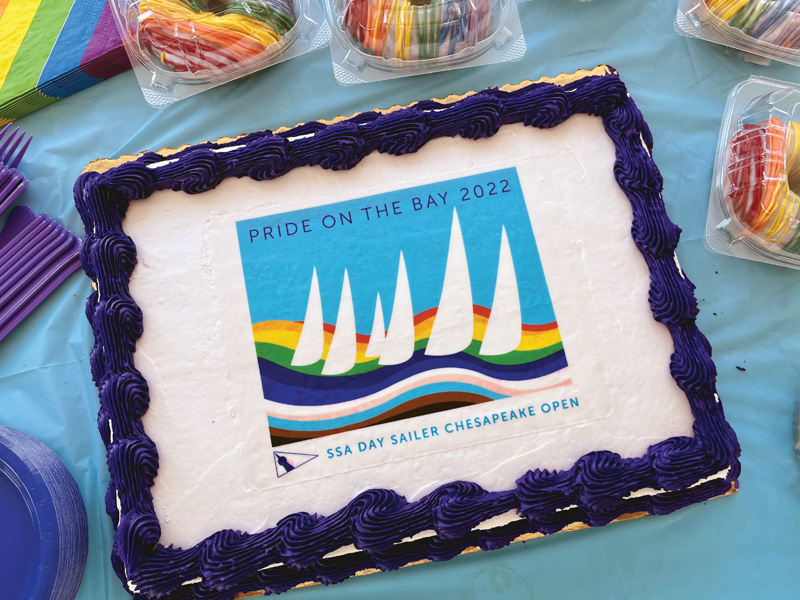 The first part of the registration period was reserved for Rainbow Spinnakers SC members to sign up, and regatta entry was opened to all sailors, whether members of Rainbow Spinnakers, members of the LGBT+ community, or simply sailors who want to intentionally welcome LGBT+ sailors to our one-design racing family.
That equation brought together old and new friends: One of the Rainbow Spinnakers SC teams was two friends who have sailed together for 20 years—but never on anything as small as an FJ. Another team was formed when one of the members of SSA's board of governors thought it sounded like a fun event to support by participating in it—but he didn't have a crew. But then mere hours later, a woman who had heard about the event through Rainbow Spinnakers SC Googled SSA, found the phone number to SSA's office, and left a message saying she wanted to participate and would like to crew but needed a skipper. That was an easy team to make! And they ended up being the boat with perhaps the biggest smiles of the day.
A sunny day of sailing four windward-leeward courses
The regatta was held using SSA's fleet of FJs, which are primarily used for high school sailing and other junior training. The nimble, tippy boats were a big change from the more stable Flying Scot platform, but they provided a good test of skills in the five- to 12-knot winds and choppy wave conditions. Regatta participants enjoyed a sunny day of sailing four windward-leeward courses in the Carr Creek area of the Severn River.
While the regatta offered trophies for the teams that placed first, second, and third, perhaps even more important were the "fun" trophies! Teams were also awarded prizes for the best LGBT Pride boat (flags, decoration), best LGBT Pride crew outfits, best sportspersonship, and most dramatic wipeout (for which the award was a much-needed beach towel!).
Participants had as much fun on shore as on the water—from rainbow donuts and a "meet your fellow sailors" session in the morning to a delightful evening with dinner and beverages, the view over Annapolis Harbor and Severn River from SSA's deck, and great conversations with friends old and new!
By Kim Couranz
About the Author: SpinSheet Small Boat columnist for more than a dozen years, Kim Couranz has earned several national and world titles in Laser Radials (ILCA 6) and Snipes. She has also raced J/22s, J/24s, and Ynglings on an international level.