Sailboat Racing Roundup for June into July on the Chesapeake
Happy summer, sailors! The July issue of SpinSheet is on the docks and with it tons of sailboat racing coverage for the Chesapeake Bay. Let's start with a fun interview with young racing sailors about their upcoming competition in the Snipe Jr. Worlds. Thanks to Trevor Davis and Cole Amaral for taking the time to chat with SpinSheet!
Summertime is ideal for overnight racing around here, so our top feature for the month gives tips for preparation and strategy for racing overnight. Among his other tips for racers, winning overnight skipper Tim Lyons emphasizes how important it is to identify and analyze boat traffic, which becomes "more complicated" at night.
Lyons says, "Correctly navigating around this traffic is essential for not only safety but race strategy as well," he says. "If you miscalculate, you may have to tack prematurely or end up in an unfavorable position on the racecourse. Without fail every race I have done on the Bay at night will have at least one incident of racers failing to give way to commercial traffic or getting dangerously close requiring verbal warnings over the radio and horn blasts. This would not happen if skippers had the experience and used proper seamanship."
Find the full article here or in our digital issue on page 62.
Here is the Mount Gay Rum photo of the month! This photo shows Eunice Lin and her team at the Herrington Harbour Women's Regatta. Thank you to Mount Gay for their continued sponsorship of our racing section, the largest section of SpinSheet!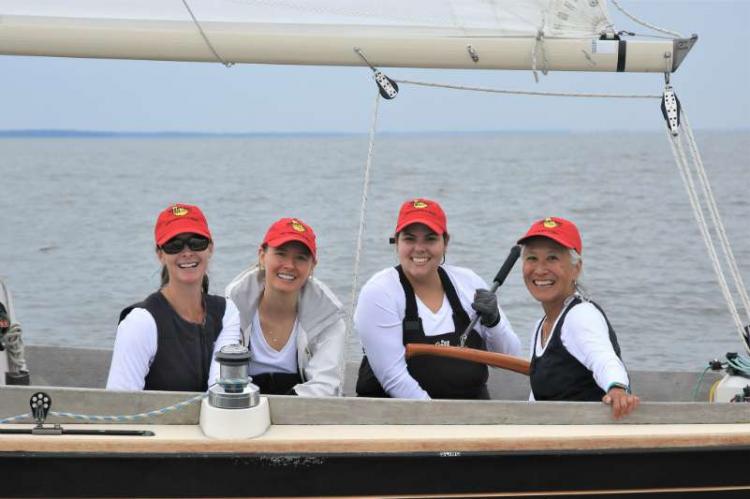 When it comes to July racing, here are links to register for some excellent big events. Before we get started, I (your loyal editor) apologize to the Baltimore City Yacht Association for somehow not listing their Race to Baltimore July 16 in our calendar. It's a great event among the others!
Links to register below:
July 9 East of Maui – EYC Chesapeake Standup Challenge
July 9-10 EYC Boomerang Race
July 15-16 Screwpile Lighthouse Challenge
July 16-17 Olivia's Team Race Regatta
July 23 Triple Tunnel Terror Race
July 29-20 Governor's Cup Regatta
July 30 Hampton Sprints (To enter contact Lin McCarthy [email protected] at 757-850-4225).
July 31 AYC Two Bridge Fiasco
Link to the SpinSheet calendar here. Feel free to send additions to [email protected].
Among the race reports and analysis in our July issue, make sure to check out articles on the following