Here's your SpinSheet Racing Roundup for July 22-23, complete with stormy weather and racing fun. Before we get started, a word on the racing roundup and how it works. We here at SpinSheet have a small staff and try our best to get out to and cover as many events as possible… as for the rest, we rely on YOU, our readers, to supply us with information, stories, and photos. If you find that your club's events are not getting into this web post or into the magazine, it's highly likely you're not sending us news. Please do!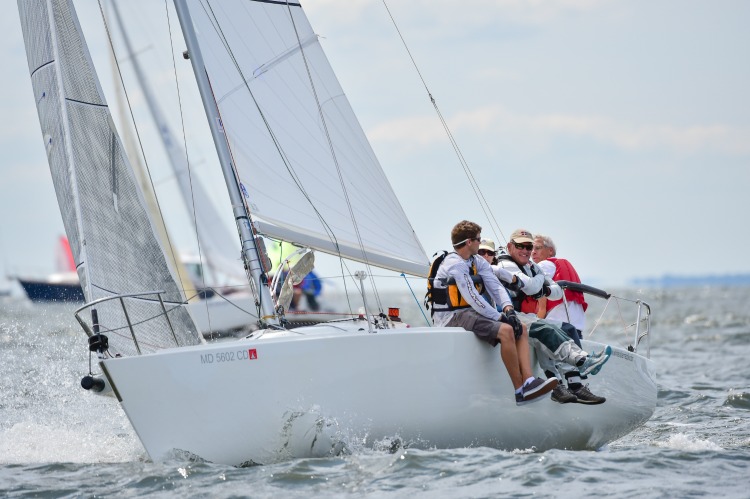 Whereas we don't have the manpower to cover every 10-boat regatta on the Bay, we certainly want to hear about anything you host that's significant to you & your club. Send notes, reminders, and photos anytime to [email protected], and we're happy to include your events.
Annapolis Yacht Club hosted its Summer One Design regatta before that whomper of a storm with 50-knot winds and a tremendous amount of rain, on Saturday in Annapolis. We heard it got pretty hairy out there for boats coming in from racing. We hope everyone fared well. Here are the results:
J 22 (One Design - 6 Boats)
1. Corner of Sanity and Madness, USA949, Chris Junge - 1 ; 1
2. USA 977, USA977, Gunnar Gode - 2 ; 2
3. Slow Show, USA1415, Trevor Perkins - 3 ; 3
J 70 (One Design - 15 Boats)
1. Joint Custody, 207, Ray & Jenn Wulff - 1 ; 1
2. Tea Dance Snake, USA381, Todd Jenner - 2 ; 2
3. Moxie, USA035, Cole Allsopp - 3 ; 3
J 80 (One Design - 17 Boats)
1. USA 1162, USA1162, John White - 1 ; 1
2. VAYU, USA739, David Andril - 2 ; 2
3. ELEVEN, USA11, Bert Carp - 3 ; 3
Alerion 28 (One Design - 8 Boats)
1. Skimmer, USA160, Jack Detweiler - 1 ; 1
2. Halcyon, USA316, Jason Goscha - 2 ; 2
3. Escape, USA296, james kizziar - 3 ; 3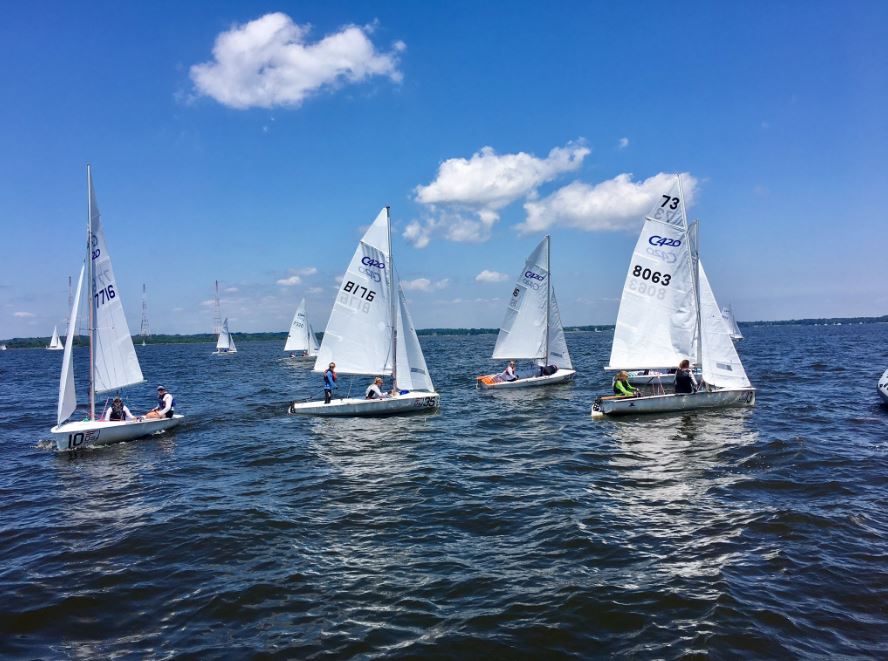 U.S. Junior Women's Doublehanded Championships
We reported on the progress of the U.S. Junior Women's Doublehanded Championships last week, also hosted by AYC. They wrapped up on Tuesday. Here's the recap from U.S. Sailing:
Tuesday's exciting final set of races on Chesapeake Bay put the finishing touches on a fun and eventful 2017 U.S. Junior Women's Doublehanded Championship.
Thirty-five highly skilled young doublehanded teams from around the country convened in Annapolis, a city rich in sailing, for three days of great competition and two days of clinics in the Club 420 with top-notch coaching and instruction. There are teams from 14 different U.S. states in competition at this championship, who represented their home yacht club or sailing organization.
The returning champions from the 2016 event in Mississippi, Sarah Burn (Short Hills, N.J.) and Patricia Gerli (Greenwich, Conn.), joined this year's fleet for a chance to defend the historic Ida Lewis Trophy. Burn and Gerli were challenged considerably throughout the championship, especially by local standouts Maddie Hawkins (Edgewater, Md.) and Kimmie Leonard (Annapolis, Md.).
Hawkins and Leonard dominated the first half of the regatta, while Burn and Gerli were the more dominant team over the final four races.
After a slow beginning to the championship on Sunday, which included only one race due to light wind, the regatta picked up the pace with four races on Monday and three on Tuesday. Hawkins and Leonard had a three point lead over Burn and Gerli going into the final race of the championship on Tuesday afternoon. Burn and Gerli's throw-out score was a 13 versus Hawkins and Leonard's 4. Burn and Gerli won race eight, but Hawkins and Leonard stayed close and placed second to win the championship by two points.
Final Results – Top 5
Maddie Hawkins/Kimmie Leonard, Annapolis Yacht Club, 1-2-1-2-[4]-3-1-2- ; 12
Sarah Burn/Patricia Gerli, Bay Head Yacht Club, 2-[13]-5-1-2-1-2-1- ; 14
Emma Batcher/Sammy Pickell, Southwestern Yacht Club, [15]-1-13-3-10-8-4-7- ; 46
Teagan Cunningham/Grace Austin, Barnegat Light Yacht Club, 3-9-9-21-[36/DSQ]-7-3-6- ; 58T
Ella Marsden/Emma Marsden, Coral Reef Yacht Club, 4-6-7-10-[21]-9-17-5- ; 58T
This was Hawkins' first Ida Lewis event and Leonard's second. With another skipper, Leonard placed 26th at the U.S. Junior Women's Doublehanded Championship in 2014, hosted by American Yacht Club in Rye, N.Y.
"We are somewhat of a new team, so this has been a good starting point for us," said Leonard. "This event is a good way for us to see that we can do well together at this level."
"Overall, we had good starts and had really good boat speed," said Hawkins. "The sailing conditions in Annapolis can be very tricky when it comes to tactics and knowing where the wind is going to come from. Our boat speed put us in the best position possible, because the wind is so unpredictable."
Skill development and high-level coaching is an important part of the experience for the participating sailors (ages 13-18). Teams participated in a two-day clinic in the Club 420 on Friday and Saturday. The clinic was led by a number of top sailing coaches from around the country.
"There were seven coaches here and they put us in groups of five, so you're getting a lot of individual coaching and instruction," added Hawkins. "Each day we had a different coach to train with and that gave us different insight."
Competing at the very active Severn Sailing Association this weekend were a number of one-design fleets. Find results below: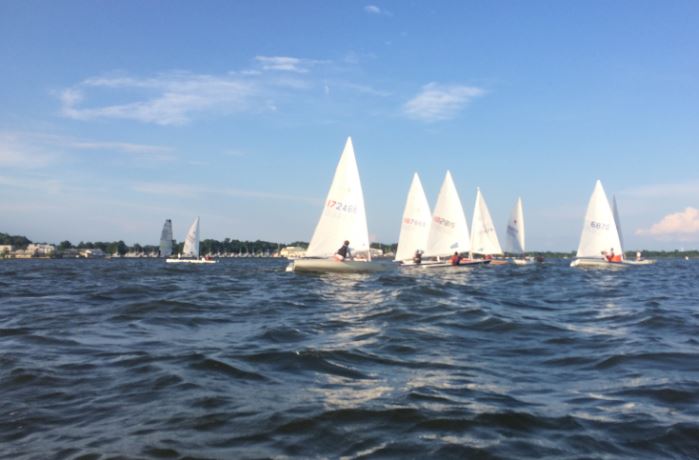 505 , Johnson 18 , Soling , Lightings
Speaking of SSA, congratulations are in order for SSA member Jake Vickers for placing second of 38 at the Laser Class U.S. Nationals and U.S. Singlehanded Sailing Championship in Lake Tahoe.
Cruising Club of Virginia Moonlight Triangle Race
This just in from Southern Bay Racing News You Can Use
SITELLA, RUMBLE, RESTLESS and TEMPO win fleets in Moonlight Triangle. Thirty-one (31) boats were at the starting line for the Cruising Club of Virginia (CCV) annual summer evening race in the Bay. Thunderstorms and the resulting turbulent conditions drove ten (10) to retire from the race before finishing. The PHRF A and B classes sailed a 21.7nm course and were buffeted by two boomers before dark. The remaining classes sailed a 14.8nm course.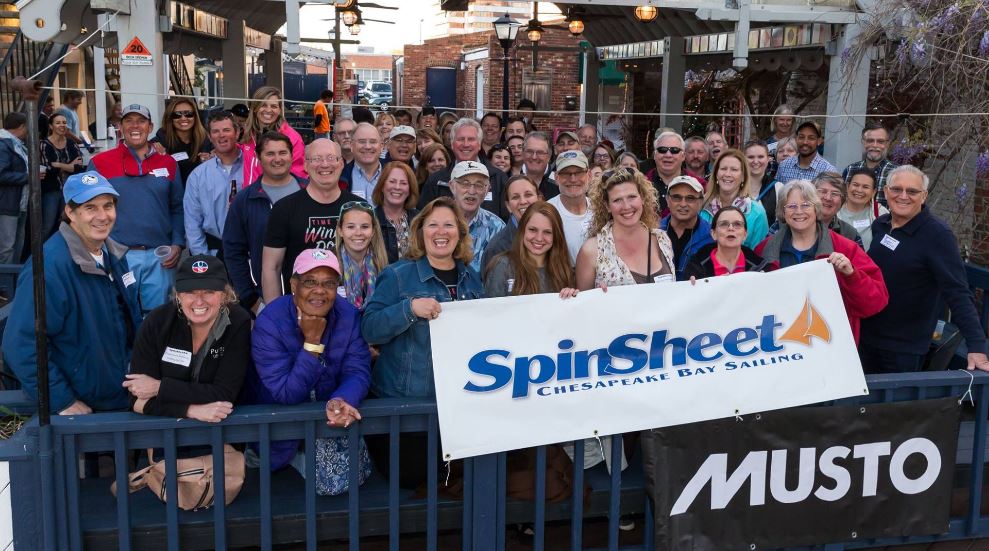 RESULTS:
PHRF A (12 boats): 1.Ian Hill, Sitella; 2.Jim Bordeaux; Solstice; 3.Craig Wright, Afterthought.
PHRF B (11 boats): 1.Ben Weeks and Michele Cochran, Rumble; 2.Rusty Burshell, Cool Change; 3.Andy Armstrong, Bluejacket.
PHRF C: only one boat sailed the course,Ben Cuker, Callinectes.
PHRF Non Spin (5 boats): 1.Jay Thompson, Restless; 2.John Edwards, Recovery; 3.Alan Johnson, Seeker. Cruising (2 boats) 1.Jonathan Romero, Tempo.
Principal Race Officer: Richard Payne. Official Scorer: John Ritter.
.................
Didn't see your event listed in SpinSheet's Racing Roundup this week? Send us a note. We'll add it in or mention it next week. A photo is always helpful. Thank you!