Here's your SpinSheet Racing Roundup for July 14-16: Waterspouts, scary nights, and summer fun. Wow—what a weekend for racing on and off the Chesapeake!
Waterspout at the Start: BCYA Race to Baltimore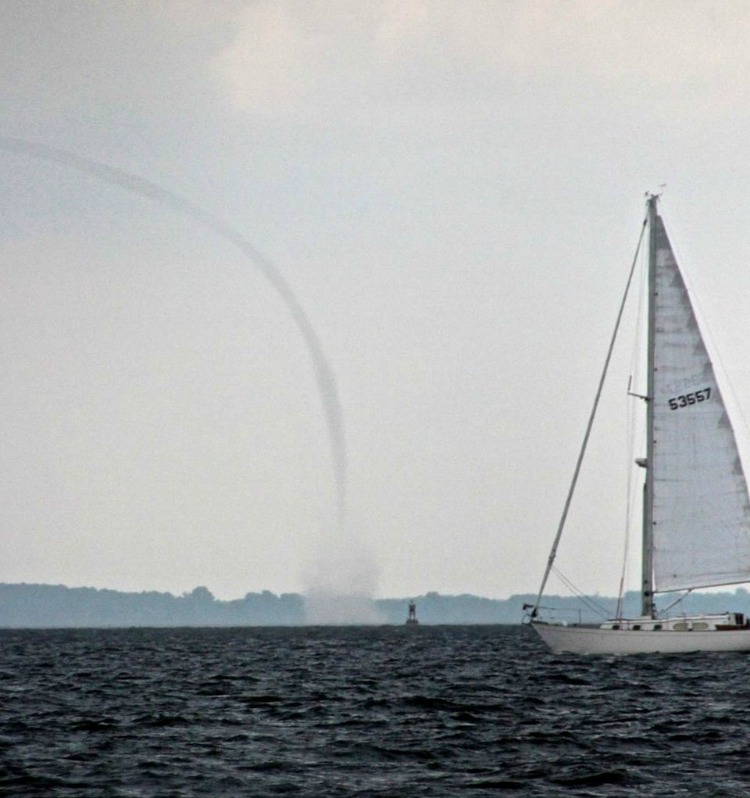 The waterspout that developed between Love Point and the Bay Bridge near Chester, MD, during the start of the Baltimore City Yacht Association (BCYA) Race to Baltimore Saturday, July 15, lit up social media and made the annual race an extra memorable one for competitors (all remained safe). Here's a compilation of video sent to Justin Berk, meteorologist
So, the storm passed, and the race went on. Competitors reported breeze all over the map pressure-wise and directionally, as well as a shortened course. But they also reported a great time had by all! Results are not up online yet, but keep clicking to BCYA's webpage, and they're sure to show up.
Two more good reader photos: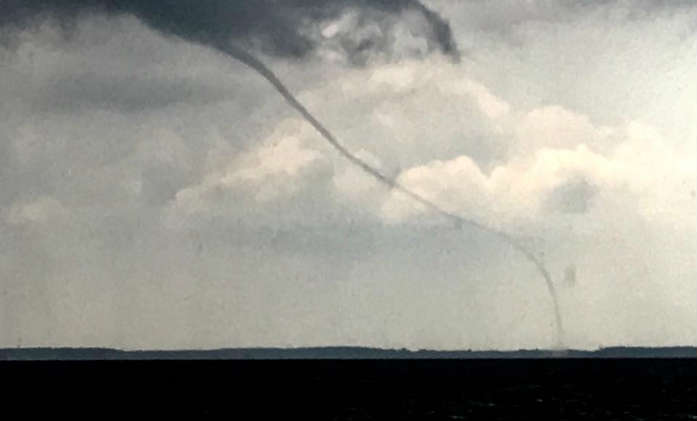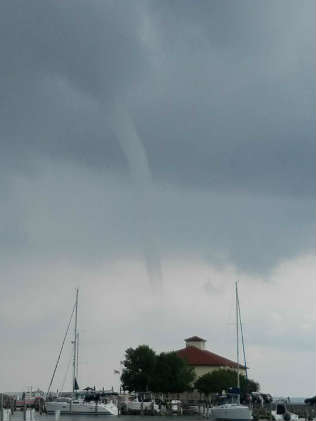 Thanks to Adam Podbielski for these great photos below. Find more in the August SpinSheet.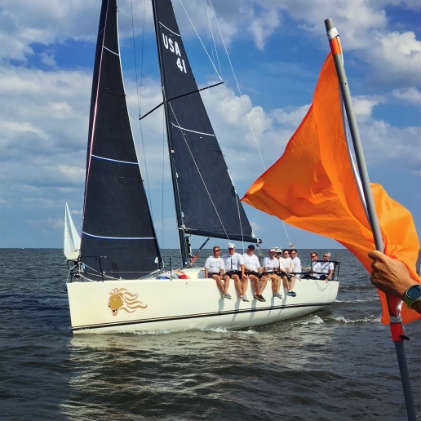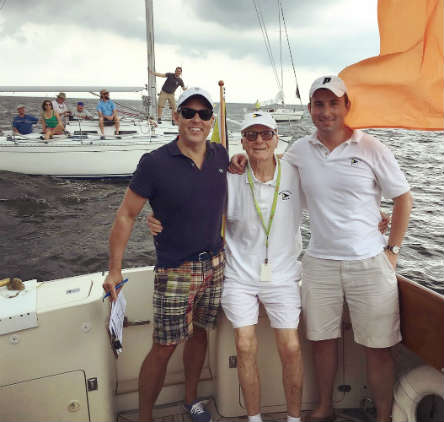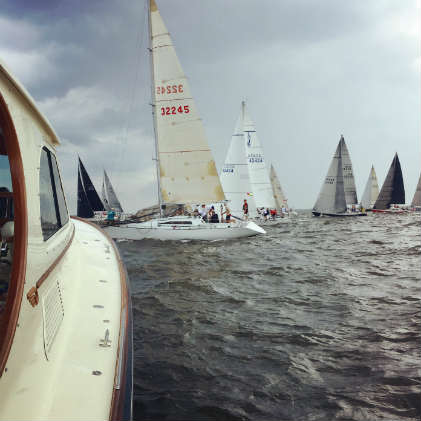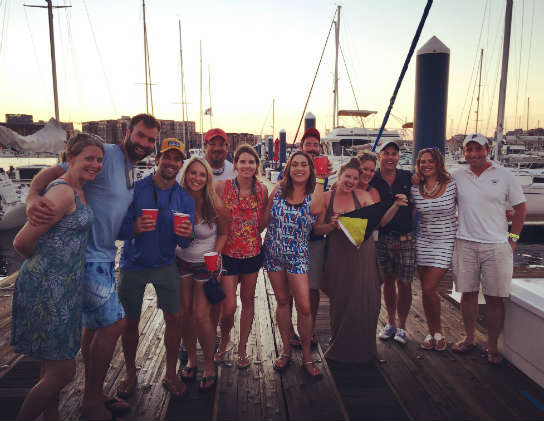 Scary Night at the Chicago Mac
There are a bunch of Chesapeake sailors competing in the 289-nautical-mile Chicago Mac Race, from Chicago Lighthouse to Mackinac Island. The Annapolis-based J/111 Dark Horse, the J/111 Velocity, and Virginia Beach, VA-based Farr 400 Meridian X are among the 297 boats competing (297!!).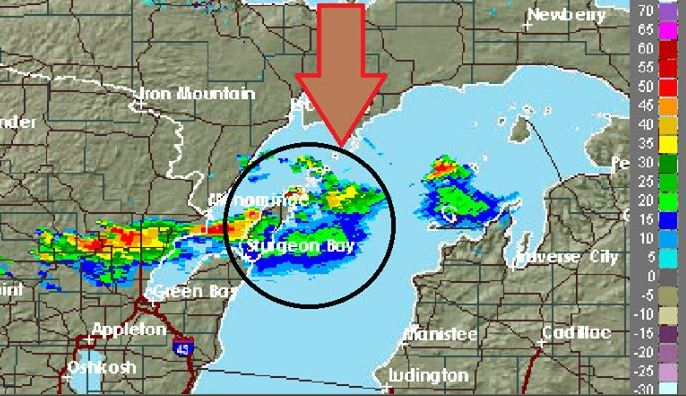 There was a scary night, July 15, when rough weather rolled in quickly, as it does on the Great Lakes, and a catamaran flipped. David McCreight on Dark Horse was one of the boats to stand by to assist when the Coast Guard showed up to help the five sailors in the water. Although the crew's assistance was not needed, we'd like to acknowledge the team for their sportsmanlike and thoughful conduct.
Another experienced Chesapeake sailor, Mark Wheeler, fell overboard in the night off Meridian X and was in the water for an hour before being rescued. He is SAFE and OKAY now!
According to David Flynn, the nine-man crew was going along nicely in 15 knots with the spinnaker up, when the wind built into the 30s. They lost Wheeler overboard while trying to quickly take down the kite.
"When you're moving along at 15-18 knots of boat speed, you cover distance quickly. We had to take down the kite, and it took a while to get back to him… He had on his lifejacket—he had all the right equipment—but his strobe light failed, which made him very difficult to find. Fortunately, we could hear his whistle (the breeze was in the 40s by then). We found him because of a $2 piece of equipment."
Flynn explained how they recovered Mark and warmed him up as he was hypothermic by then. He's okay now. "It was one of the more terrifying hours of my life," says Flynn.
Stay tuned for a more detailed "lessons learned" story in the August issue of SpinSheet.
Find a race tracker and other information about the Chicago Mac Race here.
Summer Fun: Screwpile Lighthouse Challenge
On Friday, day one at the Screwpile, SpinSheet's photo boat was on the scene. Light air—yet enough to race by—marked the first race. Facebook checkers may have noted our pleas for friends to do a wind dance, which apparently they did--THANK YOU! Races two and three were terrific, with winds in the 10-13 range. Who in July in Solomons would not be psyched about that?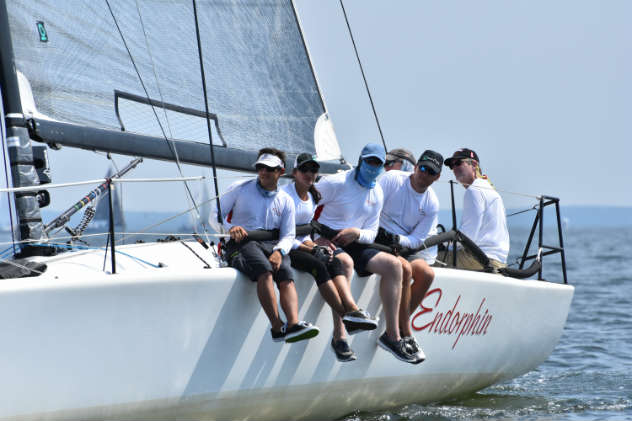 SpinSheet night at the party was a bit of a wash, and by a bit, we mean a string of lightning-lit, booming thunderstorms that hit before the party ever hit critical mass and kept on hitting just about until the end. Oh well, we had some fun with those who braved the storm, gave away some tee shirts, and enjoyed seeing our Southern Bay friends.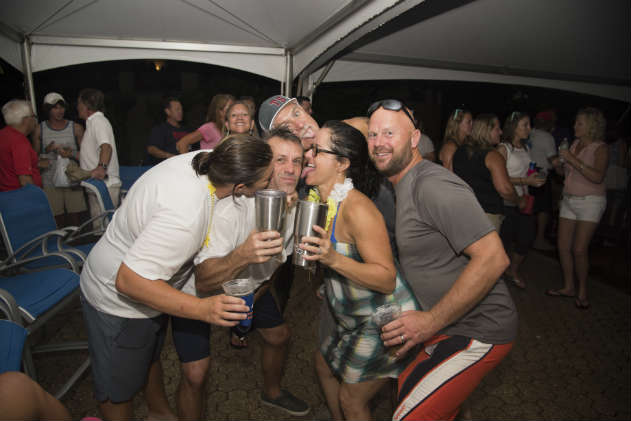 A special congrats to the Annapolis-based crew on A Parent Tripp, four-time overall winner of this event AGAIN! FIND THE FULL GALLERY OF SCREWPILE PHOTOS HERE. Results below:
PHRF - Cruising (PHRF - 15 Boats)
1. Swellville, 2118, John Anderson - 1 ; 1
2. IRESTU, 2511, Jeff Jeffries - 2 ; 2
3. Seeker, 41374, Alan Johnson - 3 ; 3
PHRF - A1 (PHRF - 8 Boats)
1. Endorphin, USA157, Erik Wulff - 1 -1 -3 -3 -2 -3 -1 ; 14
2. Sitella, USA99, Ian Hill - 4 -4.5 -1 -1 -1 -1 -6 ; 18.5
3. Slush Fund, USA119, Jim Connelly - 6 -2 -2 -2 -3 -4 -4 ; 23
PHRF - A2 (PHRF - 8 Boats)
1. Nanuq, USA93555, Glenn Doncaster - 6 -2 -2 -1 -1 -1 -3 ; 16
2. UltraViolet, USA9, Dave Prucnal - 3 -1 -4 -3 -2 -3 -9 ; 25
3. L'Outrage, USA73456, Bruce Gardner - 5 -4 -3 -4 -3 -7 -2 ; 28
PHRF - B (PHRF - 11 Boats)
1. A Parent Tripp, USA2634, Harrison /Yeigh - 7 -1 -1 -1 -1 -1 -2 ; 14
2. GOIN', USA83269, Dennis Hannick - 3 -2 -2 -2 -3 -2 -5 ; 19
3. Homegrown, USA788, Neal McKinney - 4 -3 -3 -3 -2 -7 -1 ; 23
PHRF - C (PHRF - 4 Boats)
1. Easy Button, USA93084, David & Jacki Meiser - 1 -1 -1 -2 -1 -1 -1 ; 8
2. Cheeky Monkey, USA434, Julie Ann & Paul Wash - 2 -2 -2 -1 -2 -2 -2 ; 13
3. badger, USA144, carl feusahrens - 3 -3 -5 -3 -3 -3 -3 ; 23
Ida Lewis Regatta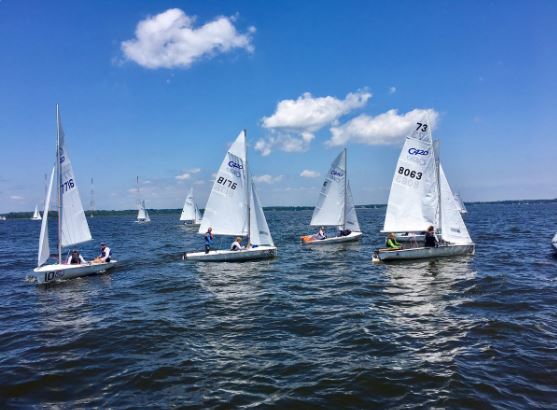 Also underway from July 13-18 out of Annapolis Yacht Club is the Ida Lewis U.S. Junior Women's Doublehanded Championship. Here are results as of yesterday (full Ida Lewis Regatta results here )
Maddie Hawkins/Kimmie Leonard, Annapolis Yacht Club, 1- ; 1
Sarah Burn/Patricia Gerli, Bay Head Yacht Club, 2- ; 2
Teagan Cunningham/Grace Austin, Barnegat Light Yacht Club, 3- ; 3
Farr 40 World Championships
And once again, off the Bay, in Porto Cervo, Italy, Alex Roepers's Plenty team, with Terry Hutchinson as navigator, won the Farr 40 World Championships over the weekend. Other Chesapeake sailors competing in the event were Geoff Ewenson, Collin Kirby, and Jason Currie. Find full Farr 40 World Championship results here.
Send us a note...
If ever you think we've skipped something important over the weekend, shoot us an email. We'll either add it to the roundup here or cover it in the magazine or both. Thank you for reading!