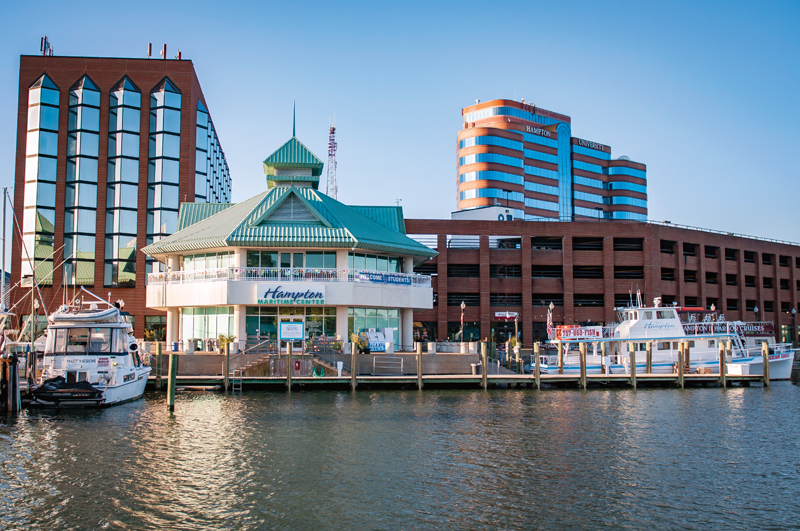 Hampton history
Sailors who visit Hampton, VA, at the southern tip of the Chesapeake Bay, may be interested to know that the city dates back as far as 1607, when Captain Christopher Newport anchored the Susan Constant near what is now Old Point Comfort on Fort Monroe. The crew "rowed to a point where they found a channel which put them in good comfort."
More than 400 years later, the members of Old Point Comfort Yacht Club are still finding comfort there—as well as running sailboat races, launching cruising flotillas, and hosting a robust Pointers University to train boaters on safety, boat-handling, electronics, sail trim, and all things nautical. A few miles away, up the Hampton River, you'll find your way to the Hampton Yacht Club (HYC), where a sailor's head may spin looking at the jam-packed calendar of events.
Racing sailors from the Northern and Middle Bay look forward to two major events each May: The Down the Bay Race for the Virginia Cruising Cup, a 120-mile race from Annapolis to Hampton, May 27-28, and Southern Bay Race Week, one of the biggest regattas on the Chesapeake, held Friday through Sunday at HYC the weekend following Memorial Day (June 3-5).
Cruising sailors enjoy passing through Hampton on their way down the Intracoastal Waterway or as a Southern Bay "city" stop before heading to Cape Charles or north to Mobjack Bay. The Hampton Public Piers make for sailor-friendly docking; from there it's easy to walk to great restaurants, museums, festivals, and HYC… and where else do you find a restored 1920s carousel you can ride for $1?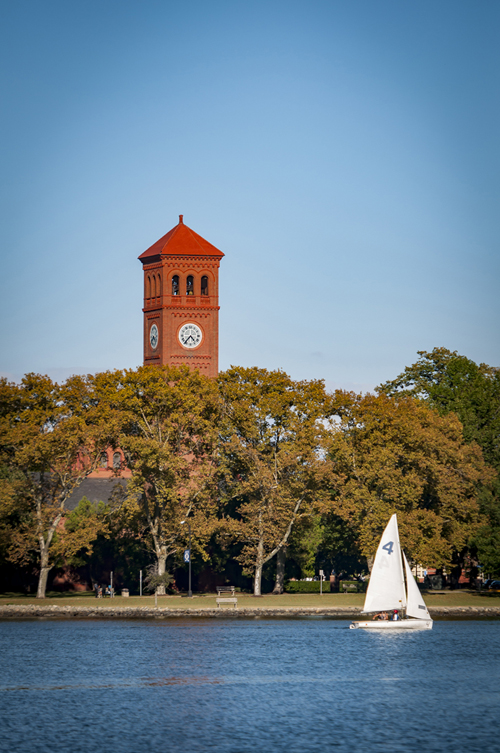 "Don't Miss" places to visit while in Hampton
Virginia Air and Space Science Center
Hampton is the birthplace of America's space program. Celebrating more than 25 years of educational excellence as the official visitor center for NASA Langley Research Center, the Virginia Air & Space Science Center is a half-mile walk from Hampton Public Piers. The center features interactive aviation exhibits spanning 100 years of flight, more than 30 historic aircraft, a hands-on space exploration gallery, unique space flight artifacts, and more! The center is home to the Apollo 12 Command Module and the Orion PA-1 Test Vehicle. Through the end of May, "Oceans: Our Blue Planet 3D" will be shown on IMAX among other films.
Fort Monroe National Monument
Fort Monroe is the largest stone fort ever built in the United States. The massive fort that exists today and the smaller forts that preceded it have guarded and defended Hampton Roads. The naturally deep body of water outside these walls historically was the key to controlling the Chesapeake Bay and to accessing by water the capital of the colonies, the Commonwealth of Virginia, and Washington, DC. Fort Monroe took 15 years to build. It was begun by employing slave labor, which was gradually replaced by military convicts. Upon its completion in 1834, Fort Monroe cost nearly two million dollars and covered 63 acres of land with its walls stretching 1.3 miles around. Today, visitors may leisurely explore 21 unique sites full of history, architecture, and nature on a self-guided walking tour.
Hampton History Museum
Learn about Hampton's history and contributions of African Americans in Hampton at the Hampton History Museum. Ten galleries illustrate a narrative beginning with the Virginia Colony and continue through phases of coastal Virginia life. Meet Blackbeard the Pirate, experience the burning of Hampton during the Civil War, and see how the Contraband decision was the first step toward freedom for millions of African Americans.
Eight Hampton area watering holes worth trying
We asked SpinSheet Century Club member and Hampton resident David Stalfort to give us some tips on good restaurants. Here's his list with notes:
Baked Bistro and Pizza, 22 Wine Street, Hampton; great breakfast.
Bull Island Brewing Company, 758 Settlers Landing, Hampton; on the waterfront by the Public Piers.
The Deadrise, 100 McNair Drive on Fort Monroe; good seafood, great sunset views.
El Diablo Loco Cantina and Tequila Bar, 6 E Mellen Street in the Phoebus section of Hampton; tacos and tequila drinks.
Fuller's Raw Bar, 38 Mellen Street in the Phoebus section of Hampton.
Glazed Doughnuts, 24 Wine Street, Hampton; specialty doughnuts, including vegan and gluten-free options.
Rosa's Italian Family Restaurant, 627 Mercury Blvd, Hampton; good food, family owned.
Venture Kitchen and Bar, 9 Queens Way; good food and drinks.
Six Upcoming Events in Hampton
If you don't easily find a web address for one of the following events, check out Visit Hampton.
Buckroe Farmers Market Opening Day—May 7 (every Saturday throughout the summer), 100 S. First St. See Facebook page.
Ramblin' Jake & Thru W/ Therapy (live music)—May 18, Hampton History Museum.
Commemoration of the 1861 Contraband Decision—May 24, Fort Monroe.
Blackbeard Festival—June 4-5, Downtown Hampton. Southern Bay Race Week competitors will likely see pirates in their hotel lobby!
1619 Commemoration of the First Enslaved African Landing—August 27, Fort Monroe.
Crabtown Seafood Festival—August 27, Downtown Waterfront.

The Pet Cemetery at Fort Monroe
By Kendall Osborne
Most visitors discover it by accident after walking up a fortification. They had no idea that there was a pet cemetery on top of the fortifications at Fort Monroe.
What was originally Fort Algernourne, built in 1609, grew into Fort Monroe, the largest stone fort in the United States, completed in 1834. Named for President James Monroe, the fort has walls that are 10 feet thick. Robert. E. Lee was stationed here. Jefferson Davis was imprisoned here. Edgar Allen Poe was stationed here, under a fake name, to make money to pay off his debts. Today, the fort is nicknamed "Freedom's Fortress" as it provided a safe haven for blacks during the Civil War. The fort is a National Monument administered by the National Park Service.
Inside the moat surrounding the fort, the stone walls rise vertically appearing impenetrable. On top of the wall are the gun mounts and the pet cemetery. You can find it just uphill from the Casemate Museum. In some places, the pets were buried right next to the gun mounts.
According to the National Park Service, the cemetery was opened in 1928. Military and civilian personnel stationed at the fort were allowed to bury their pets at the top of the fortifications. Some graves have been marked, but some never were.
A New York Times article from 1982 reports that the oldest grave is dated 1936. A Sergeant George Manigg, who was stationed at the fort at that time, told The Times that he had individually buried 80 to 90 animals including dogs, cats, birds, and gerbils, during a 20-month period. At that time, Manigg estimated that the fort contained 300 marked and 300 unmarked pet graves.
Some of the animals were working dogs, not pets. A military dog named Fang is buried there. There is also Sgt. Patches who was at the fort in World War II. Patches was the fort mascot and was even trained to pull a rope to fire a 12-inch cannon!
The cemetery was officially closed in 1988. The federal budget that year included $16,674 for a pet cemetery at a military installation in Georgia. Congress decided they did not want to spend that much money on a pet cemetery. In fact, they decided not to fund pet cemeteries at any military installations. They denied the funding and ordered all such cemeteries closed. Rumor has it that numerous pets were buried at Fort Monroe after that date.
The inscriptions on the markers reveal cute names and how much the pets were loved. You can find Blacky, Benjie Boo, Dinky, Homer, Imp, Tar Baby, Winky, and even Tarzan. And the comments, such as "In My Heart," "Ft. Monroe Frisbee Champ," and especially "Here Lies a Part of our Lives."
Aaron Firth, a ranger at Fort Monroe, has been fortunate enough to speak with individuals who have buried their pets at the cemetery. Ranger Firth is especially fond of what he heard from Pamela Bretschneider, who had a dachshund named Fritz.
Bretschneider said, "I pray that sacred ground will be forever held in high esteem and that people everywhere will be educated in the knowledge that up along the moat lie the remains of faithful friends who traveled from one duty station to another, never complaining…. and who were always patiently waiting at the door to greet their masters and mistresses with happy hearts."
There is free parking at the Casemate Museum. If you are visiting the Fort Monroe marina by boat, the cemetery is a short, easy, and picturesque walk away.