Before You Sign Up for Sailing Lessons, Try These Four Things
Not everyone wants to learn to sail. Some people may be mildly interested but want to try sailing before they sign up for an entire weekend-long class. What are the options for trying sailing before investing in lessons?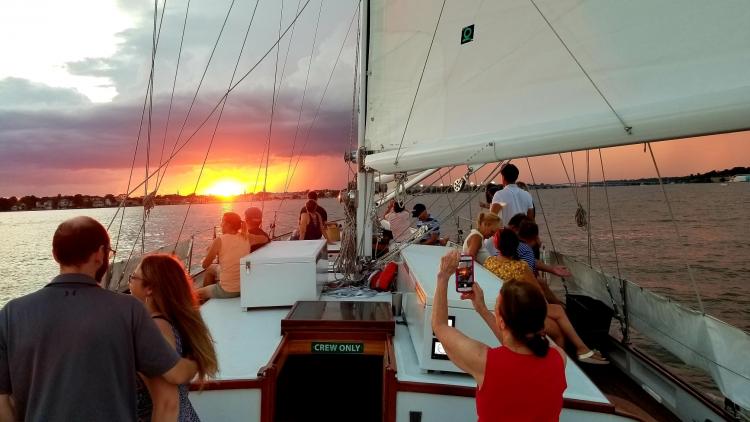 1. Public sails—Taking a public sail is a great way to try sailing. Passengers on the Schooner Woodwind may sit and enjoy a craft beer and the sunset as someone else sails the boat. Other options for day sails are Sail Selina II in St. Michaels, Blue Crab Chesapeake Charters in Rock Hall, and Spirit of America sails in Washington, DC, out of DC Sail. Two-hour by-the-head private sails run between $35-55 per person; sometimes there are higher priced options for "chartering" the whole boat.
2. Demo days—Many sailing clubs offer open houses and demo days in spring, which involve boat rides on their various club fleet boats. Find such opportunities in SpinSheet's Club Notes section in the magazine and also by reaching out to area sailing schools.
3. Short lessons—Some sailing schools offer a shorter version of a sailing lesson. For example, Annapolis Sailing School offers a Try Sail. You can expect such an introduction to last about two hours and cost $50 per person.
4. OPB—In the world of sailing we call it OPB—Other People's Boats. Find a friend with a boat to take you for a sail, and offer to bring lunch!
Find more about getting into sailing here.