Meet Sara and Nick Wiskerchen
Two sailors who began as adults, took a class, got hooked, and eventually sold their stuff and sailed south...
It began with an introductory sailing class
At age 35, Nick and I were looking for a respite from our hectic Washington, DC, work lives. We are originally from Wisconsin and love spending time outdoors and on the water, so we would frequently visit Annapolis to watch the boats come in and out of the harbor. After visiting the Annapolis Spring Sailboat Boat Show in 2014, we decided to take an introductory sailing course with DelMarVa Sailing School in Rock Hall, MD. Nick had sailed a few times as a child, but I had never been aboard a sailboat. During the four-day sailing course, we were bitten hard by the sailing bug!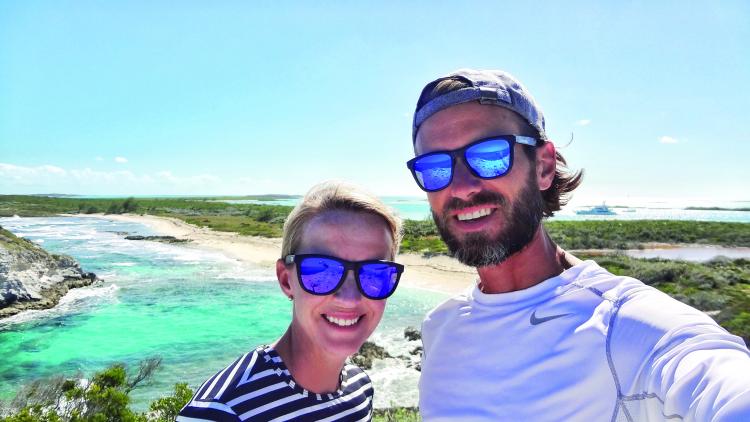 Taking the leap to boat ownership
We earned our ASA 101 and 103 certifications from DelMarVA Sailing School in 2014. A few months later, we purchased our first boat, a 2014 Jeanneau 379. Purchasing a new boat allowed us to focus our time and energy on learning to sail and slowly ease into boat mechanics and maintenance.
We kept our boat for three seasons at Herrington Harbour South in Herring Bay; once we were settled into our slip, we worked with The Sailing Academy in Tracy's Landing, MD, on a daylong docking course with our boat and slip, which was very helpful for us since we are nearly always doublehanded sailing.
For several years, we spent nearly every weekend, from April through November, sailing all over the Chesapeake Bay and growing our sailing knowledge and skills. This sparked and grew the dream of someday untying the dock lines and cruising to the Caribbean islands. Before we invested in the sailing time and a better-equipped boat to do that, we wanted to make sure that ocean sailing was really something we enjoyed.
In 2016, we met Andy Schell and Mia Karlsson from 59 North Sailing at the fall United States Sailboat Show in Annapolis, and soon after signed up for a 10-day leg of offshore passage training aboard their Swan 48 from the BVI to the Grenadines. While we found offshore sailing to be mentally and physically harder than expected, we both greatly enjoyed the experience. In December 2017, we sold our Jeanneau, and on the same day, purchased a 2005 Hallberg-Rassy 37 Borealis, which was completely outfitted for offshore sailing and cruising. Four years after starting sailing, we became fulltime cruisers.
Life as fulltime liveaboard cruisers
After quitting our jobs and selling our Washington, DC, home in the fall of 2018, we threw off the dock lines, and as new fulltime liveaboard cruisers, we headed south from Maryland in November 2018 toward the Caribbean. We sailed offshore and via the Atlantic ICW to southern Florida before crossing to the Bahamas, where we spent three months before sailing to the Turks and Caicos Islands, Dominican Republic, Puerto Rico, and Virgin Islands. We plan to end our 2019 sailing season in the British Virgin Islands before taking the boat down to Grenada for hurricane season. For the 2019-2020 season we plan to sail north through the windward and leeward islands.
If someone were interested in learning to sail, what would you tell them?
Learning to sail, safely navigate, and maintain a boat is full of challenges for any newbie. Early on, we had several heart-racing situations, including dragging on our anchor in a squall and an accidental gybe after sailing wing on wing. We kept reading and learning, sailing in all types of weather conditions, and asking for advice and help from other sailors and boaters, and eventually it got easier.
Five years later, we are still learning and finding ourselves in challenging situations, but we continue to love sailing and the community we've found within it. As 30-something newbie sailors, we were unsure at first of how well we'd fit in with the typically older and saltier sailing community. We were pleased to quickly learn that age doesn't matter much to boaters, and we thoroughly enjoy the camaraderie of sailors of all ages and appreciate the tips and advice we've picked up along the way.
Learn more about Nick and Sara's adventures at sailingborealis.com.