Meet Jean and Andy, Partners in Sailing and Life
Prior to meeting several years ago, Andy Katz and Jean Wintemute had both been introduced to sailing; however, over the past three years, together they have jumped into cruising with two feet.
Separate introductions to sailing
Andy says, "About eight years ago at age 60, I did a sailing team building experience with J/World Annapolis, where we were taught enough skills to race J/80s. That same year I joined Singles on Sailboats and went on a few club day sails and overnights as crew."
Jean got her start sailing in the late 1990s. She recalls, "I learned to sail in my 40s in Texas. At that time my husband and I became co-owners in a Catalina with two other couples. I moved to Northern Virginia in 2009, realized how much I loved being on water, and in 2016 helped move Pangaea Exploration's 72-foot Sea Dragon from Bermuda to Portland, ME—my first bluewater experience.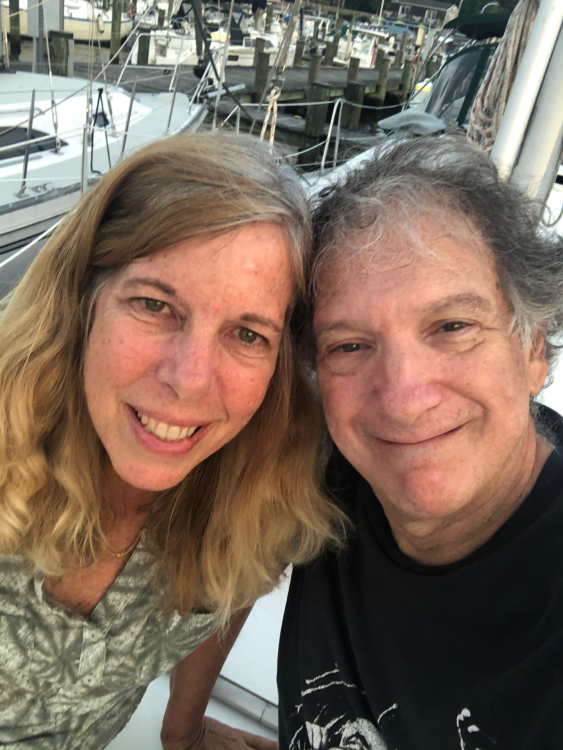 Earning certification locally, and in warmer climes
When Jean and Andy met in 2017, they realized how much they both enjoyed sailing, even as novices. Andy suggested that they take some lessons from J/World in Annapolis, and in 2018 they earned U.S. Sailing Basic Keelboat certifications and during the winter of 2019 went on the J/World flotilla to St. Maarten aboard a 50-foot Leopard catamaran.
The couple picked up more time on the water through their membership with Singles on Sailboats, and they joined the Chesapeake Sailing Club, taking the boats into Annapolis Harbor. Last summer they earned their Basic Cruising certifications and moved up to the Chesapeake Boating Club's larger cruising boats, venturing farther from Annapolis on their daysails.
Earlier this year they earned Bareboat certifications, completing the practicum on a 51-foot Jeanneau with J/World in the BVI. When they returned to the U.S., they took the written test and completed the Coastal Navigation Course, which they passed during the pandemic, taking the test virtually.
Boat ownership, future plans, and what sailing brings to their relationship
Andy, who purchased a 2003 Beneteau 393 in June, says, "Everything Jean and I have done in sailing during the last three years was because of what it brings to our relationship. We both share a love of the water and had previously found sailing brought us joy. Now it is a major part of what we do. We share a love of adventurous travel, and we hope that we will be able to enjoy my boat and future bareboat charters in exotic locales.
"Our first anchor out on Peaceful One was July 12, for Jean's birthday at Broad Creek off the Magothy River," says Andy. "We plan to explore the Bay and start learning long distance passagemaking. The coach for our Coastal Navigation course has offered to do the DelMarVa circumnavigation with us. I would also like to take Peaceful One down to the Bahamas during the winter."
Jean adds, "I would like to continue sailing both in the Chesapeake and in international waters. Friends who own a boat in the Moorings fleet have invited us to Tahiti for a two-week sail next March. I would also love to do more bareboat sailing and perhaps another bluewater adventure with Pangaea.
Did you encounter any obstacles or barriers when you began sailing?
Andy says, "Maintaining the situational awareness needed to operate a boat at various points of sail with shifting wind direction was very challenging in the beginning. Also, I had to repeat tying knots quite a lot to get them stored in memory. I tied a bowline at breakfast every morning my first winter after starting formal training."