Taken by the boats, people, and atmosphere: Meet Thomas and Terri Sand
As told to Beth Crabtree by Thomas Sand
My wife Terri and I have always been attracted to water sports, but our first time sailing was in 2015 aboard the Schooner Woodwind out of Annapolis. We both found it exhilarating. At that time we were working on a four-year retirement plan, which included travelling the country in an RV. However, both of us thought it would be a shame if we did not try to sail before leaving the area for retirement.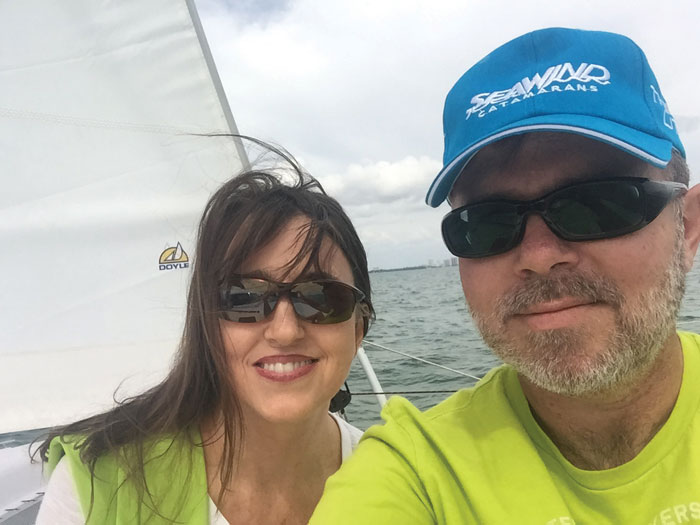 I stumbled on the flyers for the Annapolis Boat Show, and while I was there, I was taken by the boats, the people, and the atmosphere. The magic moment happened after I stepped onto a new Seawind 1160 Lite Catamaran. I was met by Tommy Smith and Amy Michaud of Sail Away Catamarans. After speaking to them and the owners of the boat, I was convinced that the liveaboard life would offer the adventure and freedom Terri and I were looking for in retirement. I concluded my day at the show with a Sail Away demo on a Lagoon 420 on the South River. Terri hadn't been with me at the show, but it did not take much to convince her; she was "onboard" from the start. Tommy and Amy suggested taking basic sailing courses, so we began with a sailing class offered on Rainbow 24-foot keelboats by the Annapolis Sailing School. It was exciting and fun, but we both agreed we wanted a catamaran for stability and comfort.
A whole new world
Our training began in earnest after Tommy and Amy took us under their wing. Sail Away Catamarans opened a whole new world for us. We were not just buying a boat from them; we were buying into a lifestyle. They involved us in countless training opportunities ranging from helping with demo sails at boat shows, boat deliveries, crewing on local charters, and just taking a catamaran on the Bay for fun. For us, 2017 was a year chock-full of lessons, experiences, and adventure, including our first charter on a Seawind 1160 Lite in the Florida Keys for a week. This was our first insight into the cruising lifestyle, and we loved it. We also helped with a boat delivery from North Carolina to Maryland and another from Miami to the Abacos. Our training has also included completing Basic Weather Forecasting, Offshore Emergency Medicine, and Safety At Sea courses.
Plans to sail full time
Sail Away Catamarans offered a number of boats to choose from, but we were intrigued by a new concept called Vision 444 built in Knysna, South Africa. One year after stepping on our first catamaran, I was on a plane for South Africa to meet the builder and visit the factory. Tommy and Amy joined me on the trip, and we will return in February to check on the progress. I hope to pick up or have the boat delivered in May. We plan to sail full time after I retire in December, spending the first season in the Caribbean and working our way west, eventually reaching the Pacific Islands of French Polynesia within three years. The bucket list of places we want to see would fill a story in itself. We are anxious to begin this next chapter in our lives.
What would you tell someone interested in learning to sail?
We have been met with open arms from so many people and have formed friendships that will last a lifetime. Everyone has been quick to offer guidance and ample opportunities to go sailing. There are so many opportunities for learning, from volunteering to be "rail meat" for weeknight racing, to enrolling in keelboat classes at the local training center. Hang out at any marina and ask questions. Most people are happy to share experiences when asked about their passions. Attend the next boat show and "take the helm" on the numerous boat demos. Watch any number of YouTube sailing blogs to get an idea what you would be getting into. However, be realistic. Learning to sail requires time, commitment, and money.