Posted September 27, 2019
Meet Andrew Rabinowitz
How did you get started sailing?
After law school I realized that I had sacrificed a lot of opportunities to enjoy leisure activities in order to get my education. When I finally had the time, I went all-in on a few new hobbies. I made a raised-bed garden and grew 100 pounds of food. Then I jumped headfirst into kayaking and became a Class-Five whitewater kayaker. One of my kayaking friends is also a sailor, and I decided to reach out to another old friend who grew up sailing and let him know that I was interested in learning to sail.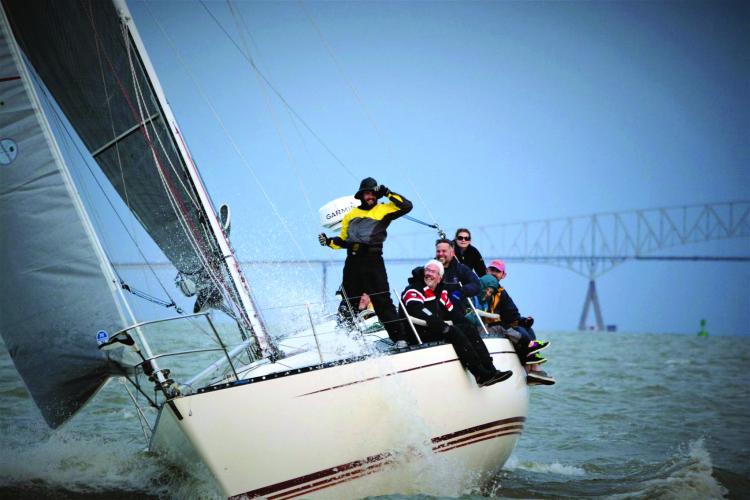 Timing is everything
At the time, my friend was (and still is) a crew member on the 35-foot Baltic Yacht Infrared, which races regularly with the Baltimore City Yacht Association. One of their crew members had just left, and his spot needed to be filled. I only got one race to sail as rail meat. For my second race they put me on the headsail, and I was forced to learn fast! Luckily our captain, Bob Sopka, couldn't have been more welcoming and accommodating. He has given me the opportunity to work headsail, mast, and spinnaker, and this year I finally feel like I'm really contributing to the team.
Did you have any preconceived notions about sailing?
I thought sailing would be leisurely. I had no concept of how much work it takes. The first time I took the helm, I realized what a great responsibility it is to be in control of a sailing vessel, and I realized how important the team is to safety. In kayaking, it's just me in control. On a sailboat you have to rely on your team. I love that, and I love sharing the team's victories.
What are your future sailing plans?
I've never done any leisurely sailing, so that is definitely something I want to do. I've also looked into the formal programs at the Downtown Sailing Center, and I might join them. I also plan to continue with my racing team. We sail from April through November on Tuesday nights and participate in longer weekend races.
What advice do you have for an adult who's interested in learning to sail?
It's amazing how many people own boats. Just ask someone if you can go with them. Sailors love sailing, and with that attitude they are usually incredibly eager to share it with others. Then you've got to make the time for it. Being outdoors on the water is a passion of mine. I have an understanding boss, and I think it makes me a better employee. When you learn to communicate effectively with seven-10 people in a small space on the water, you get better at communicating in an office.
I've also learned that getting on the right team is important. Our boat has good chemistry. There's no shouting. Everyone's opinion matters to our captain, and he gives everyone an opportunity to contribute. He always keeps his composure, even in difficult circumstances, and his temperament sets the tone.
One of my standout sailing moments was…
Winning the USS Constellation Cup regatta after an incredible tacking duel. The race raises money for historic ships in Baltimore. As we won, they fired a cannon from the Constellation. What a great feeling!