Never underestimate the impact of introductory sailing programs and a supportive sailing mentor
As a nine-year old girl, Cristal Garcia-Lara was briefly introduced to sailing through the Annapolis nonprofit Box of Rain. Cristal's parents saw that she and her brother enjoyed being on the water, so they signed the pair up for a sailing class that was advertised at the municipal pool at Truxton Park in Annapolis. The class, held at Eastport Yacht Club, gave Cristal an introduction to Opti sailing. That might have been the last time she ever sailed, but a college course and a college friendship brought more sailing opportunities. Here Cristal shares her story.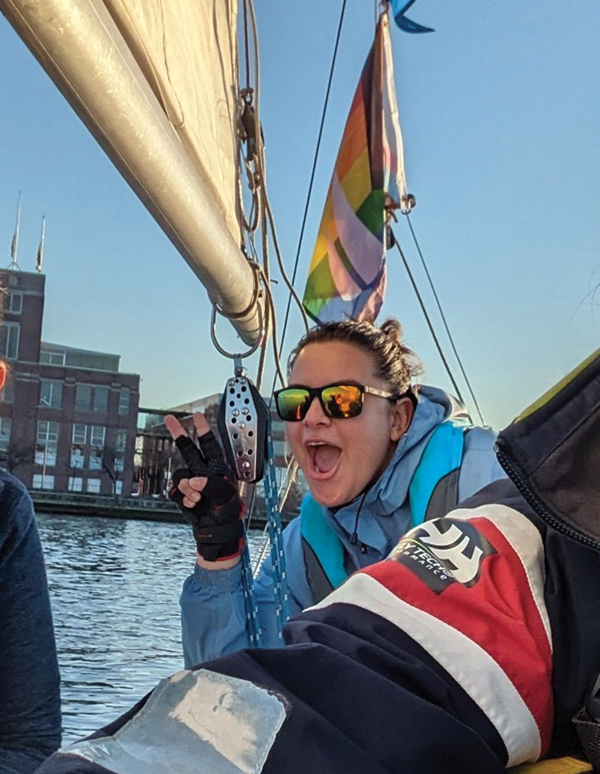 When the sailors you see don't talk or look like you.
Even though I had an introduction to sailing as a kid, for years I didn't consider getting further involved. There aren't many Latinos in the sailing scene, and there wasn't any talk about it or referrals within my community. In fact, I still haven't met another Latino sailor, aside from sailors from Spanish-speaking countries whom I've met during Fleet Week. Another reason that sailing wasn't on my radar was that the majority of sailors I had met were men. I especially would not have considered racing, not because I didn't believe women competed, but every time I had seen someone at the helm, it was a man.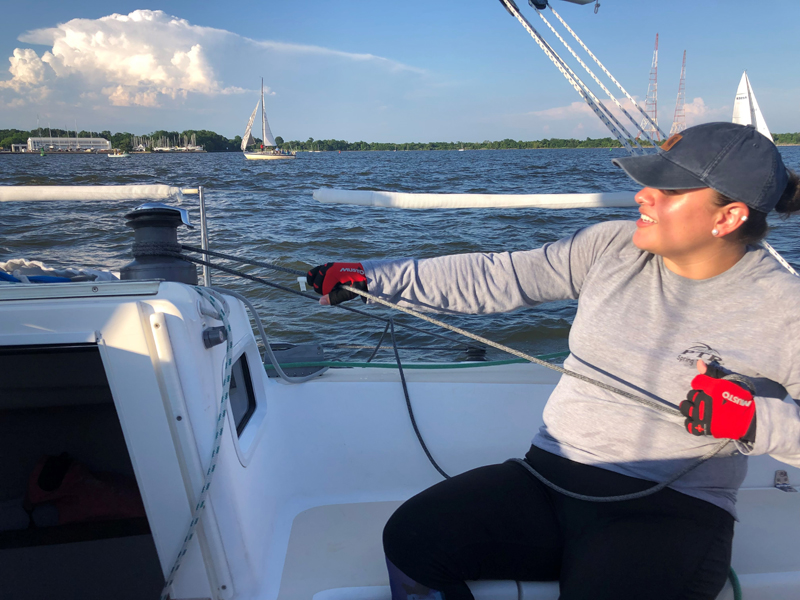 Seizing an opportunity.
In my final year at St. Mary's College in 2018, I realized that it made no sense for me to leave one of the top sailing schools in the nation without taking at least one sailing course, so I enrolled in an introductory, two-month class.
In 2021, when the world was opening up again after Covid, I saw that my college friend, Hannah Dickmeyer, posted on Facebook that she was sailing. I asked if I could join her, and the rest is history. Hannah introduced me to the Downtown Sail Center (DSC) in Baltimore and its Women on the Water (WOW) program. There I've been sailing J/22s two to three times a month. Hannah also encouraged me to join the J/105 sailing community and referred me to 105 skippers that needed last-minute crew. Although I haven't taken any more formal sailing instruction, I have solidified my skills enough that I was invited to crew on the J/105 Crescendo at the Hospice Cup this year, and we took first place!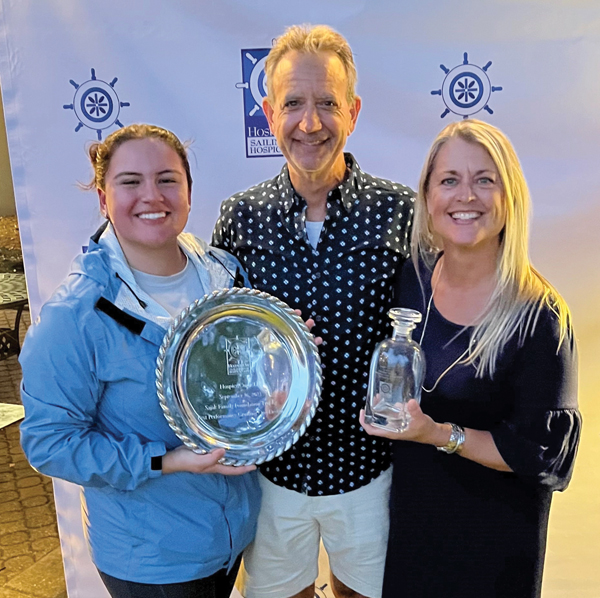 What would you say to someone interested in learning to sail?
I'd tell them to just go for it! If you can find some way to take a sailing course, do it. I have met some incredible people throughout my sailing career these past couple of years. Without them, I am not sure that I could sail as well as I do now.
Did you encounter any obstacles when learning to sail?
Cost was probably the biggest factor. Sailing lessons are not cheap. Sailing shoes and bibs can be expensive. I was worried that I was not going to be able to find gear within my price range, so I shopped at secondhand stores and online at reselling platforms. I also discovered online sailing gear warehouses and outlets. Joining a club is still expensive for someone like me. The DSC definitely makes sailing more accessible in the Baltimore area, but I can see how the price of being part of a club can be challenging on a budget.
Growing sailing to be more inclusive.
As a Latina, first generation citizen, who came from a low-income background, it's hard not to think of minority communities when I sail. This is such a cool sport! There are amazing things you can see from a boat, such as gorgeous sunsets on the water and the night sky with no light pollution. You can feel the wind and waves as incredible forces of nature. It's a truly surreal feeling sometimes, and it can be hard to put into words. Sometimes I just want to show my friends and family by taking them sailing. I hope one day I can help bridge the gap so that more people can try sailing through programs like the ones that I went through and participate in now.