Meet Lynda Plaisted
Sailing is part of how she stays focused on health, positivity, and good people
When many others her age are making the jump from sailing to powerboats, Lynda Plaisted, a 67-year-old cancer survivor, is going the opposite direction. This past summer she took her first sailing lesson on the Chesapeake, and she has plans to do even more sailing next season. "When you have a clinical diagnosis like I received, it changes the way you look at things," says Lynda. "For me, I've focused on finding ways to be healthy, positive, and surround myself with good people. Sailing hits all three of those marks."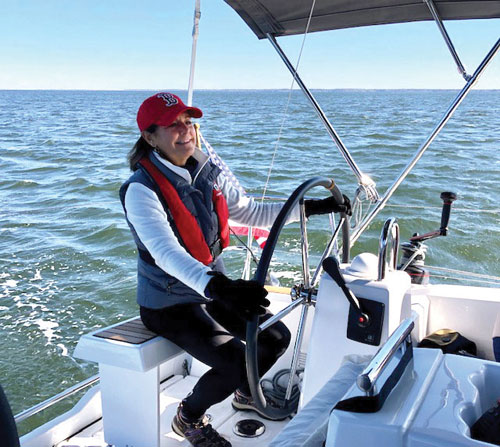 A family that boats together...
Growing up in New England, Lynda and her family enjoyed waterskiing behind her family's trailerable powerboat. As an adult raising her own children, Lynda continued the family boating tradition. Now, with grandchildren who live and boat in the Annapolis area, Lynda (who still has a home and family in Maine), has enjoyed spending the last five sailing seasons (and a few more months) in Annapolis. "I love living in Annapolis because of the many active people that are my age, and I also appreciate that the sailing and boating season here is much longer than in New England," she says.
"Living on Spa Creek, the sailboats really piqued my interest, so this past summer I looked on the internet and found Annapolis Sailing School. I signed up for a two-day course (ASA 101), and I absolutely loved it. We sailed on 24-foot Rainbow keelboats with three students and an instructor in each boat. We got lots of good hands-on practice as we rotated through the various positions of handling the helm, mainsheet, and jib," she continues. "It was really an awesome experience, and I would recommend it to anyone."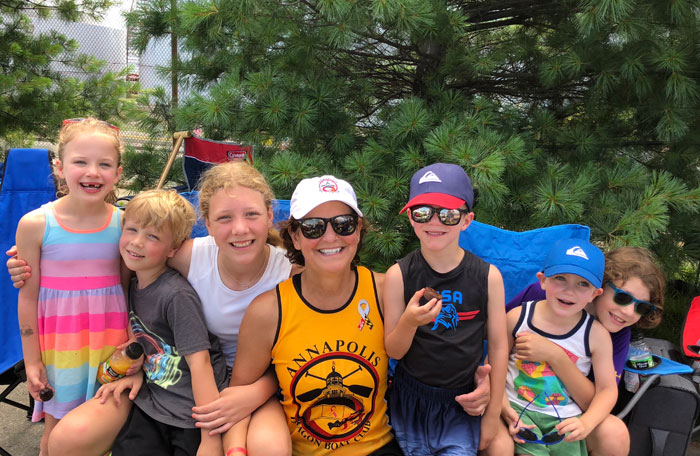 A new appreciation for sailors
"Having learned a little about how to sail, I have a new appreciation for sailors," says Lynda. "I thought sailing was slow and relaxing, but I'm amazed at the amount of work it takes compared to a motorboat, in addition there is time prepping the boat and putting the lines away at the end of the day. Although I was already a boater and had a healthy respect for the water, I had to learn a whole new language when I started sailing."
Last April Lynda attended the SpinSheet Crew Party in Annapolis, where she connected with a handful of skippers and other sailors. It was such a positive experience that she plans to attend the next Crew Party in the spring. And she has more big plans. "I'd also like to join Eastport Yacht Club so that I can meet more sailors, build on the sailing skills I learned this year, and even get into weeknight racing," she says.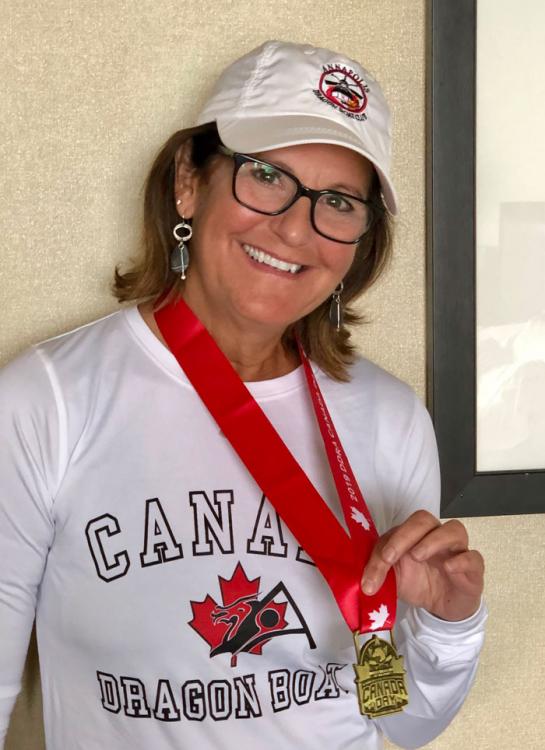 In addition to sailing, Lynda enjoys kayaking and is an active member of the Annapolis Dragon Boat Club (ADBC). With ADBC, Lynda has competed in races and festivals near and far, including races in Canada and Italy. Off the water Lynda is a cyclist and a volunteer at the historic William Paca House in Annapolis. She also enjoys listening to live music and has had a lot of fun working at the U.S. Sailboat Show in the Fawcett Boat Supplies booth. Read more about her cancer journey and involvement with the ADBC and be inspired to start sailing (and other fun activities) at any age.