Meet Start Sailing Now sailor Joseph Porcelli:
My family and I moved to Severn House in Eastport from Washington, DC in February 2016. Severn House has a beautiful promenade along the marina where we love to walk with our toddler. I started getting more and more curious about boats and spending countless late nights scouring the internet for used boats.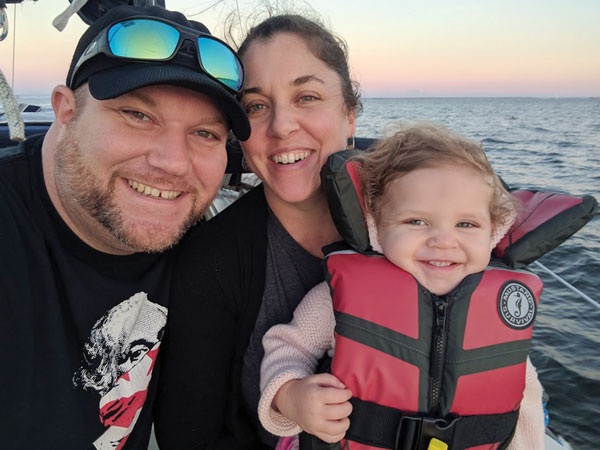 One afternoon during the summer of 2016 my wife said, "Hey, that guy who also has a Jeep Wrangler just parked next to you," so I went outside to say hello to a fellow "Jeeper." After a few minutes of chatting he said, "I'm going sailing, want to come?" I responded, "Sure do!" That was the first time I was on a sailboat, and I loved it.
The following January I reached out to Keith Mayes at Annapolis Yacht Sales about a really nice Beneteau I had seen for sale. That boat didn't work out, but Keith found me a 1989 Pearson 27, Hey Jude, which I purchased and will be renamed after our daughter, Elizabeth Rose, following the proper renaming ceremony. My new friend who had the Jeep parked next to mine, Matt Sasser, kindly offered to sail her home with me from Herrington Harbour North, where she had been on the hard. That was the third time I'd been sailing, and it was my first experience as a captain.
Did you have any preconceived notions about sailing that proved true or untrue?
I thought sailing would be boring. I was so wrong. It is so much fun, and I can count on something happening each time I go out that I had not encountered yet. I'm constantly learning. I like sailing in high wind. If it's blowing 15-20 knots and I'm not traveling for work, I'll be sailing.
What has been your sailing experience thus far?
I surfed as a kid when my family lived in Mexico, and during high school and college I windsurfed. That helped me understand how to read wind and know that I need to pay attention to the currents.
My neighbor and good friend Ken Aiken taught me how to sail last spring. I'm proud to say I'm now sailing singlehanded. My goal is to go sailing at least once a week. Most of my sailing is out in the Bay between the Bay Bridge and Thomas Point Lighthouse. I get a kick out of sailing by and around the tankers at anchor. Recently, I got to go sailing with my friends Lovisa Williams and Mike Beaty on their new Beneteau Oceanis 38.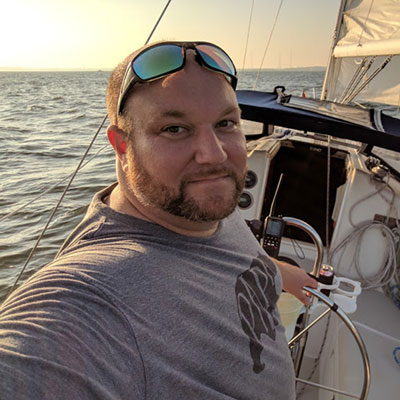 What are your future sailing plans?
I plan to sail through the winter and do an overnight or two. Next year, my hope is to sail to Norfolk and back and maybe circumnavigate the Delmarva Peninsula. Ultimately, I'd love for my family and I to live on a boat and sail around the world!
Did you encounter any obstacles or barriers when you began sailing?
Yeah, having no idea how to sail! Thanks to my awesome friends and neighbors especially Norm Staunton, Jim Lay, Matt Sasser, and Ron Pence for helping me get started and to Ken Aiken for spending countless hours teaching me and for encouraging me to do things that scare me—like navigating Ego Alley in Annapolis.
Any stand-out memory or experience you'd like to share?
We were motoring in after a nice evening sail in 10-knot winds, when out of nowhere it kicked up to over 20 knots just as I was taking the mainsail down. Fortunately, my passenger was able to get the boat back into the wind while I finished taking down the mainsail at the mast.
Always be prepared and keep in mind the number one job of a captain is to keep your passengers safe. Also, as Ken says, "sail outside the boat." Constantly scan your surroundings.