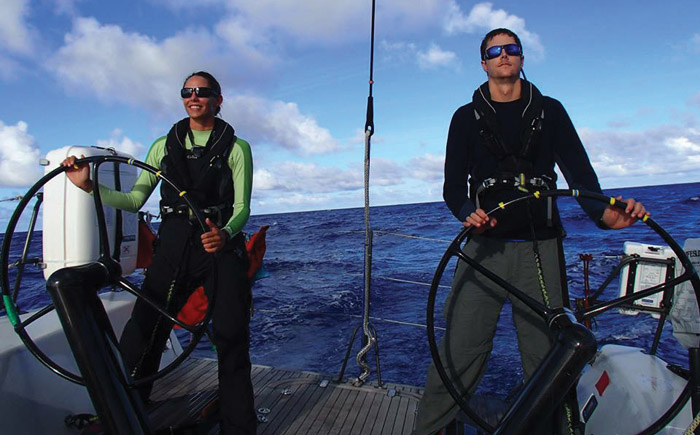 My husband Hawk and I moved to Maryland from Colorado when we were in our mid-20s. Initially we didn't like Maryland because many of the activities we enjoyed in Colorado, such as hiking and biking in the mountains, were at least a two-hour drive away. So we decided that boating was in our future. We looked into buying a powerboat, but after calculating the boat payments and fuel expenses, we said, "nope." We then wondered what type of sailboat we could purchase for the same cost. Neither of us knew how to sail, nor did we know what all the ropes did, so we decided to take lessons at Sail Solomons, where we quickly discovered there are no ropes on a sailboat.
In the summer and fall of 2012 we enrolled in the American Sailing Association (ASA) Learn to Sail and Coastal Cruising courses. Hawk went on to take the Bareboat class. During the winter we both joined a weather and navigation course, and by that time we knew we wanted to sail at our leisure. We purchased a Beneteau 331, since all of our courses had been geared toward cruising. We sailed Blue Star for two years and took several weekend cruises.
Things began to shift when we were asked to crew on a race boat, and Hawk went to Seattle on business, where he did extensive racing on boats that ranged from a J/24 to a Ker 46. We found ourselves owners of a cruiser without any time to cruise it. When the owner of the Ker 46 asked us to be part of a delivery crew from Hawaii to Seattle, we said, "Yes!"
The delivery took us 15 and half days, of which seven were under spinnaker. It was an amazing experience, and I loved every minute. After the delivery, the delivery skipper, who owned a Henderson 30, let us crew for him on a Wednesday night race. We were sold. We found a different Henderson 30 for sale and bought it, selling our Beneteau in just one weekend. Short Bus lives in our condo marina in Dowell, MD.
What keeps you coming back to sailing?
Hawk: I can always learn something. There is always something to do better. And there's something to be said about going out and harnessing the power of the wind. I can go as quickly as a powerboat or as slowly as a piece of driftwood, but I can go forever.
Steph: What hooked me on sailing was the very first time the engine turned off. To this day, it is my favorite part of sailing. The sounds of the water on the hull and the wind passing my ears never get old. I keep coming back to sailing because learning is my passion. A sailboat offers an immense amount of learning opportunities.
If someone was interested in learning to sail, what would you tell them?
Go to Sail Solomons! They will teach you how to sail and help you know the basics. Don't be afraid to ask people to go out on their sailboats. I have never met a sailor who didn't want to take a boat out.
What's the best part about life along the Chesapeake Bay? Do you still pine for Colorado?
I love the four seasons of Maryland (Colorado doesn't have much of a fall or a spring), and the water is a wonderful part of life on the Chesapeake. We are enjoying going out to lunch at restaurants that have water views.
Did you have any preconceived notions about sailing that proved true or untrue?
Absolutely. One thing I always heard was sailing is a "rich man's sport." I also thought that you had to be born into sailing to be a sailor. This is not true. Anyone can learn how to sail. We are proof: two kids from Colorado who took sailing lessons and then competed in Key West Race Week four years later!