This Start Sailing Now profile introduces Lora Donia, who learned to sail in 2014, recently returned from a sailing charter in Croatia, where she and several fellow members of Singles on Sailboats spent seven wonderful days on a 42-foot Beneteau exploring the coastline and small waterfront towns. This was a big step for Lora, who didn't learn to sail until a few years ago when she was in her late 40s.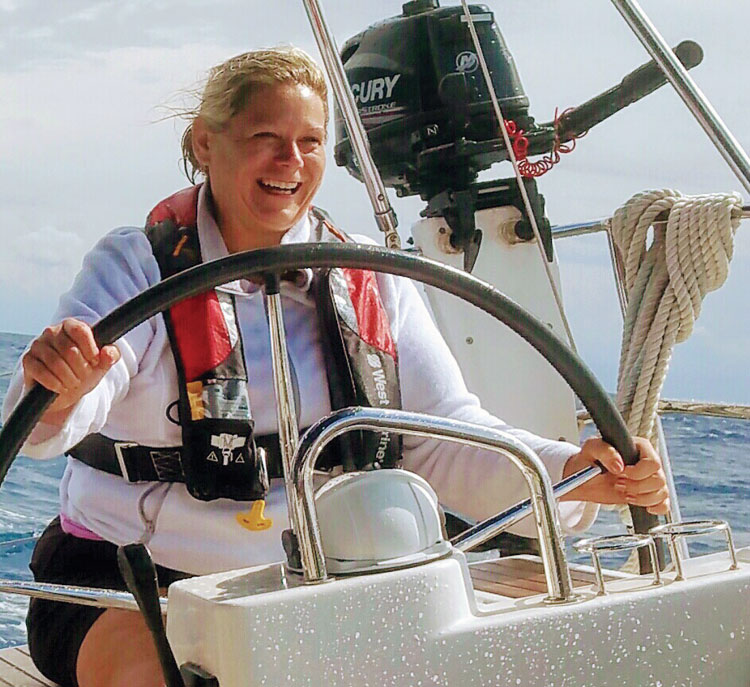 Early in her marriage Lora had been a guest on a sailboat and she loved it. The couple planned to pursue sailing at some point, but then life happened. They bought a home and started a family. They told themselves they'd pick up sailing when the kids were grown and they could afford it.
Flash forward to 2014. The kids were older and very self-sufficient. Money was no longer a barrier. But Lora and her husband had separated. What was to become of her dream of sailing once the kids were grown?
"I realized I didn't need a man to sail. I could do it on my own," she says. "Instead of feeling sad, I put myself into sailing. It gave me something positive to focus on and gave me purpose. Sailing was a life saver."
Lora began by enrolling in ASA 101 at Blown Away Sailing School in Rock Hall, MD. It was a cold October weekend, but she loved sailing as much as she had 20-some years prior. The following spring she completed ASA 103 and 104. "I particularly appreciated my instructor Drew Shelton's emphasis on safety. He always wore his PFD. He set the standard, and I still always wear a PFD. I think everyone should," she says.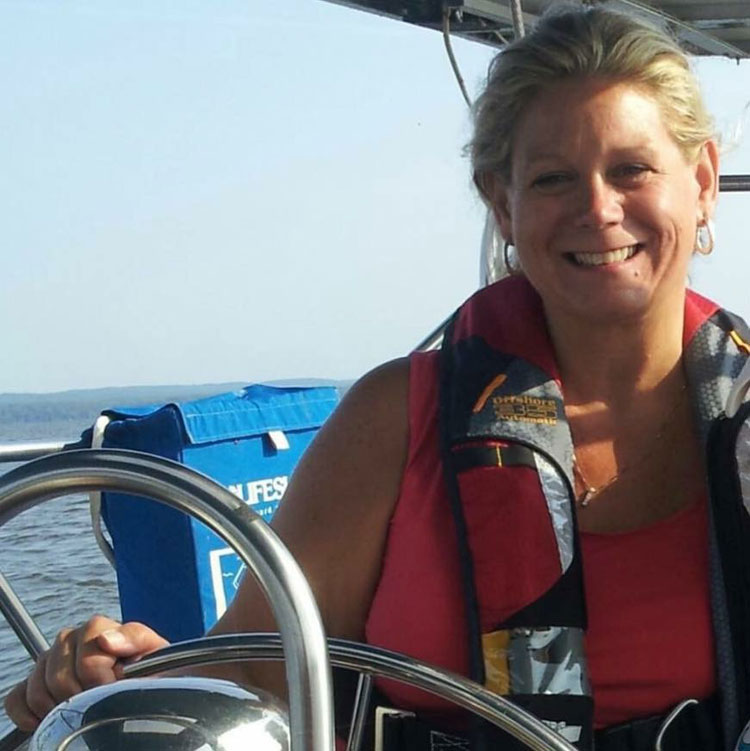 "After my classes I was certified, but I had no boat," continues Lora, who lives in New Jersey. "I found CrewTime, which is a part of SailTime, and with them I sailed twice a month as crew. Through my Blown Away instructor, I also had an opportunity to sail in the BVI. His sister was captaining there for the first time, and I was invited to crew for her with four others on a 38-foot catamaran.
"Then one of the CrewTime skippers told me about Singles on Sailboats (SOS). I wasn't sure SOS was for me, because I wasn't looking to find a date through sailing, but I was assured it was just a great group of people with a common interest in sailing. Shortly thereafter, I chartered with Blue Crab Chesapeake Charters in Rock Hall, MD, and the owner, Mark Einstein, also recommended Singles on Sailboats. So I looked into it and spoke to a few of the female members, who all said great things about the program."
Lora joined SOS in August 2015, beginning with a few social events. "I attended SOS functions in Pennsylvania, Delaware, and Maryland. The people were wonderful and came from all different walks of life. I began sailing with them, and I've found they are more than willing to share their knowledge. The skippers and crew are both men and women, but we're all out there together. Since joining the sailing club, I started an SOS happy hour in New Jersey, and I am now an SOS First Mate candidate. I plan to get that credential next summer."
"The sailing trip in Croatia was a big step. I didn't know the others on the boat very well. I traveled there and spent several days sightseeing on my own and seven days sailing. It's not supposed to rain much there, but it did while we were on the boat. Despite the rain, significant waves, and big breeze, we had a wonderful time.
"What an achievement this has been," Lora says proudly. "I feel very blessed to have met so many wonderful, interesting men and women and to have sailing in my life. Over the winter I'll take the ASA 105 course on navigation, and next summer I'll sail with SOS chartering on Lake Champlain. In two years, I hope to retire early and do more sailing. I want to be really good at it—even earn my captain's license."