Tell us about how you got into sailing.
As a child I was introduced to sailing by my grandfather, who would occasionally take me out on Long Island Sound. After he sold his boat and moved to Florida, I didn't sail much. But in 2014, at the age of 33 years, I was experiencing some changes in my personal life, and I had this yearning to sail. I needed a focus and a place to put my energy. I wanted to try something new.
I put my name on a crew list and was picked up by skipper-captain on the West River, Frank Albert, the owner of the J/109 Resolute. I was lucky enough to also meet John Anderson, who invited me to crew on his Catalina, Swellville. I have been racing with these boats for going on four seasons now, and we also take the Catalina out for the occasional cruise. I am grateful to both of these men for giving me the opportunity to learn and fostering my innate love of the sport.
Tell us about your sailing experiences and any lessons you've taken.
In addition to participating for the last three years in the weeknight and frostbite racing series at the West River Sailing Club, I've crewed in several distance races each season. These races and their deliveries have also provided opportunities for overnight sailing. Although I haven't taken any formal lessons, I did earn my Safety At Sea certification this spring.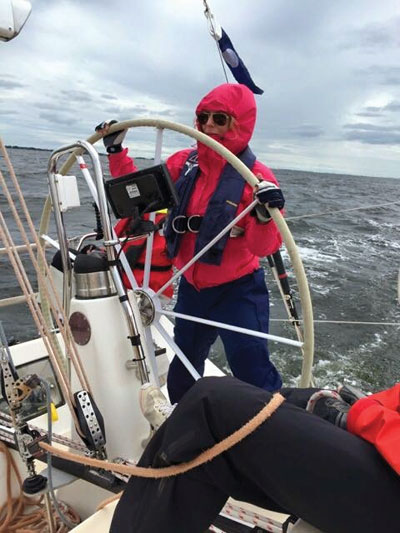 As a working mom, how do you find time for sailing?
We can all come up with a million reasons not to pursue our goals. Life will always be in the way. When I left my marriage, I claimed my place on the planet and demanded my time to do what was healthy and good for me. Old Theresa would have created barriers. New Theresa knows what is possible. Yes, I work, and I'm a lacrosse mom, but the only barriers are the ones you create. Luckily, my race schedule doesn't usually conflict with my kid schedule. Spring and fall can be pretty busy with teaching full time, motherhood, and of course sailing. It's a balancing act, but I truly believe that we owe it to ourselves to indulge in our passions. I make the people and things I care about a priority, and that includes sailing.
I think it's important to include my daughters in sailing whenever I can. One of my captains, John Anderson, loves to take the girls out sailing and includes them in a cute pumpkin race in the fall, where the girls act as race committee. They love to tack the boat and have even been at the helm. I hope they will crew with me someday.
What are your future sailing plans?
I love that there is always something to learn. I want offshore experience. I would like to do the Annapolis to Newport Race or the Annapolis Bermuda Ocean Race. I also hope to sail more someday with my daughters. I hope they will love it as much as I do.