Three sailors share their favorite cold weather sailing clothes
Sailing year-round means cold weather gear is important for protection. Here are some good ideas. Spoiler alert: you may already own much of what you'll need.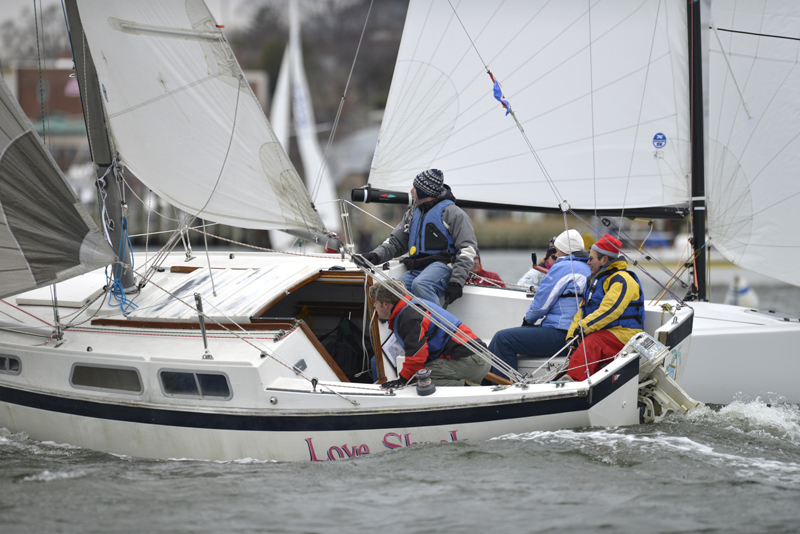 "The base layer is where I would recommend most people put the bulk of their resources," says Kristen Berry of J/World Peformance Sailing School. "My long sleeved silk-weight Capilene shirt is my go-to first layer year-round because it provides a good thermal base in the winter and sun protection in the summer."
A sailor's base layer should wick moisture away from the skin. Sailing is a sport, right? Even if it's cold outside, you'll be working hard and can expect to break a sweat. Modern fabrics that don't retain moisture are your best bet. Nylon and polyester work well, especially if the polyester is treated to have some wicking properties. Natural fibers, such as cotton, will absorb water and retain it, leaving you feeling wet and cold. Click here for an enlightening article in the Washington Post about moisture-wicking fabrics. And don't think that you have to forgo fashion for function. SpinSheet senior editor Duffy Perkins has found Lululemon's Full Tilt long sleeved shirt with lace mesh.
SpinSheet contributing photographer Al Schreitmueller adds, "People ask me about sailing in cold weather, and I ask them if they ski. Skiing is colder; why would sailing be an issue? I prefer mult-sport gear and getting beyond something that can only do one thing, so all the layering you use for camping, hiking, and skiing works for sailing. And layering makes sense in the Chesapeake Bay area because temperatures can swing from below to above freezing during the course of a day."
How do you keep warm when the air and water get cold? Got a pair of gloves or boots that you just love? Tell us about them. Found a middle layer or outer shell that works well but isn't too bulky? Let us know. Whether you're a racer or a cruiser, share your cold wear gear ideas by emailing them to [email protected].