"Boys Sail" 2023: a BVI sailing charter
Once or twice a year, for 30 years now, I have hosted my college roommates/fraternity brothers, four of us together, for a boat trip. Our "Boys Sails" actually began in college in the 70s. These were day sails on a Cape Dory 25 owned by one of us. Clearly, we should have actually been in class, which we skipped regularly to sail, or doing homework. However, boys will be boys.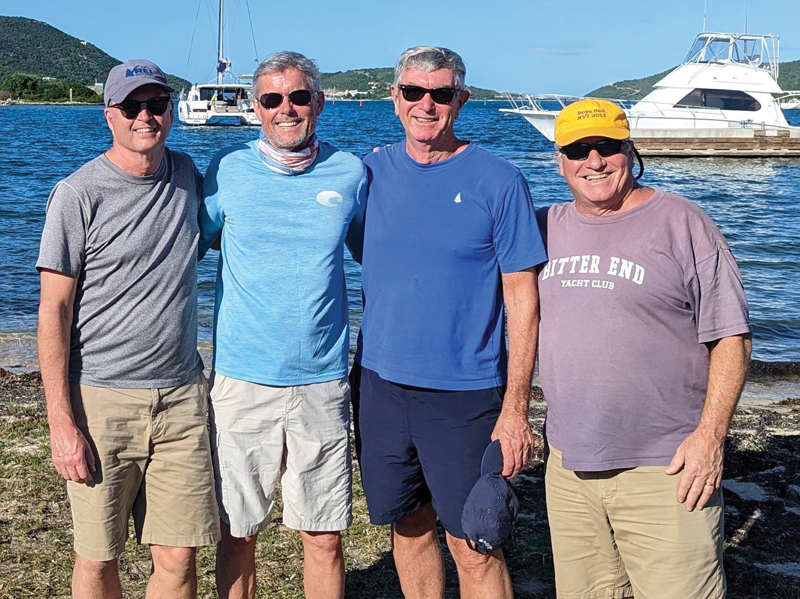 Despite skipping classes, we all graduated, got married, and had kids; you know the story. Raising young kids will keep you busy. However, by 1992, the kids were a little older and our long-suffering spouses allowed us to reinstitute our Boys Sails on my then new-to-me Sabre 32.
At first it was long weekends with the boys taking Friday off and sailing into Sunday. Together we explored the upper Chesapeake sailing out of Annapolis. Along the way we occasionally stretched to four days and often added a baseball game (a cruise to downtown Baltimore for an Orioles game).
The boats progressed from the Sabre 32 to a Catalina 380. In 2015 we went to the "dark side" (see March issue of PropTalk). I had traded my Catalina 380 for a North Pacific 43 trawler (later superseded by a Back Cove 37). The trips also got longer and included some routine ICW legs, as the powerboats went to Florida every winter. Collectively, we have shared a lot of miles together. We still love sailing, but we also enjoying powerboating. Mostly we enjoy being together.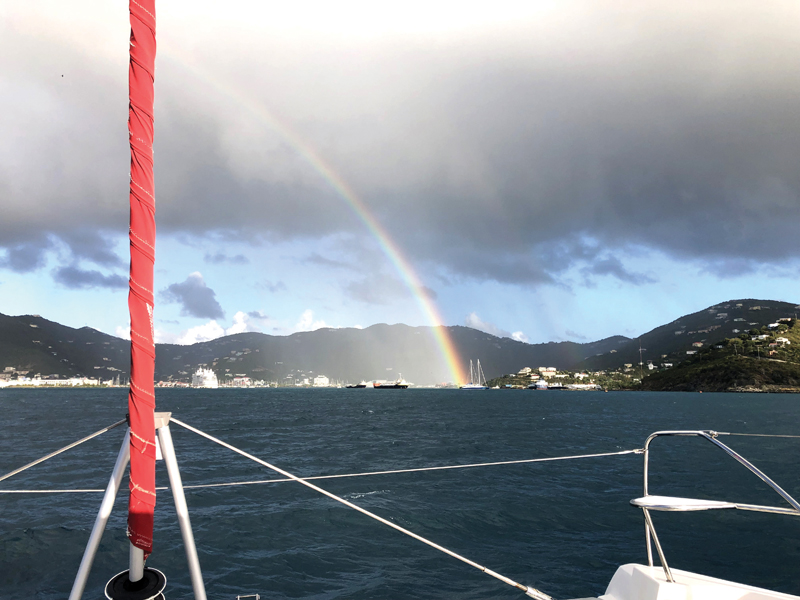 Chartering in the BVI
About 15 years into our now 30-year Boys Sail history we made a trip to the British Virgin Islands (BVI) for a weeklong Boys Sail Charter. That was so much fun that we did it again in 2010 and 2013. Those trips were always in June as we attempted to sandwich in a trip between school ending and hurricane season starting (one of the crew was a high school teacher and so tied to the academic calendar).
I am not sure what happened next. Maybe it was the press of demanding jobs in the peak of our working careers (all of us are now retired). Maybe it was the pleasure of longer ICW trips. Whatever the cause, the BVI fell off our collective radar.
I am likewise not sure what brought sailing in the BVI back to our collective conscience. Early in the Covid pandemic we began talking about going again, so maybe it was pandemic isolation? In any case, we evolved a plan to go in the early days of 2022. However, the ups and downs of Covid brought us to a postponement to January of 2023. And so, 2022 became a year of planning and anticipation.
In the 10-year gap between our visits, the BVI had been hit by several significant tropical systems. Irma in 2017 was the most impactful. Most of the shoreside stops in the BVI were damaged as was the charter fleet. Well known places from The Bitter End Yacht Club on Virgin Gorda and the Soggy Dollar on Jost Van Dyke were out of business for a year. The facilities at Saba Rock were wiped clean down to the concrete slab foundation. Every roof on Marina Cay was gone. The pandemic added to a potentially slow recovery.
We used pandemic popular technology to plan our trip. Our Zoom calls over a year plus were part planning, part update on BVI Covid restrictions, part hurricane recovery reporting, and part happy hour. As we got into 2023, the Covid restrictions and protocol in the BVI were dropped completely. Yeah!
Allow me to cut to the chase. The BVI is well, but not completely recovered.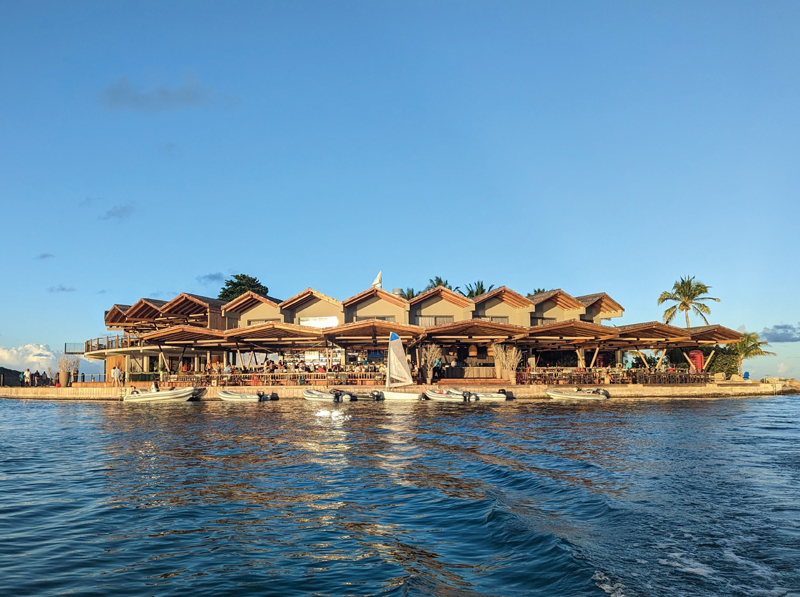 Post tropical storms and the pandemic: the BVI in early 2023
The Cooper Island Beach Club, the destination restaurant serving the Cooper Island mooring field, had two to four feet of water throughout with the storm surge, but enjoyed shelter from the worst storm winds. It was back in operation in eight months. We stopped there twice enjoying their craft beers and excellent dinners.
The Bitter End Yacht Club has fully rebuilt their bars, restaurants, and shops. Their lodging options have a way to go to reclaim their past glory. The work is clearly slow and methodical, showing a great focus to details.
Nearby Saba Rock is in much the same condition with lodging a bit behind but a great bar and restaurant operating as before. The hurricane-induced rebuild opportunity seemed to push these three resort facilities a notch upscale.
The restaurants at Trellis Bay on Beef Island and Leverick Bay on Virgin Gorda were angled away from the worst wind and wave action. They survived pretty much as past visitors will remember them: beach sand under the tables and casual food choices. The same can be said for the restaurant serving the Bight on Norman Island. The shoreside restaurant is pretty much as I remembered it as was the Willie T. The boys enjoyed an afternoon happy hour on the Willie T (a pirate ship replica) complete with the jump from the second deck, as is the custom for cruisers there after a few rum-laced Painkillers.
The island of Jost Van Dyke has three overnight stops and one legendary day stop, White Bay, the home of the rebuilt Soggy Dollar beach bar. There is a reason it is called Soggy Dollar. It is genuinely a beach front with no dinghy dock. So, you either anchor the big boat and take the dinghy ashore, or you swim in. The bar itself has a clothesline with clothespins to dry your cash out.
In typical weather there is a modest swell moving to the beach making landing a dinghy a bit of a challenge. On our visit the first off the dinghy stepped into deeper water than expected, rolled on his side, and nearly got run over by the broaching dinghy. It was all good, but his dollars were clearly soggy.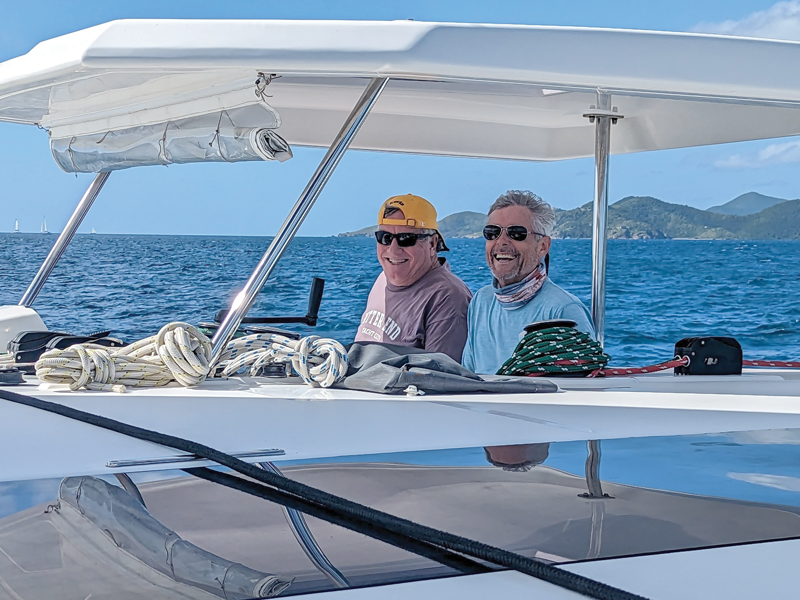 To charter a sailboat or a powerboat?
I have already confessed to moving to the dark side some years ago. Still, sailing is a great way to go in the BVI. The distances are so close that even powering at six knots gets you from place to place in a couple of hours. As a bonus, you can also sail in crystal clear water with usually reliable winds out of the east.
On our first sail I was remined of the joys of sailing and the reasons I moved to power. The joy was shutting the engines down and reveling in the quiet motion of sail power. I even remembered how to read the telltales. The reason I moved to power came later that evening as I noticed how sore my shoulders were from all that winch action!
All in, it was a great trip. Memories were built and the bond of friendship renewed by our common experience. If you have any trailing concerns about whether the BVI is ready for you, trust me, it is!
by Mike Pitchford
About the Author: A regular contribuor to PropTalk, Annapolis boater Mike Pitchford has also been a SpinSheet Century Club member for two years in a row.