Skipjack racing on the Choptank
The 27th Choptank Heritage Skipjack Race will unfold September 23 in Cambridge, MD. The historic sailboat race host is the Skipjack Nathan of Dorchester and her all-female crew commanded by Captain Michele Drostin. The race is sponsored by the Dorchester Skipjack Committee.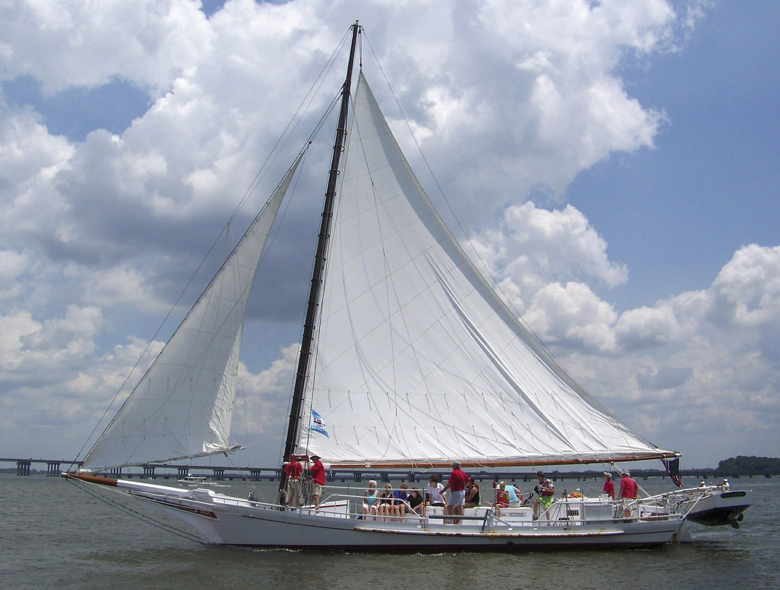 The race, which will start and finish by the Choptank River Lighthouse, offers spectators an excellent view of the racing action. A parade of boats will head out of Cambridge Creek at 9 a.m. and racing begins at 10 a.m. The best view is from the floating dock at Long Wharf Park, at the foot of High and Water streets in Cambridge.
The race is held to preserve the remaining skipjacks. Each participating skipjack receives approximately $700 in show-up money for boat maintenance and preservation. Over the past 20-plus years, the Dorchester Skipjack Committee has raised and donated more than $100,000 to help preserve the skipjack fleet.
This year two popular skipjacks are not expected at the race. The large skipjack Dee of St. Mary's has been in dry dock at Solomons Island for major hull repairs, and the Chesapeake Bay Maritime Museum's Rosie Parks is in the midst of ongoing renovation work. Three skipjacks that are expected to compete this year, in addition to the Nathan, are the Han-Em-Harv, Ida May, and the Wilma Lee.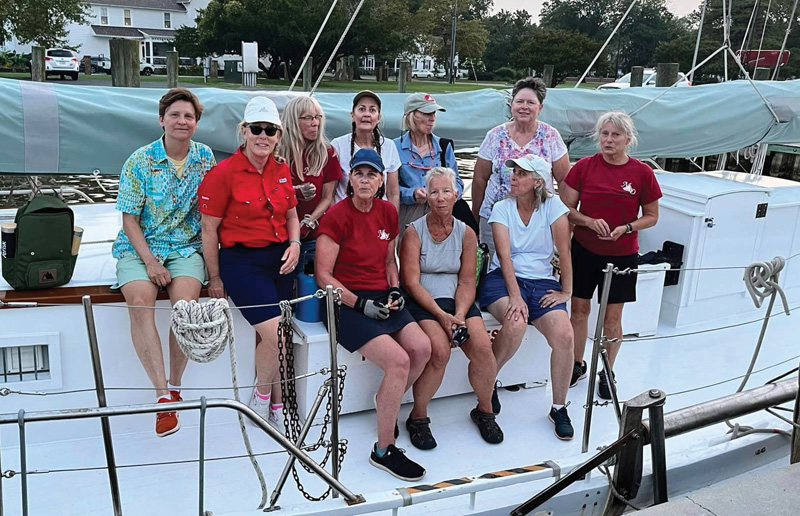 Host boat, Nathan, will compete with all-female crew
Inspired by the all-female skipjack crew on Helen Virginia from Deal Island, Dorchester Skipjack Committee president Pat Johnson said, "I thought that's something we should aim for on the Nathan. Women are important to Chesapeake Bay maritime history, and they captain and run many parts of these operations."
Captain Michele Drostin didn't skip a beat and was all in. An American Sailing Association sailing instructor, Michele knew there would be challenges for an all-female crew but that they could overcome them by working together. The main sail is the biggest hurdle, since it's so heavy. At 1500 square feet and weighing 400 pounds, it may require four women instead of only three crew members to raise it. This is not a problem since the Nathan doesn't leave dock without four experienced crew members, and there will be 10 women onboard during the race in the event extra hands are needed. Pat, who regularly volunteers as a docent, will be onboard during the race for additional support.
Involved with the Nathan for eight years, Capt. Michele comments on the competency of the female crew, "The biggest question was whether the women could raise the main sail on their own. We raise it by hand, without a winch, and it is quite heavy. It turns out that the women are quite capable of raising the sail! It is all about communication and teamwork, and we have enjoyed that a lot during our practice sessions."
Serving as tactician on board, volunteer Cathy Schmidt echoes that sentiment, "We have a strong group of intelligent women, and I forget about everything else when I'm out on the water with them. The group's diverse skill sets and local knowledge facilitate an atmosphere of learning and support. There is a cohesive energy and a desire to improve each week."
While the Choptank Heritage Skipjack Race is a free event, there will be an opportunity to help keep these skipjacks afloat. Contributions may be placed in the race day "Donation Dingy" or by credit card or PayPal at skipjack-nathan.org. The day after the race, Sunday, September 24, free one-hour sails will be offered to the public starting at 1 p.m. The public sails are offered in conjunction with the Dorchester Center for the Arts Showcase, which runs from noon to 5 p.m. along historic High Street in Cambridge.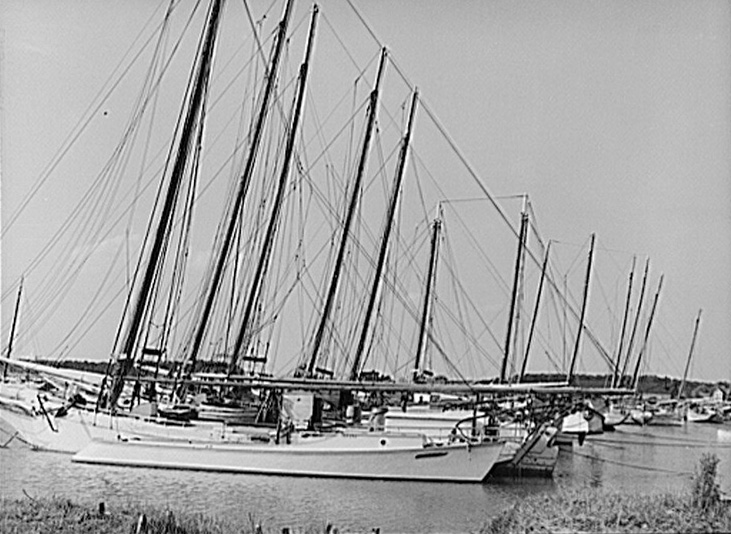 The origin of sail-powered workboat races
Sail powered workboat races started in 1872 when local watermen took their boats and crews out on shakedown sails before the start of the oyster season. Whenever two or more boats were out on the water together rivalries were formed, and side bets were made. Informal races occurred up and down the Chesapeake Bay from Havre de Grace to Solomons Island and were popular at Crisfield, Rock Hall, Claiborne, Annapolis, Oxford, Cambridge, and Deal Island, MD.
The introduction of the marine gasoline engine led to many sail-powered boats losing their masts and converting to power. The commercial sail powered boat population on the Chesapeake Bay dropped from about 2000 craft of all sizes in 1910 to about 700 sail-powered boats by the mid-1920s. Today only a handful of skipjacks survive to represent this once mighty sail powered fleet. In addition to the Choptank Heritage Skipjack Race, the other surviving skipjack race is the Deal Island Skipjack Race and Festival. Now in its 64th year, the Deal Island event is held each Labor Day weekend and is sponsored by the Deal Island-Chance Lions Club.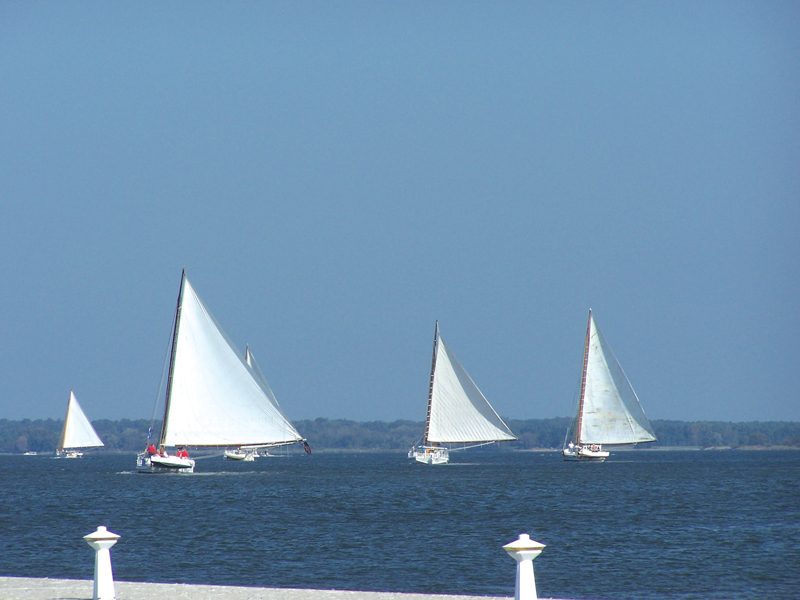 Championship workboat races
One hundred years ago, skipjacks competed in races up and down the Chesapeake Bay. As sailing craft disappeared in the early part of the 1900s, efforts were made to keep traditional sail powered boats in operation. With sponsorship from the Baltimore Sun newspapers and political support from the governor of Maryland, Chesapeake Bay Championship Workboat Races became popular events in the 1920s. Excursion trains filled with spectators and extra ferry service were added between Annapolis and the town of Claiborne on the Eastern Bay in Talbot County. Several thousand spectators watched the first race held off Claiborne, and the races were a big success.
All types of Chesapeake Bay working sailing craft were in attendance. Bugeyes of more than 50 feet in length raced in one category, and smaller bugeyes raced in a second category. (Today only one bugeye, the Edna Lockwood, still sails.) Skipjacks and sloops raced together in their own categories, depending on the size of the boat. Working log canoes and racing log canoes each had their own races too. Choptank River bugeyes and skipjacks dominated the 1921 races in Claiborne. "Cambridge boats showed boats up and down the Bay that they were clear winners," according to an article in the Worcester Democrat on June 18, 1921. First prize in each race category was $100, a new set of sails, and a trophy. The Cambridge skipjack Agnes placed first; Oxford skipjack Elmer E placed second, and Rebecca T. Ruark took third place.
Chesapeake Bay Championship Workboat Races became very competitive and winning brought much prestige. Boats from each port competed against each other and the fastest boats from each town competed in the yearly statewide workboat races. Governors and dignitaries from Washington, DC, watched the races from the steamer Gov McLane, flagship of Maryland's Oyster Navy. Before the Great Depression cancelled the event, 99 boats participated in the race at Deal Island. There were so many boats that closed deck (larger) skipjacks competed in their own category and a separate category was established for a dwindling number of open deck (smaller) skipjacks. The smaller open deck skipjacks had all but disappeared by 1940.
In 1957, more than 80 skipjacks still plied the waters of Chesapeake Bay. By 1985, when the skipjack was officially designated the State Boat of Maryland, fewer than 30 licensed and working skipjacks sailed the Bay. Today, about six skipjacks still dredge oysters, but they always dredge under power. The days of sail powered commercial oyster dredging are quickly fading from memory.
Submitted by: The Dorchester Skipjack Committee, Inc., a 501(c)3 nonprofit organization. Donations may be made payable and mailed to: The Dorchester Skipjack Committee, Inc., P.O. Box 1224, Cambridge, Maryland 21613. For reservations and more information, visit skipjack-nathan.org.