Posted September 28, 2017
Living the Cat Life Part 3: One Day... My kids have only ever known our catamaran as home. They both came from hospital births to our 44-foot St. Francis cat and live here full time, year round. Living the cat life is a pretty sweet life, whether you're long term in a marina community or cruising around the islands full time. Every day is a good day on a multihull, so here's a little sample of a day in the life.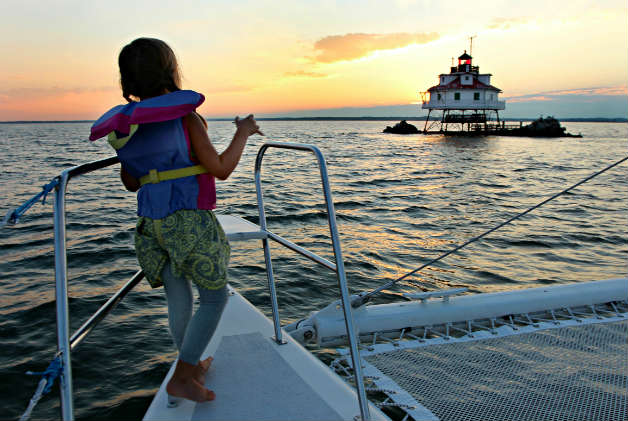 7:30 a.m. Wake up as the sun moves into your bedroom hatch. Stretch out in your queen-sized berth.
8 a.m. Into the head for a shower. Most cats have a nice stand-up shower; some even have space for two! Ours also has a bath tub. Your significant other can use the head while you're washing up, because yeah, there's plenty of room for that.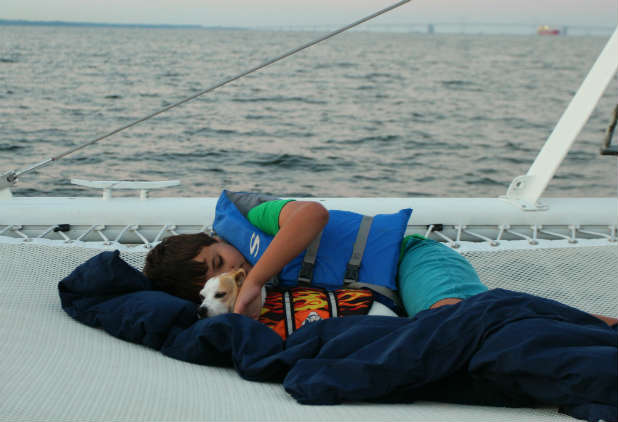 8:30 a.m. Head to the galley to start coffee and breakfast. Boiling water, cooking eggs, and frying bacon can all happen at the same time because most multihulls have space for a three- or four-burner stove plus oven.
9 a.m. If we're out cruising the Bay, we raise anchor and get underway. The kids usually eat breakfast while we're moving along. We sit in the cockpit with plenty of space. This means my daughter has enough distance from her big brother so that he can't steal her bacon.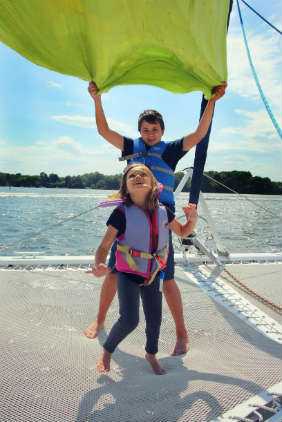 10 a.m. Kids head up to the bows. Each child has his and her own perch; it's been a thing since they were old enough to walk around on deck without an adult. They love to sit up there and just watch the world go by. It's a beautiful quiet time when the adults can read or get work done underway.
11 a.m. The wind dies. Roll sails in, fire up the engines. Yep, we fire them both up so we can cruise along at an easy and comfortable average eight knots. With the sails out of the way, the kids break their quiet time and start wrestling on the trampoline netting up front. They play with blankets and roll around like crazed puppies.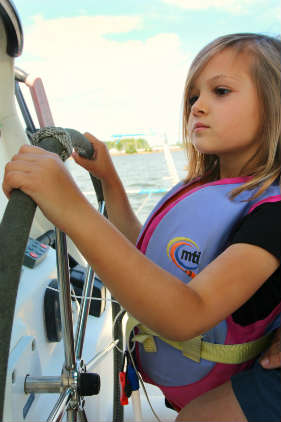 11:30 a.m. Catch crab pot on the starboard prop. This is a pretty low point in the day for any boat on the Chesapeake (why are the floats on these things always black or dark green like the Bay water?). Being on a cat, it's not a deal breaker, though. We can still make way nicely on once engine. We motor over to a quiet little creek and drop a lunch hook. Husband draws the short straw and gets to swim under the boat to free the crab pot while I feed the kiddos.
12 noon After inhaling their lunch, the kids can't resist a quick dip on a hot day since Daddy is already in the water. They start jumping off the aft swim platform and throwing the dog in the water for good measure.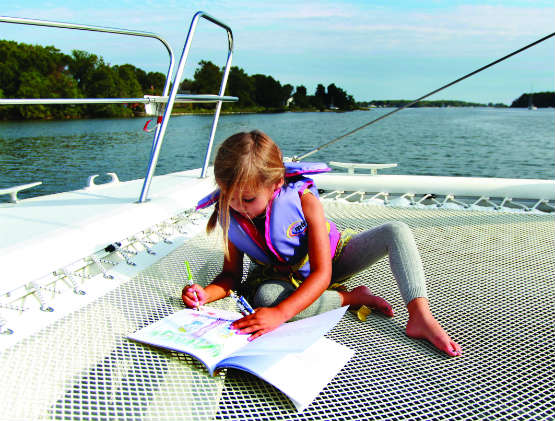 1:30 p.m. Everyone is dry and fed, crab pot is no longer attached to the boat, and we are underway again.
2 p.m. Wind picks up. Engines off, sails out. Kids do some school work in the salon. Watercolor painting for the little one, reading for English class for the big one. When my little one starts singing songs from the movie "Moana" at the top of her lungs; the older kiddo growls and walks out. He sprawls out on the tramp and reads in peace.
3 p.m. Hubby messes with some maintenance while I start looking for mono-hulls to pass. Wind is ideal beam reach, boat is trimmed out, and cruising along nicely at a steady nine knots. Cockpit speakers drown out the sixth round of "Moana songs" from the little one, and I dance and sail in the sunshine.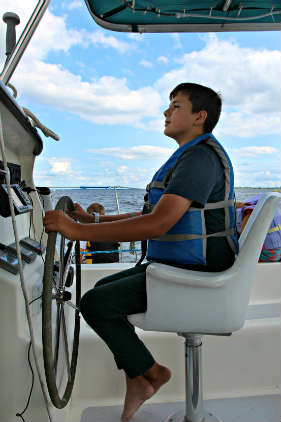 4 p.m. Kids are quietly playing Legos, and the Legos are not flying across the boat because we're sailing flat and steady. Mom decides to treat them to a little pre-dinner ice cream. Our huge deep freeze keeps ice cream cold and solid and runs nicely off of our huge solar array spread across our bimini. Kids declare me the best mom ever.
4:30 p.m. "Moana" again. The singing really never stops for our six year old. Wind dies down again, too. Big kid helps dad take in the sails and uses that opportunity to hoist his swing half way up the mast and away from his singing sister once again. Having space is a good thing, a very good thing.
5 p.m. It's five o'clock right here! Time for drinks as we nose into a river and look for a place to anchor. Adults take their beverage of choice in regular drinking vessels, no crazy plastic tumblers with sippy cup straws needed for catamaran cocktail hour. Oh, and we have ice cubes from that same beautiful freezer the ice cream came from.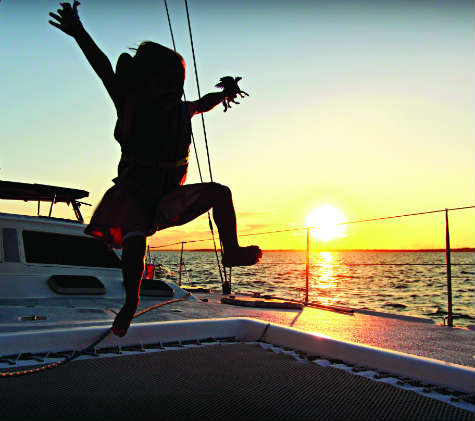 5:30 p.m. Anchor down. Kids help tidy up while dinner is cooked. Meat cooked in our oven with two of our 24 opening hatches allowing the heat to escape so the cabin never gets too hot.
6:30 p.m. Dinner finishing up, and our buddy boat arrives. If you're a catamaran owner, the party is almost always on your boat. Friends pile onboard easily from the aft steps where their dinghy is tied up. Kids steal away below decks to watch movies and play games. Adults hang out in the cockpit for drinks and conversation.
8 p.m. Somebody breaks out a guitar. And then another. And here comes a ukulele. Music starts flowing from our cockpit. Enough drinks are served so that singing and dancing follows. Plenty of space for instruments and dancing feet.
10 p.m. Buddy boat declares it's bedtime, but the kids don't want to part ways. No problem. Big kids set up sleeping bags on deck under the stays, little ones cozy up in aft cabin, and it's a sleepover with plenty of room. The adults hang out a little longer. Even after many drinks they manage to safely get off our boat and into their dink for the short motor back to their mother ship just a stone's throw away.
11 p.m. All souls aboard fall fast asleep, dreaming of another lovely catamaran day tomorrow.
Of course not all days onboard are idyllic, but I have to be honest, the good ones outweigh the bad. And much of it has to do with the comfort, ease, safety, and space we have grown used to on our cruising cat. We can welcome loads of friends, find our own peace, sail fast, live slow, and enjoy the beautiful gifts of a life afloat. ~by Cindy Wallach
FIND PART ONE OF THIS SERIES HERE... FIND PART TWO OF THIS SERIES HERE.