SpinSheet's Crew Party was a win for new sailor Leslie Nicholas!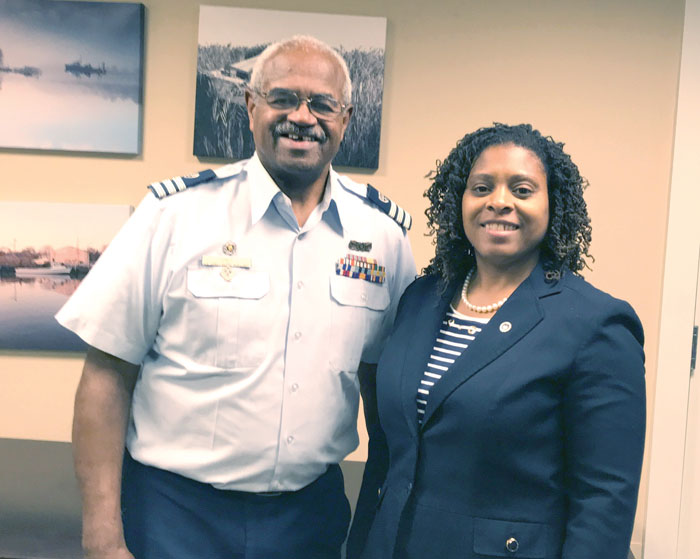 I had the most amazing first season sailing. At age 45, it's been fantastic to be able to jump into a new sport. I was already a rescue diver, avid swimmer, and cyclist, and I also enjoy camping, hiking, and skiing. So when I wanted to expand my physical activities on the water, I looked at several sports. After watching many regattas online and in person in Annapolis, I became interested in sailing.
I had decided that a Sunfish or 420 would be the best option for me to start because I could get a great workout, it would be affordable, and I could tow it behind my car when camping near the water. But then a gentleman from Severn Sailing Association (SSA) mentioned to me that boat owners are always looking for crew, and he suggested I stop by SSA.
Instead, I picked up a copy of SpinSheet and looked at the calendar of events. Luckily, I was just in time for the 2017 SpinSheet Crew Party, where I connected with a couple of skippers, and met Chris Charbonneau, SpinSheet's associate publisher, who later introduced me to Dan Leonard. I crewed for Dan in EYC's Friday Night Beer Can Races last summer, working the jib and learning about tell tales and trimming. I will never forget the day we won first place!
At the Crew Party I also met Jimmy Thorne and Rich Zawistoski. Jimmy sails a Pacific Seacraft 31 out of Annapolis. He is a racer, but I had the opportunity to sail with him on some leisure sails, working the jib. Rich Zawistoski and his son had just purchased their first boat, a J/30, when I met them last spring. On their boat I had opportunities to work the jib, main, and helm. Unrelated to the Crew Party last year I also met Susan Haynes, who was looking for crew for her Cal 27 out of Chesapeake Beach. I gave her some pointers on rigging the boat more efficiently, and she gave me more helmsman opportunities.
Did you take any formal sailing classes?
In August I completed my ASA 101 certification at Annapolis Sailing School. I learned lots of terminology and more about the how the boat works. I was able to immediately apply the knowledge and experience to my helmsman opportunities.
Tell us about your future plans.
In the spring I plan to complete ASA 103 and 104, and I'd like to get my captain's license one day. I'd also like to try some smaller, double-handed race boats, such as a Sunfish or 420. I am considering sailing schools that offer race training and crewing professionally. I'm also considering joining the U.S. Coast Guard Auxiliary for additional training on boat safety and navigation.
I had hoped to crew a boat to Florida or the Caribbean this fall or winter, to get some overnight experience and hours on the ICW, but with the impact of the hurricanes, that may be put on hold.
What advice do you have for someone who wants to start sailing?
Grab a copy of SpinSheet and highlight all the events that interest you. Then go to them and network with people. I walked into SpinSheet's Crew Party by myself, with no sailing experience, and look where I am today! In addition to crewing, I would recommend taking a sailing class at an accredited sailing school. It's important to connect with people and form relationships, and to sail with different captains.