After a Year Off, Annapolis Welcomes Sailors Back to THE Sailboat Show!
The Annapolis Show, as it's known, has become an institution in the sailing community. Every October for more than 50 years sailors have flocked to historic downtown Annapolis to see the newest boats, the latest equipment, and to meet the most knowledgeable people in the industry.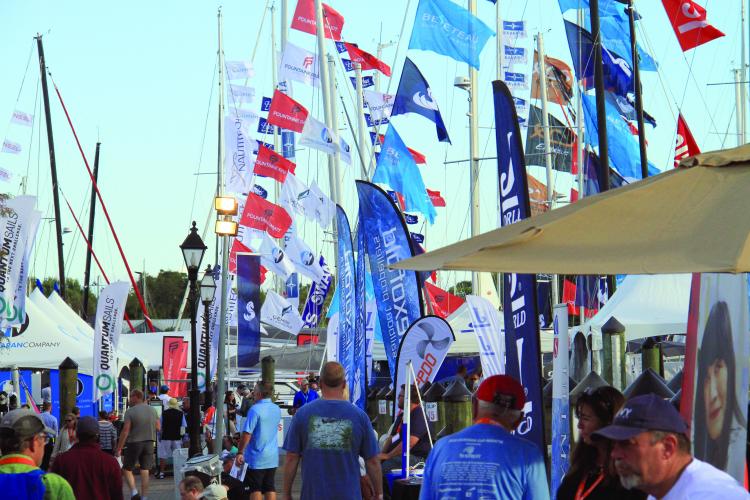 And yes, this year will be a little different. We took a year off, and things change with time. There's new leadership at the shows. There's a cool new booth for vloggers, and SpinSheet's booth will be in a new, convenient location, Land Sapce 19. And, there will probably be a heck of a lot more hand sanitizer being passed around than any previous fall show.
But the more things change, the more they stay the same. Longtime show manager Sheila Jones has a steady hand on the helm in her role as the new general manager. The floating docks that you have come to know and love are being assembled as this magazine goes to print. Sailboat manufacturers from across the country are readying their boats and gear for display. Seminars have been planned (the venerable Cruisers University is once again sold out), and Team SpinSheet is ready to meet our readers and hand out the latest issue.
So, whether you come for the spectacle of it all, or to get the best price on a new boat, or to find that hard-to-source piece of gear, or hey, just to enjoy a painkiller and lunch at the Fleet Reserve topped off with an Eastern Shore-made nutty buddy, don't miss the long-awaited 2021 show. We'll see you there at Land Space 19A.
EWE Spirit booth
Next door to our new spot, you'll find the EWE Spirit Foundation, also at land space 19. Ewe Spirit carries on the legacy of world-class sailor Geoff Ewenson, an extraordinary leader and friend whose incomparable example continues to guide us toward a kinder, happier world. Geoff was also the unsung hero of the SpinSheet team. He generously helped us every boat show, gave us expert quotes whenever we asked, and even made homemade treats for staff birthdays. We miss him greatly. Come learn more about Geoff and this foundation's inspiring mission. Volunteers will share the vision of the Sail Like EWE Did program and accept donations.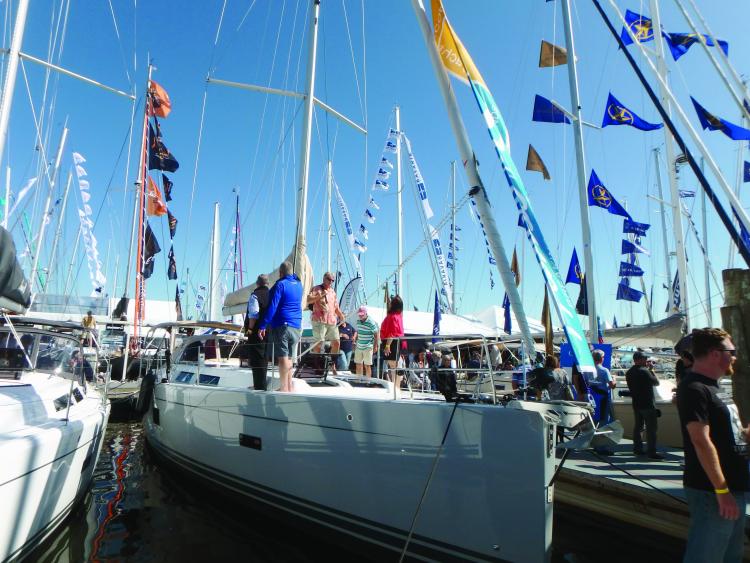 Covid policies
The Show will follow the State of Maryland guidance for Covid safety protocols. There will be handwashing stations and extra porta potties. Attendees must wear a mask on the shuttle bus and boat show-sponsored indoor seminars.
The VIP Experience
Escape the crowds on an exclusive, beautiful floating dock complete with an elegant lounge with comfortable seating, top tier cuisine, and your choice of liquor, wine, and beer for sampling. This includes an option for reserved parking at the gate entrance. At press time, VIP tickets were sold out for Thursday, Friday, and Saturday.
On Land
It's easy to hop on the Circulator, Annapolis's free shuttle that has regular stops within the city's business district, including Church Circle, City Dock, Park Place, and all four city garages. The Circulator runs Monday through Saturday from 7:30 a.m. to 11 p.m., and Sunday 8 a.m. to 8 p.m. on a 20-minute interval. Wheelchair lifts and bicycle racks are available on the Circulator. Download the free mobile app named "RLS Shuttle" and select "Annapolis Circulator" to start tracking the shuttle. Find more details at annapolisparking.com.
On the Water
We love the water taxis, which run continuously from 9:30 a.m. to 11 p.m. Monday and Thursday; 9:30 a.m. to midnight on Friday, 9 a.m. to midnight on Saturday, and 9 a.m. to 11 p.m. on Sunday. If you're at the show, the easiest place to catch them is at the water taxi stop between the Annapolis Waterfront Hotel and Spa Creek Bridge, or call (410) 263-0033. Or hail "water taxi" on VHF radio channel 68. Prices are $4 to $9 depending on the destination. The taxis accept cash or water taxi vouchers only. Download the Where in Annapolis app for the official digital guide to the water taxi. The app includes an interactive feature of all 54 water taxi stops.
Parking
Boat show visitors are encouraged to park at the Navy-Marine Corps Memorial Stadium and take the free shuttle bus from the Navy Stadium to the United States Powerboat Show. Buses run continuously from 9 a.m. until one hour after the show closes. Stadium parking costs $20 per car and $40 for bus/motorhomes. Stadium GPS Address: 230 Farragut Road, Annapolis MD 21401​ – Gate 2. Take Route 50 to Annapolis/Rowe Blvd (exit 24). Follow signs along Rowe Blvd. to the Navy-Marine Corps Memorial Stadium.
Parking is also available at Eastport Elementary which is walking distance from the show. GPS Address: 401-405 6th Street Annapolis, MD 21403
Another option is to park in an Annapolis City public garage and take the free Annapolis Circulator. Annapolis street parking is limited to two hours.
Vacation Basin
Inside the show gates, Vacation Basin is always a crowd favorite and is brimming with inspiring ideas for your dream getaway. Here you will find dozens of charter companies, representatives of tourism boards, information about fractional ownership, and boat show discounts. Come explore adventure travel and exotic destination resorts, such as the Caribbean or Mediterranean, as well as Chesapeake Bay vacations.
Sailing Channels Booth
Inside Vacation Basin, meet some of the biggest names who are living this dream and sharing their adventures through video. Sailing SV Delos, Sailing Doodles, and Taylor's Travels are just a few of the sailing vloggers who will be at this booth on a rotating schedule. Stop in and hear their stories and snap a photo.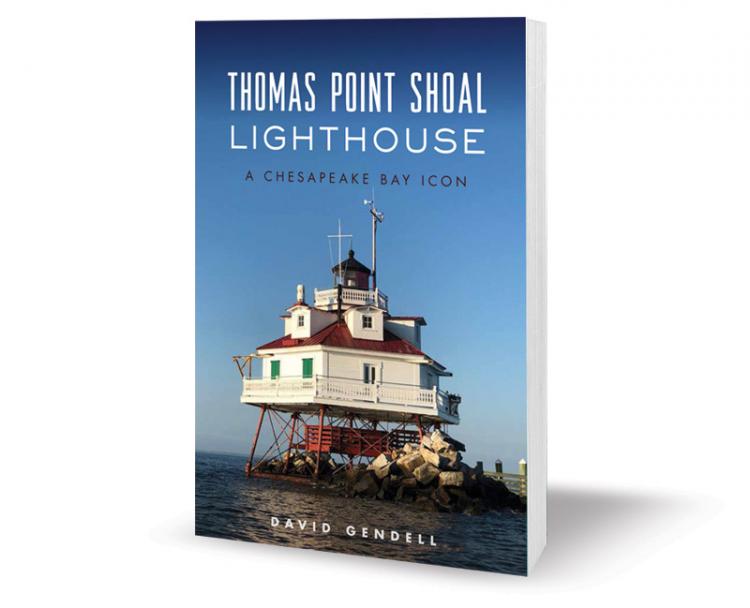 Get SpinSheet co-founder Dave Gendell's Book
Stop by the SpinSheet booth Friday afternoon from 5 to 6:30 p.m. to meet Dave Gendell, co-founder of SpinSheet Magazine and author of "Thomas Point Shoal Lighthouse," and purchase a signed copy of Dave's amazing book.
Weems and Plath Tent Sale
The Weems and Plath tent sale will unfold October 7-18, with huge discounts on overstock, sale, and sample items. Free shuttles will run to and from the boat show. Learn more at weems-plath.com.
Take the Wheel
Searching for the sailboat of your dreams? This program allows you to demo two sailboats. Choose from eight spectacular catamarans and monohulls. Following a morning session on boat buying, you will spend an afternoon on the water, compare one boat against the other, and narrow the search for your new boat.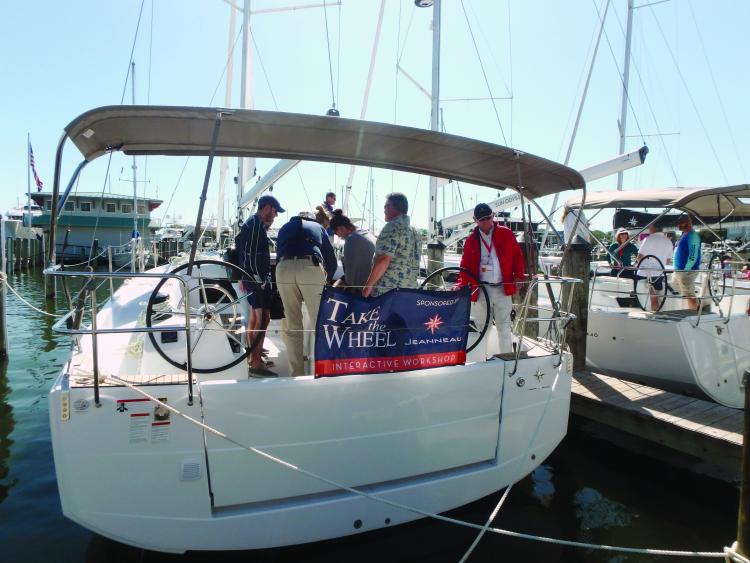 First Sail Workshop
First Sail Workshop presents the basics of sailing in a 45-minute classroom session followed by 90 minutes on the water with SailTime and American Sailing Association instructors on a Beneteau First 22 or First 27. Advance registration is required at annapolisboatshows.com.
Free Seminars
Experts will host free educational seminars throughout the show for attendees. Topics are always pertinent to active sailors. At print time, the 2021 seminar list had not yet been posted. Look for updates at annapolisboatshows.com.