Meet Matthew Cruder Who Got Hooked on Sailing as Woodwind Crew
Matt Cruder's father and grandfather instilled in him at a young age a love of sailing catboats. Although Matt went on to have many experiences sailing on a wide variety of boats, his time as a crewmember on the Schooner Woodwind, sailing out of Annapolis, stands out as the experience that really hooked him on sailing. Here's his story in his words: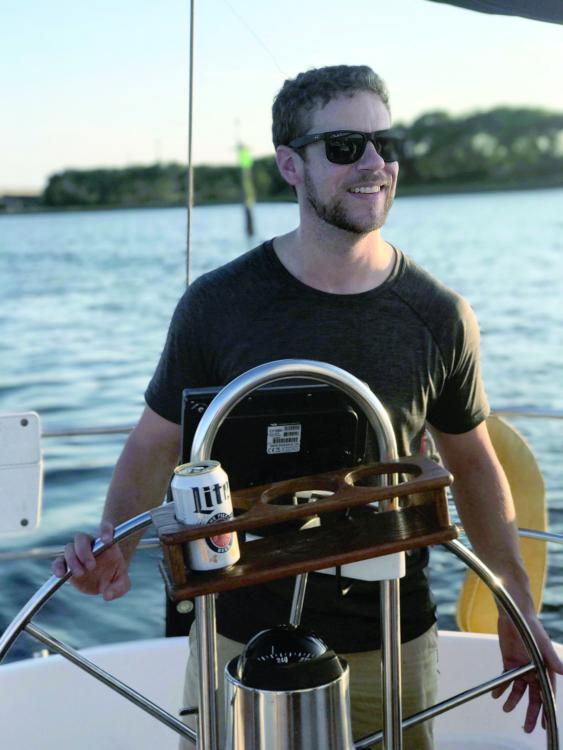 A family affair
My grandfather and father introduced me to sailing. My grandfather had a variety of boats, including catboats, which he sailed out of Barnegat Bay, NJ. After my father moved to Maryland, he bought Sylph, a Hermann 17, and sailed it down from New Jersey to the Chesapeake Bay and the Rhode River. When I was just a small boy, my father and grandfather would take me sailing and tie me to the halyard cleat so that I wouldn't fall overboard while I ate my peanut butter sandwiches!
A fantastic sail aboard the Woodwind
Sailing took on a new meaning for me when I was about five years old. My father and grandfather took me with them to the Annapolis Sailboat Show, where they met up with their friends the Kaye family, owners of the Schooner Woodwind, which was docked at the show for day sails. Somehow, it was agreed that I would go sailing on the Woodwind while my dad and grandfather walked the show. Captain Jen Kaye took me under her wing. After that day, sailing was never the same for me. The boat was so fantastic. I just fell in love with it.
When I began to sail on my own, it was on a dinghy off a beach. As a high school student, I spent two years sailing 420s with the Severna Park High School sailing team. When I turned 15, I dreamed of working on the Woodwind, but I didn't have a ride to get to the boat. However, the next year, when I had my driver's license, I applied for and got a job as a crewmember.
What an opportunity! Working aboard the Woodwind I got to meet people from all over the world, which I loved. Some guests were very excited, and others were a bit intimidated. But once you explained the physics of sailing and offered them a chance to help hoist a sail or steer the boat, they came to love it too.
The Woodwind is iconic in Annapolis, and the warmth of the Kaye family is incredible. They rightly have a real following that is wonderful and well deserved. I remember going to a party celebrating the 25th anniversary of the business; staffers from all different years came back, and we all meshed so well. It was a great event.
From my job on the Woodwind, I received the first Maryland Tourism educational scholarship, which I used to study Tourism Management at Old Dominion University. After graduation I worked on cruise ships for four years, and now I work with cargo ships in downtown Baltimore.
There's always a way to go sailing
I was also fortunate to have had some additional types of sailing experiences when I lived in Charleston, SC, for a couple years. There I did harbor racing and some offshore racing on a Tartan 37, including sailing from Charleston to Savannah.
Along with my father, I've been an active member of the Chesapeake Catboat Association since I was young, and even after I purchased the my dad's Hermann, I continue to be a part of that fantastic group of sailors. Although in past years I've enjoyed taking out friends and teaching them to sail, this season Sylph is on the hard while I am tied up with work commitments in Baltimore. However, I am still out sailing! Recently I met a former Woodwind crewmember who works at the Downtown Sailing Center and who encouraged me to try it. I did and found that they have a lot of great programs, and it's convenient after work.
What would you tell someone who is interested in learning to sail?
There are so many ways to learn. It can be from friends and family, taking lessons, or buying a ticket for an excursion on a boat like the Woodwind. There are also lots of online forums where boat owners around the Bay are looking for crew (SpinSheet's Crew Finder is one). There are so many opportunities for sailing. There is always a way to sail.
~by Beth Crabtree