They Learned as Children, But Got Into Sailing Together as Adults
Janette Siebs and Todd Brunjes, who each learned to sail separately as children, recently got back into sailing, enjoyed their first charter together, and look forward to expanding their sailing horizons.
Separate introductions to sailing
Janette, who grew up day sailing with her family in the Boston area, Cape Cod, and later on the Chesapeake Bay says, "On the Bay my parents transitioned to larger boats that accommodated a cruising family of four, with dogs and a myriad of kayaks and dinghies. Later I owned a 35-foot 1974 Hallberg-Rassy, which had been my father's. My sons learned to sail on her. Many years later after I parted with that boat, I really wanted to get back to sailing, but without the cost and commitment of ownership. Joining a sailing club proved to be a great opportunity."
Todd's sailing journey began with his family Sunfish, which his parents would put on the cartop for vacations and while visiting his grandmother every summer near Shinnecock Bay. "After going to the beach, my father would go clamming while the kids would sail. Sometimes my grandmother would join us, even capsizing a few times in heavy winds. It was lots of fun," he recalls.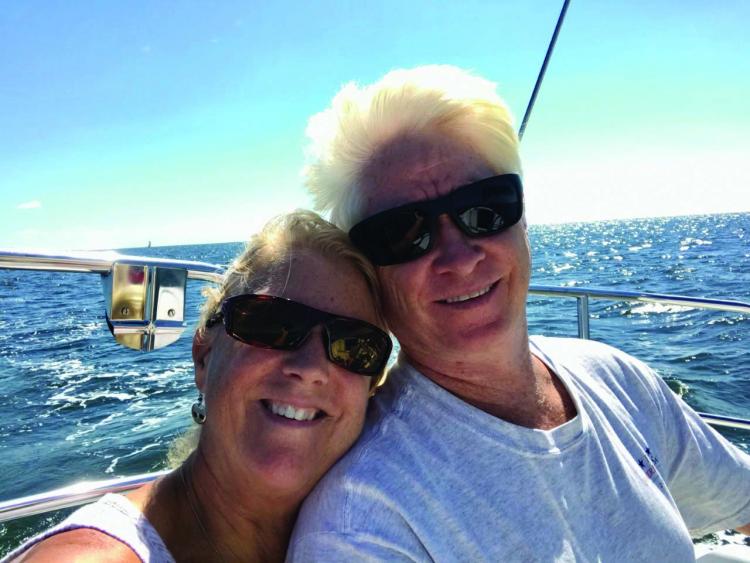 Sailing together
Todd continues, "When my girlfriend, Janette, who is an avid sailor, and I were looking for a sailing club, we found Sail Solomons. They have been outstanding. We have been with them for two seasons and completed American Sailing Association (ASA) courses 103-Coastal Cruising, 104-Bareboat Cruising, and 118-Docking Endorsement."
Todd and Janette's first charter together was in August with Sail Solomons aboard the 34-foot Allora. "We started small and chartered for one night," says Todd. "We had very hot, low wind conditions the first day, a short thunderstorm, and then a beautiful night. The next day we had 15 to 20-knot winds requiring us to reef. We had a great charter experience and will do it again, for a longer time period!"
Future sailing plans
Todd's dreams include owning a large boat and sailing on the eastern Atlantic. Janette says, "We plan to continue to rent boats from Sail Solomons and hope to charter more. Eventually I'd like to own my own boat again."
What would you tell someone interested in learning to sail?
"I'd encourage them to join a club," says Janette. "I got back into sailing locally by joining The Ski Club of Washington, DC, which also had an active sailing program on the Potomac River, sailing a fleet of Flying Scots. I then studied to become a skipper for them. I would also encourage a new sailor to take an ASA course. Sail Solomons has been a fantastic resource for us."
Todd says, "One of the biggest obstacles for me was finding time—trying to coordinate sailing plans with all the other parts of life, so I'd recommend starting small and learning incrementally. There was a time when I thought sailing boats were expensive and out of reach for most families but joining a sailing club has made it affordable. Day sailing with a club is a good way to gain experience."
~as told to Beth Crabtree
Find more stories about new sailors here.