Welcome to the World of Sailing Lifejackets
When we host Start Sailing Now seminars, people often ask us if they must wear lifejackets or Personal Flotation Devices (PFDs) on sailboats. Many remember the orange ones they were forced to wear as kids, and even though they want to feel safe while sailing, they hope to not have to wear those things again. Here's good news: lifejacket technology and appearance have greatly improved.
Lifejackets may be mandatory at certain sailing schools, but if you are over a certain age (it varies by state from about 13 to 16 years old), you are not required to wear one on private vessels unless you want to. Most sailing professionals recommend wearing some form of PFD if: 1) you are not a confident swimmer; 2) the weather is rough and/or the water temperature is cold; and 3) you are sailing solo or alone on deck, especially at night. Since modern sailing lifejackets are comfortable and attractive, we recommend you wear one if you have a hunch it would be a good idea and make for a safer, more enjoyable sail.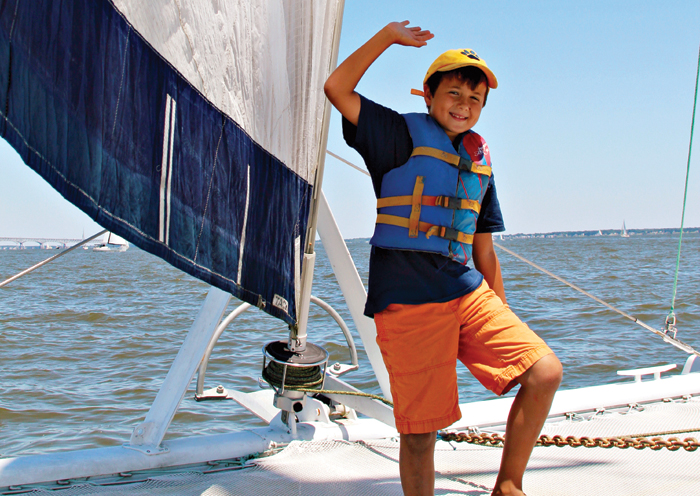 There are many types of PFDs on the market; they range from offshore lifejackets for extended survival in rough, open water to simple flotation aid vests that work well for flat water kayaking as well as calm coastal or lake daysailing. As with other sporting gear, the more high tech bells and whistles, the pricier.
Most learn-to-sail programs offer vest-style lifejackets for students to borrow. Such PFDs allow good arm mobility, which is important for busy crew, and add a nice layer of warmth in spring and fall. Such vests come in various sizes, have adjustable straps, and are constructed from quick-dry material. Some have pockets and built-in emergency whistles. Some contain interior "scallops" for women's figures. Vest-style lifejackets vary in price from $45 to $250.
Inflatable PFDs are popular for big boat sailors and those who do long passages. Such PFDs rely on chambers that inflate upon total immersion in water. They tend to be less bulky than vest-style lifejackets. Try one on to see if you like the fit. They range in price from $100 to $375.
Of course, you can always find a funny orange PFD if you need one. You can still buy one for about $10.
Ready to Start Sailing Now? Click here for more resources!