Options abound for getting kids into sailing
Some children grow up in sailing families and inherit the sailing gene as they might inherit brown eyes. They learn to sail without questioning it. Since their parents are sailors, they find youth sailing schools or camps through friends or club connections. What about those of us who don't grow up around boats? If you are not an active sailor and have no connections, how do you go about getting kids into sailing and find good and safe learn-to-sail options? Don't worry. There are many options to choose from.
Although family friends took me sailing as a child, my parents were not sailors. I learned to sail a boat on my own at a YMCA camp and would recommend an overnight or day camp option to any parent. Such camps are reasonably priced, safety-minded, filled with dedicated mentors, and particularly good for parents who don't mind their children learning to sail as one of many outdoor activities, rather than have sailing be the sole focus.
Community sailing centers across the country offer sailing, boating safety education, and other waterfront activities such as canoeing, kayaking, paddleboarding, and fishing. Often partly funded by regional governments and community grants, such programs tend to be very affordable and are always open to the public. Some may be linked to the public school system and offer for-credit programs. They often have high standards for safety and instruction.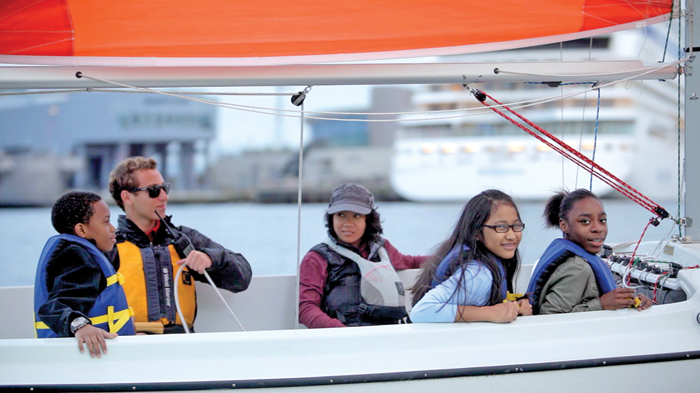 Yacht and sailing clubs are for members only, right? Not always. Around the country, many yacht and sailing clubs open their junior sailing programs to the public. The benefits of such programs may include facilities designed for many boats to easily sail in and out, coach (or safety) boats, well-kept sailboats designed for kids, and skilled, safety-minded instructors (some who have grown up sailing at the club).
Outside the world of camps, community sailing centers, and clubs, you will find sailing school businesses dedicated to children. As well as teaching the basics of sailing, they might offer scavenger hunts, on-the-water games, pizza parties, and other appealing activities for young people. Such schools may be affiliated with adult programs and therefore meet the same safety and instructional standards as the parents' sailing school.
Adult sailing schools don't always offer programs for children under 15 years of age, but they often offer private instruction to families on school boats or on your own boat (if you have one). Because adult schools often field inquiries about where to send children to sailing school, they tend to be great resources for local youth sailing information.
Learn More!
Click here for a list of community, yacht club, and sailing school programs. Visit ymca.net for lists of camps in your region.