In Search of a Sailing School
New sailors or those returning to sailing may want to seek instruction or coaching at a sailing school or club. Many such organizations exist on the Chesapeake Bay and its tributaries. They offer certifications for beginners, returning sailors hoping to brush up on seamanship skills, cruisers seeking bareboat chartering or navigation experience, and racers wanting to hone their skills and move up in the fleet. Finding the right type of instruction for you is important—in many ways, it can make or break your experience with the sport.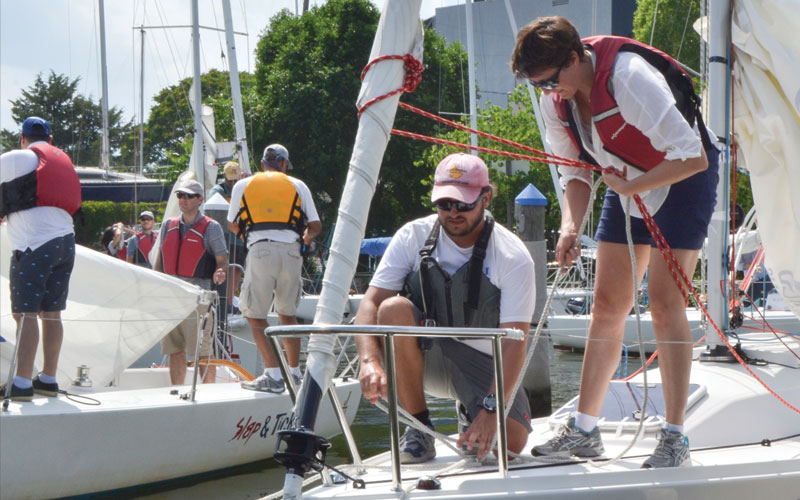 Consider what you want and need in your sailing education before you commit. Is budget a concern? What about group vs. private lessons? How important is flexibility? What about the average age of your fellow students? Here at SpinSheet, we want to help you find the best sailing school for you, that has everything you need and fits within your budget, so that you can be empowered to not only take that first step, but continue learning about and enjoying sailing for decades to come. So, we compiled a list of a sampling of schools and clubs that offer sailing instruction on the Chesapeake Bay and its tributaries. For a more complete list of schools offering certifications outside this region, visit US Sailing or American Sailing Association.
Chesapeake Bay Sailing Schools:
Annapolis Sailing School: annapolissailing.com.
American Sailing Association: asa.com.
Annapolis Naval Sailing Association: ansa.org.
Blue Water Sailing School: bwss.com.
Brendan Sailing: brendansailing.org.
Captain In You Sailing Schools, Inc.: captaininyou.com.
DC Sail: dcsail.org.
Downtown Sailing Center (Baltimore) : downtownsailing.org.
Eastport Yacht Club: eastportyc.org.
First Sail: firstsail.org.
J/World Annapolis: jworldannapolis.com.
Rock Hall Yacht Club Sailing School: rhycsailingschool.org.
The Sailing Academy: thesailingacademy.com.
Sailtime: sailtime.com/annapolis.
Sail Solomons: sailsi.com.
Severn Sailing Association: severnsailing.org.
U.S. Sailing: ussailing.org.
West River Sailing Club: learn2sailwrsc.com.
Youth Sailing Virginia: youthsailingva.org.