After a sports injury
Before sailing became part of my life, in 2016, I was on four sports teams; I played camogie and Gaelic football for Washington, DC, and two women's soccer teams. At 38, after having two kids, I was in the best shape of my life. Unfortunately, during a Gaelic football game against Baltimore, my Achilles snapped and completely separated. As spring the following year came around, I was depressed and needed an outlet. I said to myself, "Hey, I live in Maryland, but I don't really like crabs or lacrosse; what about sailing?" And that was it! I registered for an American Sailing Association (ASA)101 course that spring, and now this is my fifth sailing season.
Fitting sailing into a busy schedule
I joined the Downtown Sailing Center (DSC) in Baltimore as a cruising member and did many evening and moonlight sails with them that first year as well as trips to St. Michaels, Annapolis, and Rock Hall, MD. DSC was great, but it was challenging to sail on their schedule while raising two kids and working full time.
To solve that issue, I told my husband that I needed my own boat to do this on my own time. In February of 2018, I bought a Beneteau 331 and renamed her Catie Mae (after the middle names of my daughters). The first year, I got a lot of practice maneuvering under power, and I learned about boat maintenance. I didn't get to sail as much as I had hoped. I was humbled by how much I didn't know and a bit intimidated, since my family were not sailors, and I had no experienced crew. In 2019, I decided to take vacation time from work and get more experience from formal classes. I called it my catch-up year.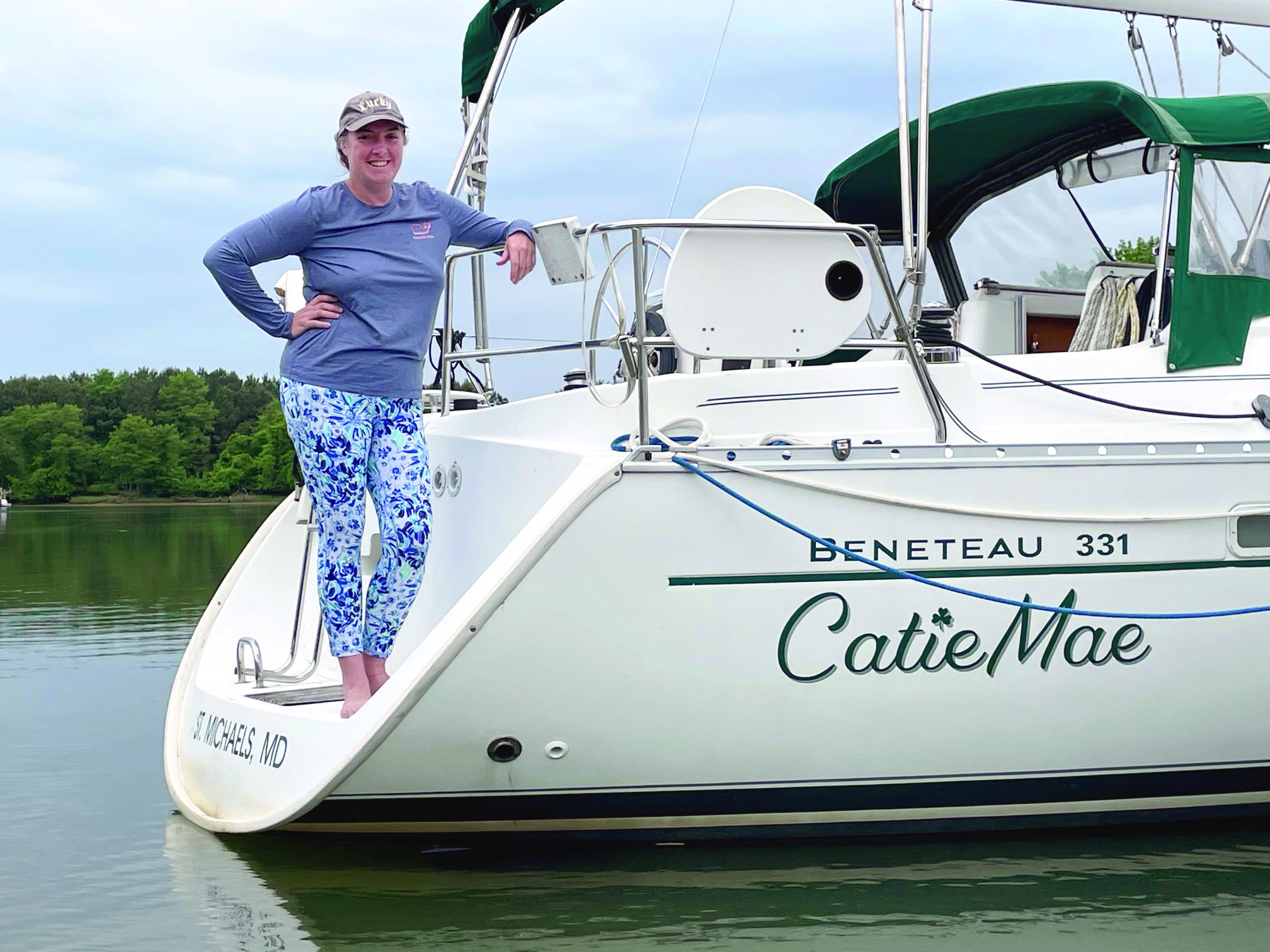 Her crash course into all things sailing
I took ASA103/104 at the Maryland School of Sailing in the Virgin Islands. I also took ASA 105, Piloting and Navigation and 106, a DelMarVa circumnavigation. My husband and I took ASA 118, Docking, and I also took Diesel Mechanics and Marine Electrical courses at Annapolis School of Seamanship. That same year, I put a message out on the Women Who Sail Facebook page and was invited to Frostbite on a J/30 out of Eastport Yacht Club. I still crew on that boat today (Heidi Frist's Suzie Q) and enjoy both frostbiting and weeknight racing in Annapolis.
I also look for opportunities to sail on Other People's Boats (OPBs) as much as possible. I enjoy crewing on boats and have done many of the local races out of Miles River Yacht Club as well as spent a weekend swimming in the Miles River after a log canoe capsize as a boardman! On family vacations, I try and see if we can get a day on the water and either charter with someone on their boat or look for some sort of sailing tour. Lastly, I am wrapping up ASA107 Celestial Navigation online and just need to sit for my exam and practice taking sightings with my sextant!
Advice for someone interested in sailing
Decide what your future goals are and how you want to get there. Are you looking to cruise and buy your own boat? If so, you will want to start taking classes on maintenance and piloting. Are you looking for competition? If so, reach out to local sailing organizations or SpinSheet crew parties and ask about crewing on a race boat. Are you looking to just get out on the water and have fun on your own? Dinghy sailing may be the ticket for you.
I highly recommend formal sailing classes over only getting experience on OPBs. Each skipper is as unique as their boat, and on OPBs, you might not get all the experiences you may be after. You may even pick up bad habits. Classes helped me build confidence in knowing what I can do and where I need to continue to build experience. They also made me a better all-around sailor, whether skipper on my boat or crew on a race boat.
by Stefanie Brady
Edited by Beth Crabtree